During her first year at the University of Hawaii law school, Julia Latham saw Justice Ruth Bader Ginsburg forgo her iconic lace collars in favor of colorful leis.
It was February 1998, and Ginsburg was a jurist-in-residence at the university. Latham remembers her fellow law students performing a hula for Ginsburg, who seemed eager to learn more about the dance.
"She wanted to understand what the hula was about and asked a lot of questions," Latham said. "She was unfailingly gracious and polite, and she was also really interested in the indigenous culture."
Now living in Pinehurst, Latham is among the many Moore County residents mourning Ginsburg's death. In October, Latham and her teenage son will travel to Washington, D.C., for a march in honor of Ginsburg, who on Friday is set to become the first woman to lie in state at the Capital.
"She was such a trailblazer for female attorneys and (paved the way for) things that I take absolutely for granted," Latham said. "She fought to be in the room."
Tiffany Bartholomew, a district court judge who also lives in Pinehurst, considers herself a product of Ginsburg's legacy. When Ginsburg ruled against Virginia Military Institute's all-male admissions policy in 1996, Bartholomew was weighing plans to enroll at the U.S. Military Academy in West Point.
"The language that (she) used justified, in my opinion, me going there," Bartholomew said of Ginsburg's written explanation for her ruling. "It was an affirmation for me that my biological sex was not a disadvantage, no matter what other people may say or may think. That was not going to be an impediment for me."
Bartholomew was equally inspired by Ginsburg's "brilliant" skill as a litigator in watershed cases like Reed v. Reed, in which an all-male Supreme Court held that gender-based discrimination was restricted by the U.S. Constitution.
"I don't think a lot people outside of the legal system understood how she was able to get a heightened level of scrutiny in examining sex discrimination," Bartholomew said. "To get nine male justices to agree that sex discrimination fell under the 14th Amendment's equal protection clause, that's huge."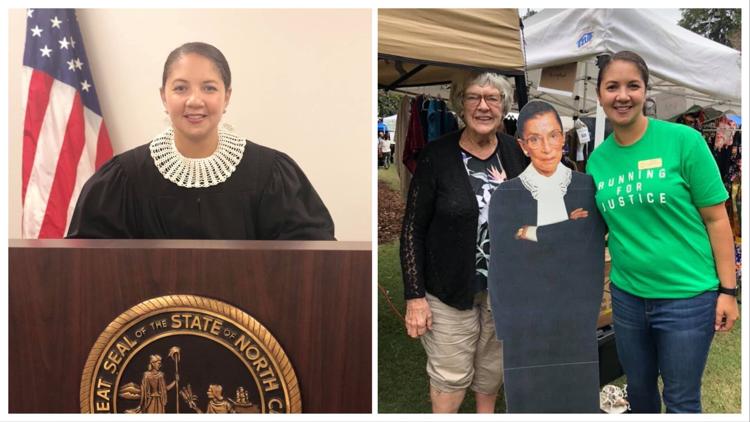 Bartholomew is an unabashed fan of RBG, as Ginsburg is known to the legions of young admirers that fueled her unlikely emergence as a pop culture icon over the past decade. In photographs shared on social media, Bartholomew can be seen posing with a cardboard cutout of Ginsburg and drinking from a coffee cup that asks "WWRBGD?"
When she was sworn in, Bartholomew wore a collar modeled after one of her hero's signature jabots. It was a gift from a member of the Democratic Women of Moore County.
"I graduated from law school in 2008, and I still remember being at the top of my class and being interviewed by the big firms and them realizing that I had a child," Bartholomew said. "I got those questions where you could tell what they were fishing for. They're talking about 'work-life balance,' but what they're really trying to determine is whether or not you're going to be a mom or a lawyer. They couldn't really see that you could be both and excel at both things."
Her plight would have been familiar to Ginsburg, who tied with another student for first-in-class honors at Columbia Law School, but still struggled to find employment as a young mother.
"I was always like, 'if she could not get a job after graduating from one of the top law schools in the nation and become a Supreme Court justice, maybe there is some small window of hope for me to be able to get on the bench one day,'" Bartholomew said. "Then lo and behold, I was able to make it."
Latham believes the next generation of lawyers has a "responsibility to carry on" Ginsburg's legacy.
"People my age, my cadre of lawyers, we are kind of the bridge generation," she said. "I hope that the generation that comes in after us doesn't forget her or take her for granted."
Both Bartholomew and Latham said their sadness about Ginsburg's passing was accompanied by concerns over how and when her vacancy might be filled. Days before her death, Ginsburg reportedly said she did not "wish to be replaced until a new president is installed."
The Moore County League of Women Voters plans to celebrate Ginsburg's legacy with an outdoor screening of "On the Basis of Sex," a 2018 biographical drama exploring her early career as a litigator, on Oct. 4 in downtown Southern Pines.
"Justice Ginsburg led a life dedicated to advancing the rights of women and minorities," the group said in a statement. "Let us honor her."