Wrenched knees, subzero temperatures and ears full of South African sand aren't the standard ingredients for a dream winter getaway.
But during the second week of February, 36 runners endured all of that and more on their way to earning medals inscribed "Intercontinental Marathon Club." They hailed from a dozen different countries, their running speeds varied wildly, and different reasons compelled them to embark upon the World Marathon Challenge — seven marathons in seven days, each on a different continent.
Linda Carrier set out from Pinehurst to demonstrate for the second year in a row that Type 1 diabetes doesn't cramp her stride. At 57, Carrier has scores of marathons under her belt after a lifetime of running, though she's taken most of them one at a time.
Maybe because she'd done it before, or maybe because she was the oldest woman participating this year, Carrier fell into the role of "team grandmother," lending gear, dispensing advice, and generally keeping up morale in the face of extraordinary weather conditions.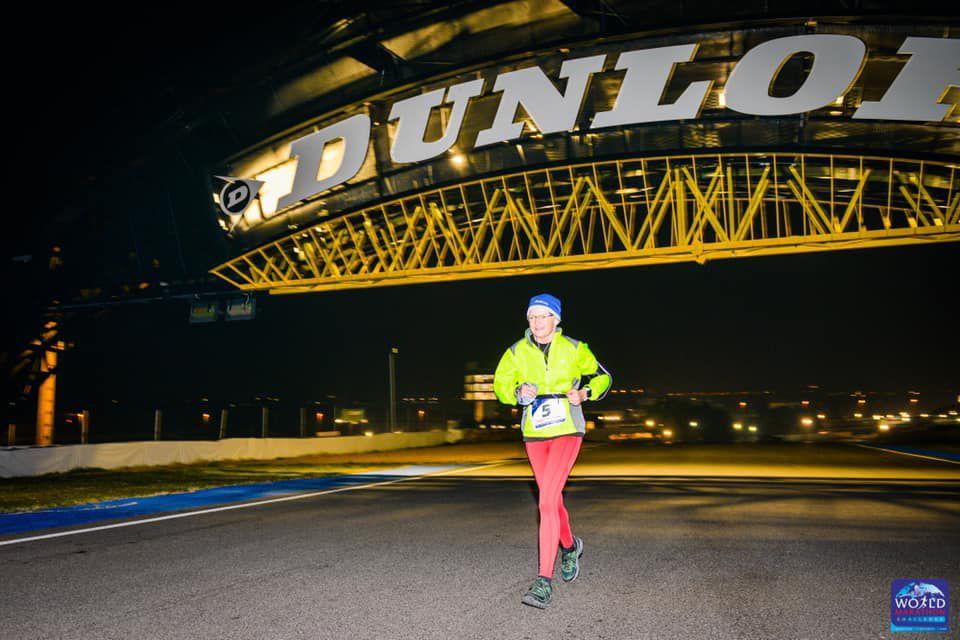 The group gathered in Cape Town, where they were scheduled to get on a plane for Antarctica for the first of seven races. The entire enterprise seemed to be in jeopardy thanks to the difficulty of flying onto the frozen continent.
So they went ahead and ran the Cape Town marathon in the hope of buying time.
"The pilots refused to fly in, they said it was too dangerous," Carrier said.
But with the clock officially running on the challenge's 168-hour window, the forecast had not improved. With the prospect of having to loop back and run the Cape Town marathon a second time, organizers arranged for a cargo plane with a Russian crew to get the runners and their entourage to the ice aircraft runway at Novolazarevskaya.
A six hour flight in the jump seats of a cold cargo plane doesn't make any list of ideal preparation techniques for a 26-mile run. When the group landed to find 40 mph winds thrown into the bargain, more than one participant considered giving up then and there.
"These girls were crying. Some of them were crying before they even started," Carrier said. "They ended up taking a couple of hours and redoing the course so the laps were only half as long and you were only running toward the wind for a mile and then had a mile to recover."
Carrier partnered with an Australian runner early on, and never considered throwing in the towel. Nevertheless, it took her just over seven hours to finish the Antarctic marathon.
"When we got to where the wind was, I told her bundle up, just put your head down as far as you can, move your arms as fast as you can and pick up your legs," she said.
Low visibility and treacherous footing combined to set some of the participants up for injuries later on.
"You'd be running along and you would think you were on solid ice and all of a sudden you'd sink in up to your knee. Your foot would go one way but your knee's going another … it was tough," Carrier said. "I started getting where I could tell what looked like a snowdrift. We hit a couple of them, but not as many as other people did."
Having Type 1 diabetes adds a level of complexity to the feat of covering seven marathons in seven days. For her second attempt at the World Marathon Challenge, Carrier secured a sponsorship from Medtronic. The company's MiniMed 670G insulin pump helps regulate and monitor her blood sugar level.
Carrier usually doses her insulin based on how many carbohydrates she's eating. Exercise helps burn those calories and keep her blood sugar low, so she had to factor in running as well as estimating the nutritional value of unfamiliar food.
"The challenge is balancing the amount of food you're taking in with the amount of insulin you're giving and the amount of activity you're doing," she said. "It's like a three-legged stool, which is probably why it works for me because I like all of this mathematical stuff."
Medtronic representatives attended the final marathon in Miami to cheer her on. Carrier wasn't the only participant running for a cause – other runners signed up for the challenge to raise money for everything from Chrohn's disease and colitis research to the American Cancer Society.
"I did my first loop and I heard this 'Go Linda, great way to represent the pump!' When I came back around I stopped real quick and said, well let's see what my pump says."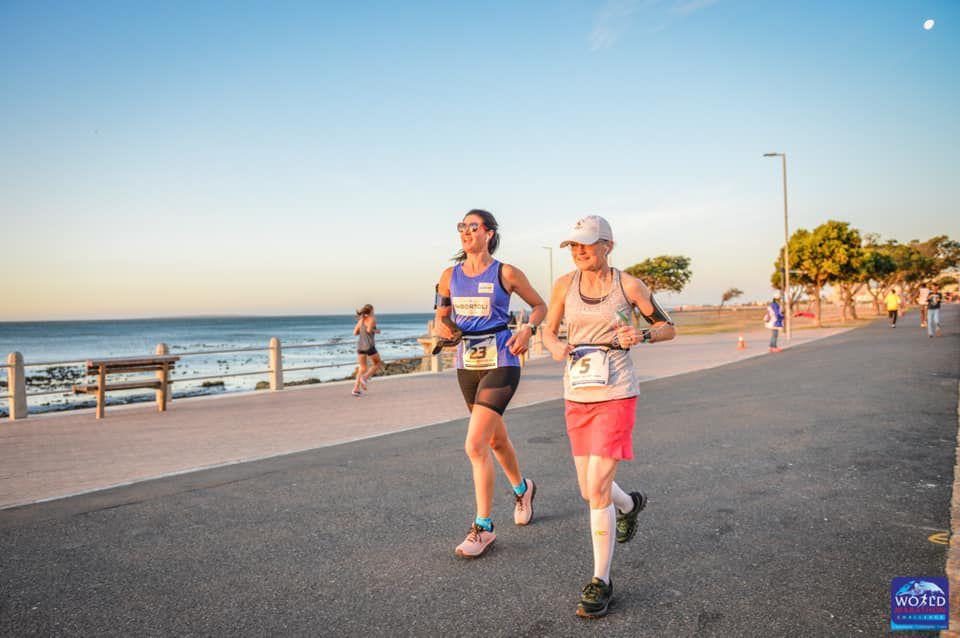 After Antarctica, the runners were on to Perth and then Dubai. Once they made it to Madrid's Circuito del Jarama Formula One circuit, the site of the fifth marathon, there were only 40 hours left to finish the entire challenge: three marathons with transcontinental flights in between them.
On the bright side, they had no time to worry about jet lag.
The slope of the Formula One track exacerbated some runners' already stressed tendons and joints, and the heat and humidity the next day in Fortaleza, Brazil had some of them thinking wistfully of the polar vortex three days earlier. By the final event of the series in Miami, one participant hobbled through a half marathon on crutches.
Carrier said that listening to music helps her power through when running ceases to be anything resembling fun.
"Just focus on the words of the song and think about what was going on in that person's life when they wrote that song," she told her running partner. "Don't think about your feet hurting, don't think about chest pain or your knee."
Carrier finished all seven marathons, ranking fifth of the 12 women who competed – this year's two top finishers were female – with an average time of just over five hours.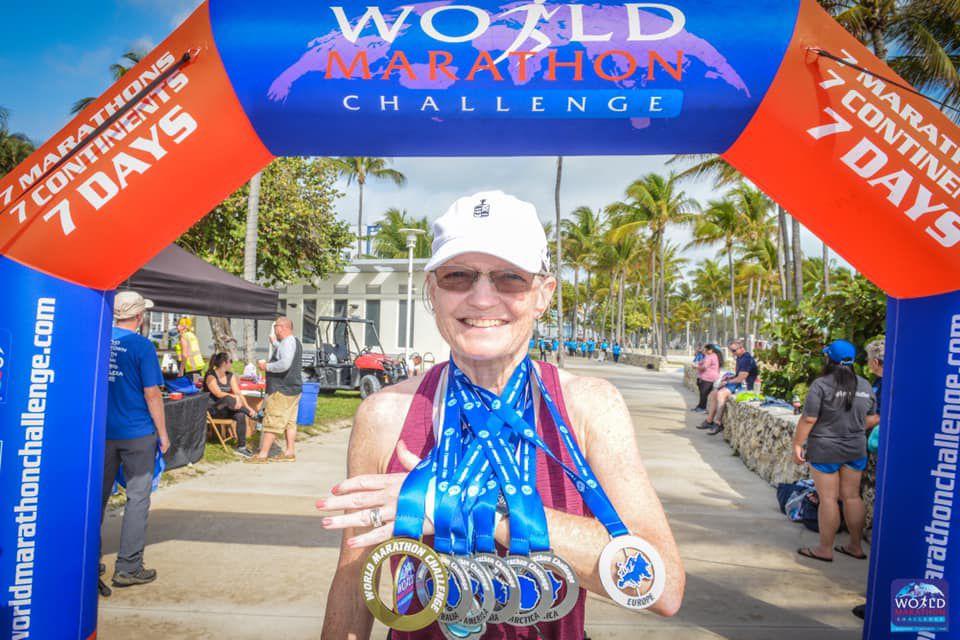 After six months of scheduling her life around training runs up to 30 miles, Carrier is ready to have time for golf and activities other than running. Not that she'll quit; there are still about 20 states where she has yet to run a marathon, not to mention the North Pole.
All of those training miles, though, gave her plenty of room to reflect on the privilege of dedicating a week to a 182-mile international running event.
"I kept telling those guys they're actually very blessed," she said. "They might not feel like it right now, but we're blessed to be able to do this. How many people get to go to all seven continents in seven days and to do the things we're doing and raise money to help people?"