Upon crossing the finish line of a marathon, endorphins high and glowing with accomplishment, any devoted runner might start thinking about the next one.
In a few weeks, Linda Carrier will finish six laps of a seven-kilometer ice airstrip in Antarctica and board a plane, not for home in Pinehurst, but to Cape Town, South Africa.
There will be another race to run 12 hours hence.
Going from subzero temperatures to a summer day will call for a wardrobe overhaul, but a half day and 2,500 miles after finishing the first marathon, Carrier will set off on another 26-mile course.
That's just the first leg of the World Marathon Challenge, which will see Carrier and 40 other runners from around the world run seven marathons on seven continents. They have all of 168 hours to do it.
Extreme athleticism has been in vogue for a while as a way to subvert midlife crisis, but Carrier took up running as a teenager soon after she was diagnosed with Type 1 diabetes. She first ran a half marathon in 1995 at 33, and has been gradually pushing her physical boundaries ever since.
Carrier has run more than 100 marathons and half-marathons. Not just any marathons, either: Berlin, Chicago, New York, London, Tokyo and three times at Boston. She celebrated her 50th birthday by running a 50-mile trail ultramarathon in Washington state.
"I always say that life's too short. You can't always live your life so conservatively," Carrier said. "I never let diabetes define me. I was never going to let that happen. Maybe I've gone to a little bit of an extreme, but I think I'd do this no matter what."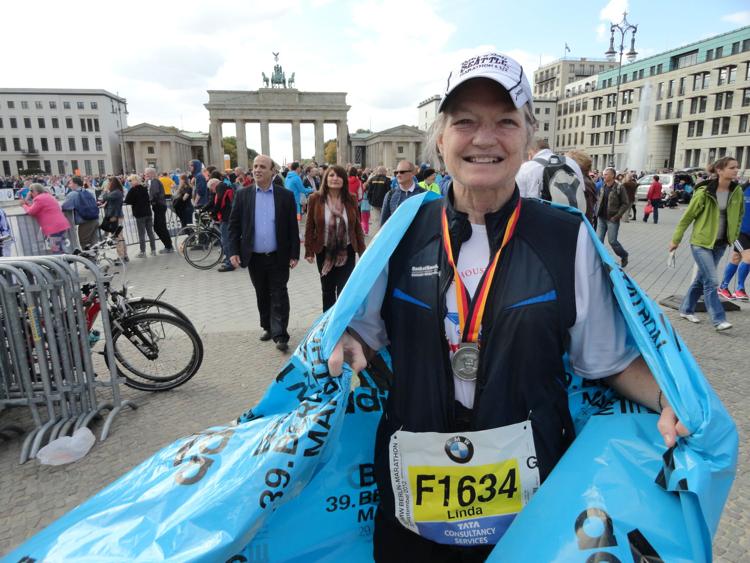 As one of seven siblings, Carrier was regularly sent outside by her exasperated mother to burn off energy with a run around the block. When she was diagnosed with diabetes, there was no question of slipping into inactivity as she learned to give herself insulin and moderate food intake.
"Running added to the complexity of the equation, but my doctors said it was really helping," she said.
Carrier dove into distance running on a lark. She ran her first marathon in Honolulu with friends and hoped, at best, to come through it alive.
"But if I was going to die, I might as well die in Hawaii," she recalled. "But it was so much fun."
As forms of exercise go, running is easily the most accessible. There's no equipment needed, aside from a decent pair of shoes, and any trail or stretch of road will suffice for a course. It wasn't long before Carrier started noticing her fellow runners' shirts, and the names of groups that transcend national boundaries and unite people who make a hobby of running regular marathons.
She was soon drawn into the fold and found herself ticking off all the boxes: qualifying for Boston, then onto the other major cities. Now 57, Carrier has run marathons in 29 states, which means she only has 21 to go.
"I'm one that has always challenged myself," she said. "It's not like I go with the flow and run a 5K every once in a while. I just push to see what I can do."
In 2018, Carrier realized that going for several 20-mile runs during the week was beginning to interfere with her position as an information technology executive for a health insurance company. Since she'd just been accepted to run the 2019 World Marathon Challenge, she was unwilling to spend less time running.
So Carrier retired that summer and hired a coach to devise a six-month training plan that conditioned her to run 120 miles in a week.
"The key to this schedule is you start out and just start to build," she said. "Her training schedule basically got it where I was learning to run on tired legs. Running seven marathons and flying over 33,000 miles straight, through all of the time zone changes and running in different temperatures, you're going to be tired."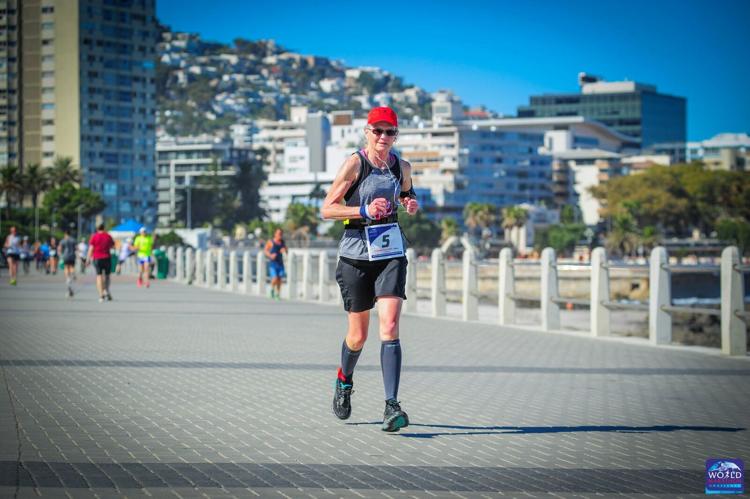 From South Africa, the World Marathon Challenge continues with races in Perth, Dubai, Madrid, Fortaleza, and finally Miami. Chartered flights ferry the runners from continent to continent along with a support team of doctors, photographers and videographers.
Local running groups support each of the races, which are run on established pedestrian trails, an ice runway, and a Formula One racetrack.
"Once you run it, you have to wait for the last person, then you're back on the bus, back to the airport and onto the next place," Carrier said.
But the running — all 183 miles of it over seven days — might be the easiest part of the challenge. Recovery conditions after a hard run like cramped seats and airplane food do not come highly recommended.
Last year, Carrier lost 12 pounds over the course of the week, but felt fit enough to go for a short run two days later and tackle another marathon within six weeks.
"I finished that race last year without a blister. I think mainly that's because I trained. I stuck to the training plan, never deviated from it even if I wanted to," she said.
"I think if you train properly you're likely to feel okay at the end. I wasn't sick, and of course the next morning I got up and had the biggest cheeseburger I could find and the next day went for a run."
The Elevated Legs system, an air compression system that encases Carrier's legs from the hips down, helped keep her going. Another useful piece of technology is the MiniMed 670G insulin pump system from Medtronic, which is sponsoring Carrier's second attempt at the World Marathon Challenge.
"Linda is an inspiration to so many within the diabetes community as she represents our goal of helping individuals with diabetes live longer, healthier lives," said Mark Grant, vice president of the Americas region for the Diabetes Group at Medtronic. "We are humbled that our MiniMed 670G has supported her journey, and look forward to following her future successes."
She'll bring a second pump along, in case the first one freezes in Antarctica. Though the sun never quite set there, last year the temperature fell more than 45 degrees over the course of that run. Runners stationed extra clothing on a trailer near the starting line, to add layers as they circled through.
"If you sweat and the temperature drops you get hypothermia, so you have to balance it so that you're warm but not sweaty," said Carrier. "I've made it 43 years without losing a toe to diabetes, I sure as hell don't want to lose one in Antarctica."
This time, she'll go better-equipped to replenish the thousands of calories burned during each race: with plastic baggies to take race food onto the plane and freeze-dried dinners designed for camping.
"The three-cheese macaroni is actually pretty good so I got like six of them," she said.
Carrier leaves North Carolina next weekend for Cape Town, where the challenge group will convene before heading for Antarctica.
As an all-inclusive experience, the World Marathon Challenge comes with a hefty entry fee of about $41,000. With support from Medtronic, Carrier hopes both to improve upon her 2019 race times and send an encouraging message to other people living with diabetes.
"Type 1 diabetes doesn't mean your life ends. You can do all kinds of things," she said. "As long as I'm standing up and I can put one foot in front of the other, I'll keep running."