Winona Coveney spent a recent Wednesday evening searching for homeless people in Southern Pines.
She found a campsite deep in the woods behind a donut shop. No one was home, but Coveney noticed pairs of hand-washed socks that had been left to dry in the 34-degree night.
"I was hoping this person was inside somewhere because it was so cold," Coveney said. "It really brought to the forefront that people are outside in these conditions, and we're only there for one night."
Coveney had been enlisted by T.E.A.M. Workz, a local nonprofit, to coordinate the first official "Point in Time" count for Moore County. An annual effort to tally unsheltered Americans, the count generates data that can be used to secure grant funding for organizations that focus on homelessness.
Findings from the count, which is held on a single night in January, provide a "statistically reliable snapshot" of unsheltered populations, according to the U.S. Department of Housing and Urban Development. But because the count was not administered locally in 2019, the most recent data misleadingly show Moore County as having zero unsheltered residents, despite easily found evidence to the contrary.
Indeed, an investigation last year by The Pilot found multiple homeless encampments in Aberdeen, Pinehurst and Southern Pines. Most of the encampments were occupied by unmarried men who are not eligible for transitional housing through organizations like Friend to Friend and Family Promise of Moore County, which both cater primarily to displaced women.
In other communities, the campers could take refuge from the bitter cold by checking into a homeless shelter. There are no such facilities in the Sandhills.
Cliff Brown, the founder and director of T.E.A.M. Workz, hopes the nonprofit will eventually gain enough funding and support to build a proper shelter in Moore County. But before that can happen, Brown said the organization must convince taxpayers that people are actually experiencing homelessness in the county, which ranks among the wealthiest in the state.
"People around here are always saying there's no homeless in Moore County," he told a group of volunteers ahead of the count. "This event will prove that's not the case."
Coveney is a social worker who has been involved with "Point in Time" events in Seattle and Raleigh. After agreeing to oversee the count in Moore County, she led a training session to show volunteers the mobile app they would use to survey unsheltered individuals on the night of the count. People who did not wish to participate in the survey, which included somewhat invasive questions about substance abuse and sexually transmitted diseases, could be clandestinely tallied through the app.
Volunteers were assigned to teams, with each group receiving a list of locations where homeless individuals had been reported to stay. After convening at Bethesda Presbyterian Church in Aberdeen on Jan. 29, the surveyors set out on a three-hour search for unsheltered people.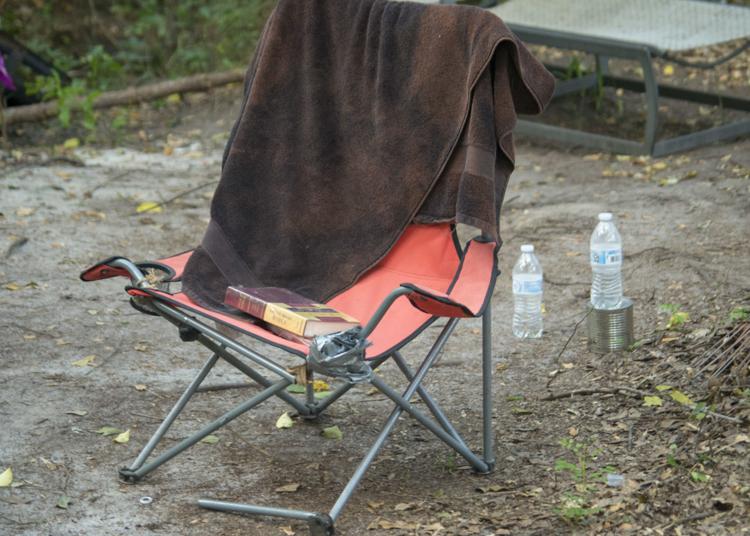 Snapshots of the Unsheltered
Martha Christian's team began conducting surveys shortly after 5 p.m. at Sizzlin' Steak or Eggs, the Aberdeen restaurant where members of a local homeless encampment had been invited to meet with volunteers on the night of the count.
She interviewed a young boyfriend and girlfriend who have shared a tent in the woods for the past four years. The girlfriend said she has struggled to find steady employment. She is due in court soon for a drug charge, and she worries it will be even more difficult to find a job if she's convicted.
"They were very open with us and very appreciative," Christian said of the couple. "They felt they were helping other people by being open and sharing information with us, and they wanted to contribute."
Andy and Mary Hendry of Pinehurst were assigned to Christian's team. The married couple gave fast food and $10 bills to unsheltered individuals as an incentive to participate in the count.
The Hendrys surveyed two adult brothers and their octogenarian mother at a dilapidated mobile home without electricity off N.C. 211. Because the structure is not suitable for human habitation, the family met HUD's criteria for homelessness.
"This is a relatively affluent community, and for people to be sleeping in tents in 20-degree weather is just not acceptable," Andy Hendry said. "This is incongruous for a community with good values."
Speaking to a reporter in the parking lot of a Southern Pines convenience store, a homeless man surveyed for the count said he had been sleeping in his pickup truck for the past eight months. The man said he has a job, but most of his income is consumed by child support. He'll be jailed if he misses a payment, he said.
Tambra Chamberlain, a school social worker who volunteered for the count, found an unoccupied tent while using her flashlight to search a wooded area in Aberdeen. She later crossed paths with the apparent owner of the tent, but he politely declined to participate in the survey.
"He seemed embarrassed," Chamberlain said.
Brown tried unsuccessfully to persuade another camper to emerge from a tent in the woods abutting a major department store in Aberdeen. Brown repeatedly assured the individual that he wasn't there to harass them, but the camper, who could be heard moving around inside the tent, refused to acknowledge his calls.
Before leaving the woods, Brown placed a business card and two Hardy's hamburgers on the lid of a nearby cooler.
'A Major Achievement'
A total of 23 people were identified as living in an unsheltered situation during the count. That number, which does not include the multiple unoccupied campsites found by volunteers, represents just two of the county's 11 municipalities.
Coveney had only enough volunteers to canvass Southern Pines and Aberdeen. In the future, she hopes the count can be expanded to include towns like Robbins and Vass, where more residents live below the poverty line.
"One of the biggest challenges here is that there aren't a lot established relationships with individuals experiencing unsheltered homelessness in our community because we don't have a lot of organizations or services for those individuals," Coveney said. "In counts I've participated in previously, there's a lot of agencies that work with these individuals and there's outreach. These agencies already know where people are and there's trust, so people feel more comfortable completing surveys and providing their information."
Although not comprehensive, Coveney believes the county's first "Point in Time" event was a success.
"I think this will definitely help illuminate the issue and set the record straight," she said. "For many years there was zero or one unsheltered person reported for Moore County. This year, that will not be the case and that is a major achievement."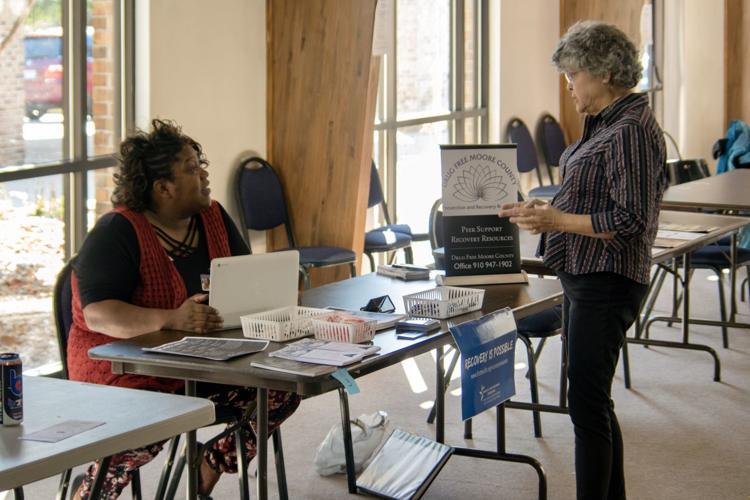 Unaccompanied Youth
In addition to being a social worker for Moore County Schools, Chamberlain serves on the board for the National Association for the Education of Homeless Children and Youth. She also leads the Youth Committee for Region 7 of the Balance of State Continuum of Care, an entity that receives funding from HUD to assist homeless populations in rural communities.
A few days before the "Point in Time" count, Chamberlain presented a report at Pinecrest High School on unaccompanied youth in the region, which includes Moore and eight other counties. Through surveys, she identified nearly 420 young people experiencing homelessness in the region, with 122 said to be "living in cars, tents or condemned housing."
About 230 students in Moore County meet the school district's criteria for homelessness, according to Chamberlain. Of those, 46 are enrolled in kindergarten, elementary or middle schools.
It's important to note that the school district's definition of homelessness is more inclusive than the criteria used in the "Point in Time" count. Chamberlain said most of the homeless students are not unsheltered, but they may be "couch-surfing" with friends or staying at the home of a relative.
Still, she called the findings "heartbreaking."
"How can we continue to ignore the needs of resilient youth that are attending school, working and attempting to better themselves through education?" Chamberlain wrote in the conclusion of her report. "Why do we as a region have more foster homes and websites in support of abandoned pets, but limited to no placement for our abandoned youth?"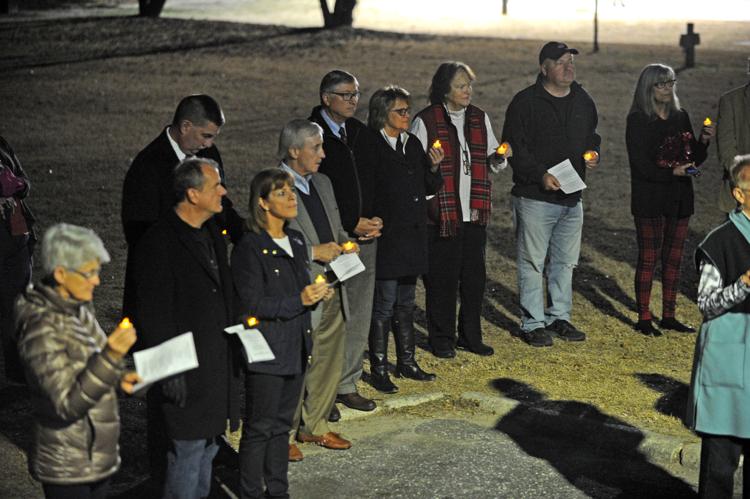 Addressing the Issue
While the individuals surveyed as part of the "Point in Time" count cited various reasons for being homeless, multiple people interviewed for this story agreed that affordable housing can be difficult to find in Moore County.
Chamberlain said there is a six-year waitlist for Housing Choice Vouchers, the official name for Section 8 rent subsidies. A review of online listings for local apartment complexes found no units available for rent in Moore County for less than $675 a month, with most of the available units costing upwards of $800.
Chamberlain and others are working to provide transitional housing to unsheltered young women in Moore County through a nonprofit called Tambra Place. Efforts to open a shelter that would accept homeless men have historically been met with resistance from officials and residents.
Fritz Healy, a beer wholesaler, tried in 2015 to open a privately funded homeless shelter in Southern Pines. Following months of public debate, the Southern Pines Town Council voted to allow the shelter in the town's general business district.
It was a hollow victory for Healy, who was unable to find anyone willing to rent out a suitable building in the approved district. Healy said he offered a large sum of money to a church with space in the district, but the church turned him down.
"It was like swimming uphill," he said.
The Gem Foundation, a nonprofit Healy had established to run the shelter before the project floundered, had been dormant for years when he offered last March to donate the foundation's bylaws and other assets to T.E.A.M. Workz.
The organization, whose name is partly an acronym for Together Everyone Accomplishes More, was created by Brown, a retired sergeant with the state Department of Corrections and a former president of the North Carolina State Employees Association. Under his leadership, T.E.A.M. Workz has organized several events including a Christmas Day food drive and a resource fair for individuals experiencing homelessness.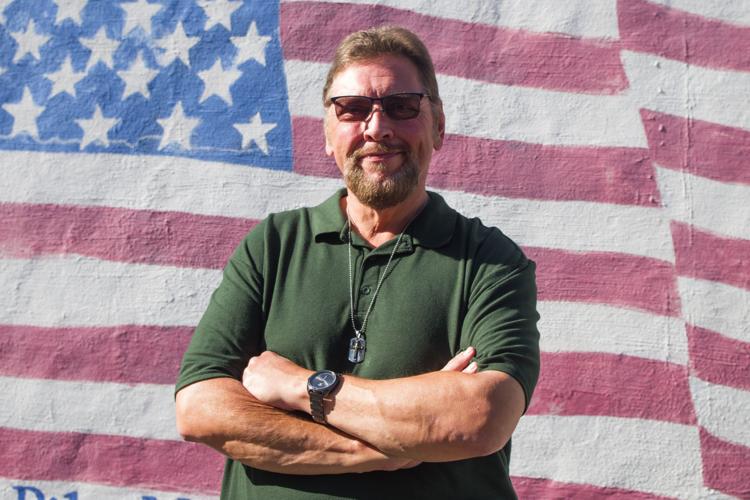 On Wednesday, Brown attended a town hall-style forum featuring candidates in the upcoming Republican primary. The event was organized by Veterans of Foreign Wars Post 7318 of Southern Pines.
After the moderator opened the floor for questions, Brown asked the candidates how they would work to address homelessness in Moore County.
Southern Pines Police Chief Bob Temme, who is challenging incumbent Jamie Boles in the race for state House, said a "good number of homeless individuals are mentally ill." The current scarcity of mental health resources, Temme said, is "something we need to focus on."
When Healy sought permission to open a shelter in Southern Pines, Temme told the town council that the project would "create a large homeless population that does not currently exist." The proposed shelter, Temme contended at the time, would sap time and energy from law enforcers.
"We deal with (homeless individuals) on a regular basis with the police department, and there's not a lot we can do for them other than to be compassionate and caring," he said during the candidate forum. "It's very difficult because there are not a lot of resources out there to help them."
Boles, who owns the county's largest funeral home, suggested that residents should not rely on elected officials to reduce homelessness in Moore County.
"I'm not saying we do the best here in this county, but we do have programs in place and I think a lot of people here support our nonprofits," Boles said. "If you're waiting on the government to solve this social issue, we're barking up the wrong tree."
Mike Hardin, a candidate for Moore County District Attorney, said he would "ask the legislature to fund mental health a little bit better in the state." His opponent Arthur Donadio noted that many homeless individuals charged with minor offenses often "don't need to be in the criminal justice system."
Donadio was the only candidate to acknowledge  the potential need for a homeless shelter in Moore County. He said residents should be involved with the facility's construction.
"We can all get together and build a shelter, that's a choice we can make," Donadio said. "But Bob can't make that happen and Jamie can't make that happen. We as individuals have to make that happen."
The following organizations can assist people experiencing homelessness in Moore County.
Food Bank of Central and Eastern North Carolina
National Call Center for Homeless Veterans
Phone: 1-877-4AID-VET (1-877-424-3838)
Website: friendtofriend.me
Family Promise of Moore County