Karen Pence, Vice President Mike Pence's wife, called out a Southern Pines business during her televised speech Wednesday night for the Republican National Convention.
Pence met with R. Riveter co-founders Cameron Cruse and Lisa Bradley in November 2018 at their "Fab Shop," the company's warehouse in West End.
The mother of an active duty Marine, Pence said she was inspired by R. Riveter's business model to assist military spouses, not by offering charity but through the opportunity of a portable career.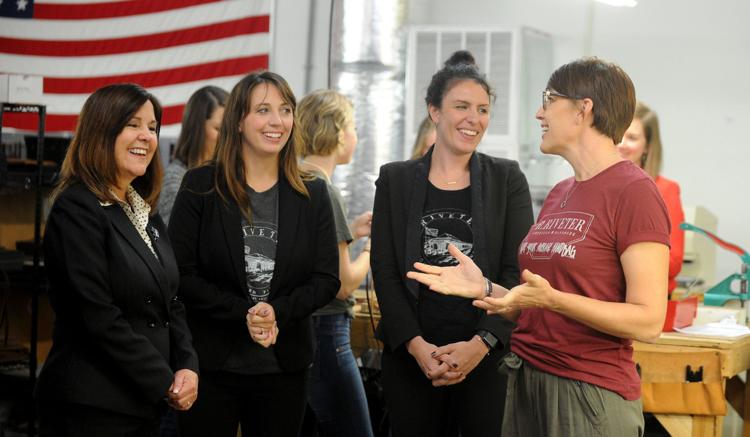 "President Trump and Vice President Pence have been supporting our United States Armed Forces, including our military families, on a significant scale," she said in prepared remarks. "While traveling throughout our nation to educate military spouses about policy solutions President Trump has promoted, involving real, tangible progress in military spouse employment, I have been inspired to meet heroes like Lisa Bradley and Cameron Cruse.
"These military spouses decided to start their own business, R. Riveter, named after the Rosie the Riveter campaign used to recruit women workers during World War II. R. Riveter makes beautiful handbags designed and manufactured exclusively by military spouses. Many of those spouses live all over the country. They prepare and send their section of the bags to the company located in North Carolina where the final product is assembled."
Named after the World War II icon Rosie, R. Riveter employs remote "riveters" who assemble components of the company's handbags — often from military surplus materials -- in their homes and send them to Moore County for fabrication. The bags are then sold online and in R. Riveter's flagship store on NW Broad Street in downtown Southern Pines, and through pop-up shops.
Far more than simply a catchy name on a purse, Cruse and Bradley have used R. Riveter as a successful entrepreneurial platform to inspire and empower other military wives.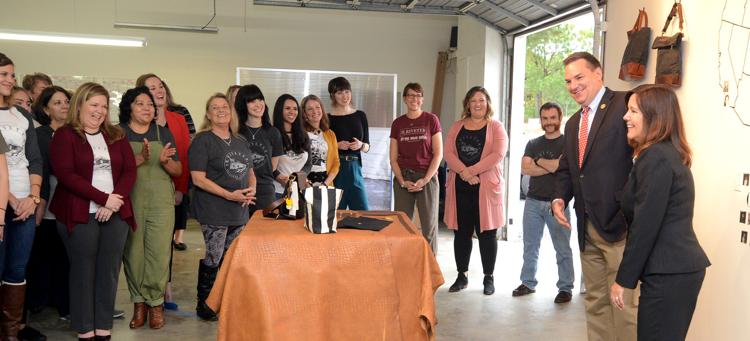 In February 2016, R. Riveter was featured on the ABC reality program "Shark Tank," where they landed a substantial investment and new partner in the form of billionaire Mark Cuban, owner of the NBA's Dallas Mavericks, film distributor Magnolia Pictures and various other interests. The show exposed their already prosperous small business to a viewership in the millions, and launched their product line into the national consciousness.
Most of its handbags are touched by at least eight riveters through the manufacturing process, with many of the individual purse components stamped with the riveter's corresponding number.
The work is slow and deliberate, despite the rapid expansion of the business. On the Fab Shop floor, the original industrial sewing machine that Cruse and Bradley purchased for their start-up business is still in use.
Bradley likened their process to the work of the original "Rosies" who worked in factories and shipyards during World War II.
"Every rivet had a purpose but you did not have the full effect until it all came together," she said.
Pence, a retired educator and award-winning watercolor artist, launched an awareness campaign in September 2018 to elevate and encourage military spouses.