Students were in short supply at North Moore High on Wednesday, but excitement from the community leaders gathered that morning to celebrate the opening of a new auxiliary gymnasium and science wing was not.
That may be because some of them graduated from North Moore themselves at some point in the school's 55-year history.
"This is a very exciting day in the history of North Moore High School," said Lonnie English, the mayor of Robbins. "The new auxiliary gym and the state-of-the-art Charles R. Lambert Science Wing shows that we're preparing our students today into the future."
As a member of North Moore's class of 1969, English was part of the first group of students to attend North Moore for all four years of high school. During Wednesday's ribbon-cutting ceremony, he recalled that the consolidation of Elise, Highfalls and Westmoore students into one high school was a momentous event for the rural community.
"I want you to know that we came together and became one of the greatest groups," English said. "My class of 1969, I can call them family because we're just like family. We never had an issue the whole four years that I can remember, of not getting along."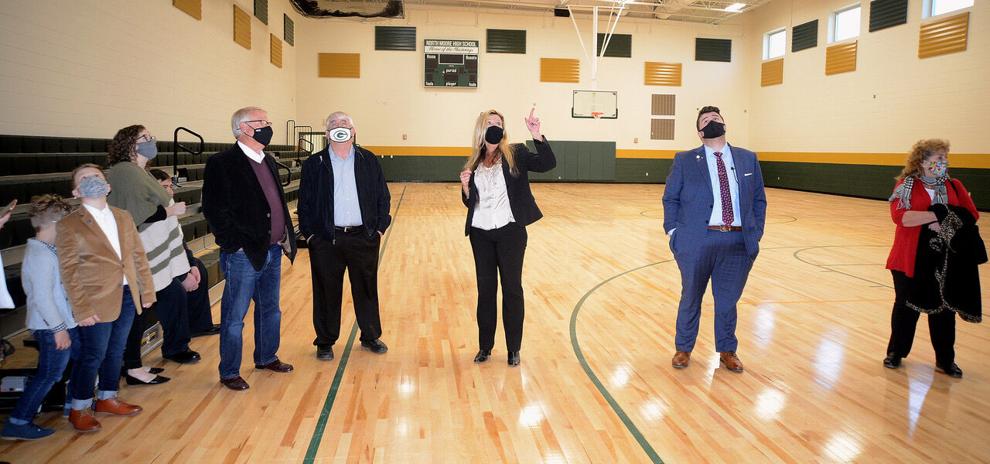 That same ethic still runs strong at the small 600-student school. Logan Pennington, a North Moore junior and executive student body vice-president, said that's why athletics are integral to student life there.
"I'd say at least 50 to 60 percent of the people who go to school here are on some type of sports team," he said. "It gives people something to do, it's fun for all of us working together as a team."
North Moore enrolls about 600 students from Robbins and around northern Moore County. It's been the only high school in the county without an auxiliary gym since Pinecrest and Union Pines got them in 2013.
"Whether you have 600 students or 2,600 students, basketball, cheerleading, volleyball, baseball, softball, wrestling and soccer teams roughly have the same number of kids and require the same amount of space to practice," said Principal Jenny Purvis. "When it's raining, you know every coach wants to come in and have a space to continue to work. The only difference is that we're pulling our teams from a smaller pool."
As sports get their pandemic-belated start this year, 6 a.m. and 10 p.m. practices will be a thing of the past at North Moore.
The new gym, though, is just the cornerstone of the 39,000-square-foot expansion that now comprises about 25 percent of North Moore's building space. It came with new locker rooms and a renovation of the old ones, a fully-padded wrestling room, and a weight training room with brand-new equipment to round out the athletic side.
Logan, a former wrestler who now plays football and tennis, said that North Moore athletes are looking forward to the upgraded amenities.
"It's going to be nice to have facilities where we've got room and we're not on top of each other, like this wrestling room. When we had it at the fieldhouse it was so cramped, it was nothing but a storage room with some mats thrown down," he said. "The weight room is a lot bigger than the weight room that we had, with newer equipment. Some of that equipment that was in there has been there since my dad went to school here. There were weights with their names written on them."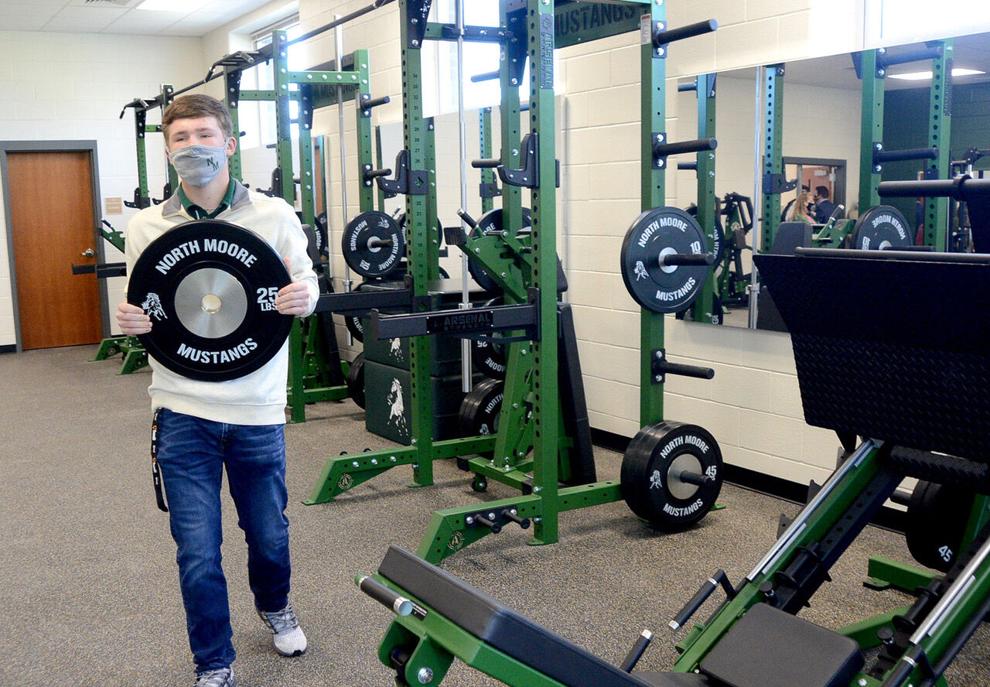 North Moore's new science wing incorporates math and science classrooms, independent laboratory space with a storage room for chemicals and equipment, and a new nursing lab along with a new classroom for students with special needs.
That space was dedicated to Charles Lambert, a north Moore native who worked as a Moore County Schools science teacher and principal for 31 years. After he retired as principal of Elise Middle School, he served four terms on the Moore County Board of Education before his death in 2018.
"Charles was a devoted servant of our students and an uncompromising advocate for our northern Moore schools," said Pam Thompson, school board vice-chair and a North Moore graduate herself. "I am so thankful and delighted that we're able to honor him this morning."
For the last 10 years North Moore has housed six classes in a modular building, which will be removed from campus when the new science wing opens to students in January.
Students interested in nursing will now be spared the trip to Sandhills Community College in Pinehurst, as North Moore's nursing lab will facilitate instruction toward certified nursing assistant licensure.
Lambert's sons Charles and David were on hand for Wednesday's dedication. David Lambert said that the honor fit his father's lifelong dedication to public education.
"Dad always joked that he never graduated: he kept coming to school," he said.
"He went through many trials and good things and obstacles and happy times on the Board of Education, and he thoroughly enjoyed working with all the boards to some degree but especially the last board. He really appreciated all the work and dedication that you all showed and the zeal you had for the students."
Moore County Schools broke ground on the $12.9-million expansion in October 2019. The North Moore project was not included in the 2018 bond referendum for the new Aberdeen, Pinehurst and Southern Pines elementary, so the Moore County Board of Commissioners agreed last year to fund it with a private bank loan.
Otis Ritter, who represents northern Moore County on the Board of Commissioners, expressed a vote of confidence in that investment on Wednesday.
"When we broke ground here, I told the kids, I said treat this as your own piece of property. This school is over 50 years old, and it sure doesn't look like it. They have taken care of it," he said. "These students don't know how fortunate they are to be able to come to a school that's about 600 people, where you're an individual."
Commissioner Catherine Graham, a native of Highfalls, also spoke to the tight-knit character of the Robbins community, the tendency of former students to find their way back as teachers and leaders, and the role of another long-serving school board member, Bruce Cunningham, who died last year.
Looking over the school's athletic fields and new gymnasium, she compared the moment to the film "Field of Dreams," which was coincidentally released the same year North Moore last saw a significant addition in its current English building.
"Somehow I feel like those who have gone on before are in the background like those baseball players were in the field, cheering us on: don't give up," said Graham. "We won't give up, and this is a day that we celebrate overcoming obstacles and we're just so happy and appreciative that this happened."