State tests administered to public school students this spring showed that many children have fallen behind in learning over the course of the coronavirus pandemic.
Across the board in all subjects, 52 percent of Moore County Schools students scored a Level 3 or above to indicate an acceptable grasp of the educational standards defined for their grade level.
That's down from 61 percent in the 2018-2019 school year. North Carolina skipped testing in 2020 after shifting all students to virtual learning that spring.
Principals and teachers across the district have spent the last month, since the state released this spring's testing data, identifying their schools' losses and gains. With a few exceptions — sixth grade math results at Crains Creek Middle, the overall strong performance by McDeeds Creek Elementary students in the first year of testing since the school opened — losses outpaced gains.
Some school board members are even more concerned about a longer-standing phenomenon: how few Black students are performing on grade level relative to the overall population of Moore County Schools. That's not unique to Moore County either. Statewide, 26 percent of Black students are performing on grade level, as opposed to 59 percent of white students and 45 percent of the overall public school population.
The "achievement gap," as educators refer to it, is slightly more pronounced locally. In Moore County, 24 percent of Black students performed on grade level, as opposed to 62 percent of white students.
During a daylong special meeting last Tuesday to review individual schools' plans for improvement over the next two years, board member Robert Levy asked principals how they plan to accelerate learning for their Black students particularly.
"I know that you are trying your best and I appreciate that it's a very, very difficult thing," Levy said. "But I just believe, I'm trying to use this time to emphasize the need to get our subgroups more in line with our general population."
Black students aren't the only "subgroup" tracked independently of the district overall. Other demographics performing well below the district average in reading and math include students whose first language isn't English, students from poor families, and homeless students.
And many times, children are in multiple subgroups. Educators frequently speak of some students who come to school without having eaten since lunch the day prior, or students who begin kindergarten with learning and developmental difficulties, and often a combination of obstacles.
On the other hand, higher proportions of academically gifted and military-connected students perform at or above grade level than the district's average.
Teacher and staff teams at each school formulate improvement plans for approval by the school board every other year. This past week 11 principals, along with a teacher and parent representative from their school, presented those plans to the board.
Those plans generally don't tailor plans to Black students or any other demographic. Instead schools are developing methods to provide more individualized instruction to each student based on their particular strengths and weaknesses.
"When we created these particular strategies, we had all students in mind," said Crains Creek Middle Principal Melonie Jones. "Every student is where we want to see the positive growth, because if we make that positive growth we know we're impacting all students."
After a year of all-virtual and hybrid learning, schools anticipated learning loss well before official test results came in. This past summer the school board approved plans to spend nearly half of its federal COVID-19 relief funds helping students catch up.
That money will pay for second-grade teacher assistants over the next two years. This year, relief funds will also pay for schools to use i-Ready software programs to diagnose which concepts individual students struggle with and help tailor instruction to those needs.
"i-Ready comes with lots of benefits. It allows us to get some baseline data on our children. It allows us to progress-monitor our children. It allows our children to have some work and access to reading and math at the level that they are performing at," said Vass-Lakeview Principal Lisa Scott. "So it's just an additional resource; it by no means replaces a teacher. It's just an additional piece to our puzzle to give us more data to dig in on our children and drill down and figure out how we can support them to get them to proficiency."
That data then leads to bigger picture changes in how a teacher might organize a classroom, either to group students intentionally at similar skill levels or to allow a student who is comfortable with the material to assist a classmate.
Union Pines High has designed a yearlong section of math and English to help about 100 struggling first-year students get caught up. Though students were selected based only on academic need, the cohort has a higher proportion of minority students than the school overall.
It's scheduled during third period, which suffers fewer disruptions than the first or last class of the day, and stretches the material in both of those critical subjects over an entire year. At 21 to 23 students, class sizes are some of the smallest at the high school level.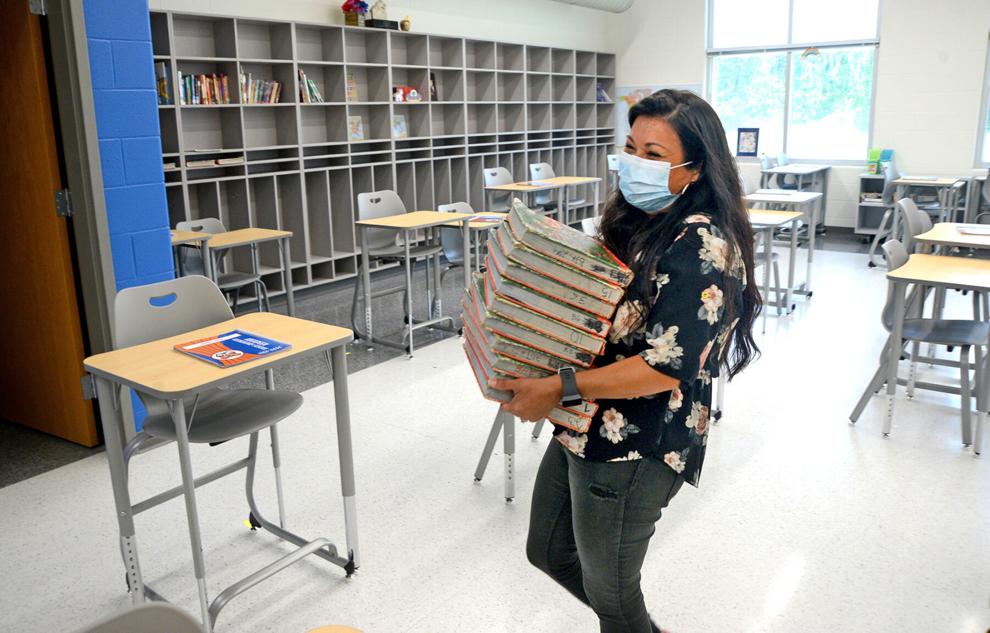 "That did increase our honors sizes, but those honors students can handle that. We swallowed that pill to move the needle. Because if we don't focus on moving the needle with these 100 students at the lower end based on (test) data, we're never going to reach that 'A' school status," said Principal Andy McCormick.
"The teachers have really bought in. These teachers were handpicked, not just because of their ability as a teacher. It's their ability to create relationships within the classroom, they're all well-liked and we're looking forward to seeing what kind of results we can gain from this."
On the other end of the spectrum, Union Pines is also working to encourage capable students, especially minorities who might have been overlooked in the past, to enroll in community college, honors and Advanced Placement courses.
School improvement plans also emphasize "professional learning" teams and communities, or fostering collaboration between teachers.
More schools are moving away from assigning specific subjects to elementary and middle school teachers, instead letting them teach all core subjects so that there's at least one other teacher on their grade level doing the same work.
"When they're paired that way, and then they have to try to partner together to do a common formative assessment, that's hard," said Westmoore Principal Clarkie Hussey. "So now what we have is the teachers paired so that if I have two kindergarten teachers or two first-grade teachers, they both teach everything."
Westmoore also schedules daily planning periods shared by teachers from adjacent grade levels, for instance kindergarten and first, or all middle school grades, to ensure streamlined instruction from one grade to the next.
Some schools are also moving toward integrating special needs students into core classes and assigning an EC-certified teacher to those classes to support the lead teacher.
School improvement plans also include quantifiable goals for future growth. McDeeds Creek plans to have 80 percent of its students performing on grade level by the end of the current school year. It's currently 11 points way from that target in reading, 10 points in math and six points in science.
Now in its third year of operation, McDeeds Creek saw its attendance area shift for the current year as Moore County Schools finished phasing in its countywide redistricting.
"In our school improvement team meeting, representatives from each grade level were not okay with that. They said 80 percent is not good enough," said Principal Molly Capps. "We said let's start with 80 percent until we figure out this new population of students we have and then we'll go from there."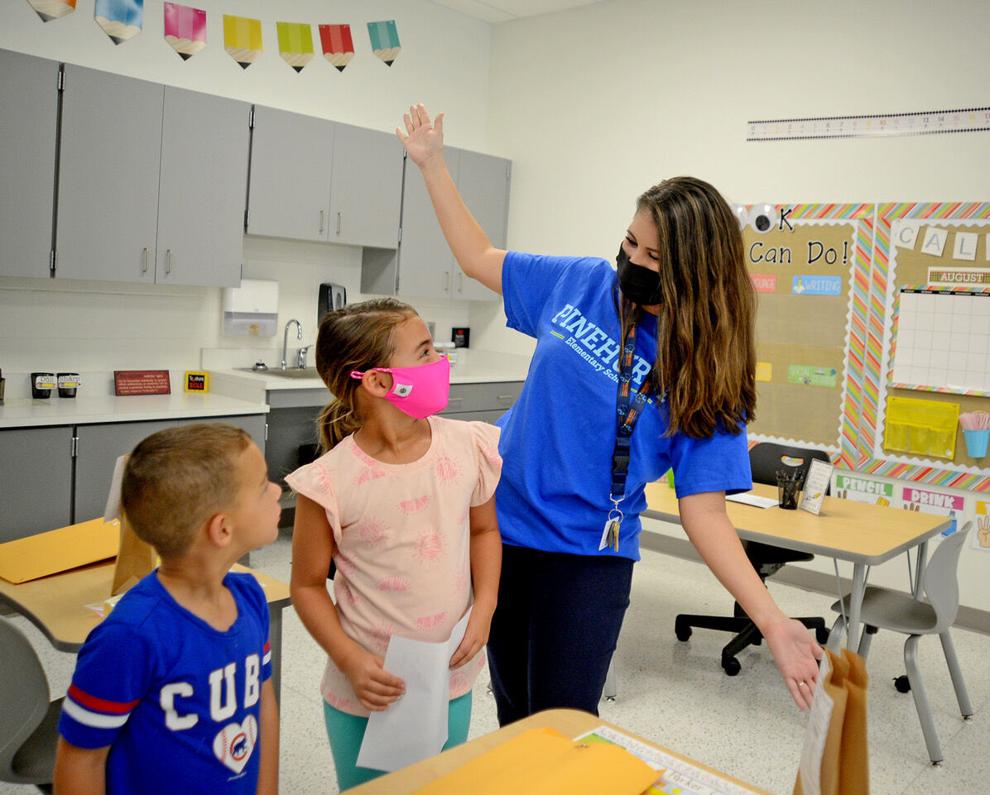 At North Moore High, the staff there have decided to shoot for 10 percentage points' increase in grade level proficiency on the state English 2 exam and 15 points of growth in Math 1 and Math 3. Those goals are guided by the school's pattern of growth before COVID disrupted how schools engage their students.
"What we wanted to do this year was be realistic," said Principal Jenny Purvis. "Even though this plan is for two years, this is what we hope to achieve this school year and then we'll readjust these goals for the next school year because this is the mark that we were trying to achieve pre-pandemic."