Peaceful demonstrations were held in Southern Pines and Carthage on Saturday morning to protest actions by newly appointed Postmaster General Louis DeJoy that could impact the upcoming federal election.
Organized by Moore County NAACP and Indivisible of Moore County as part of a national call to action, the assembled groups derided operational changes, including the dismantling of mail sorting machines, that have caused postal delays.
"We would like a free and fair election and that includes voting by mail," said Debby McGovern, representing Indivisible of Moore County.
DeJoy, who resides in North Carolina, was appointed to lead the U.S. Postal Service by its Board of Governors earlier this year. Considered a Republican "mega donor," DeJoy's financial interests have drawn fire. According to government records, the former CEO of New Breed Logistics, and his wife, Aldona Wos, a former N.C. Secretary of Health and Human Services, may claim up to $75 million in assets from U.S. Postal Service competitors.
Recent operational changes under DeJoy's tenure, including restructured leadership, a management hiring freeze, implementing delivery time restraints and cutting overtime pay for postal workers have stoked fears about election impacts and the sustainability of mail service particularly in rural areas.
Lawsuits have been filed against the U.S.P.S. by attorney generals from at least 20 states, according to a recent Forbes report. In addition, DeJoy was called to testify before the Senate Homeland Security and Government Affairs Committee on Friday and is expected to meet with the House Oversight Committee on Monday.
Last week DeJoy announced an expansion of the current leadership taskforce on election mail "to enhance our ongoing work and partnership with state and local election officials in jurisdictions throughout the country...Because of the unprecedented demands of the 2020 election, this taskforce will help ensure that election officials and voters are well informed and fully supported by the Postal Service."
He noted that some "reforms" would be suspended until after the election to avoid even the appearance of impact on the election; however, DeJoy stopped short of agreeing to return the dismantled sorting machines to use. 
"We want full funding of our post offices," McGovern said. "We want every vote counted."
O'Linda Watkins of the Moore County NAACP said the operational changes have impacted mail delivery at an especially crucial time because of COVID-19. She noted the NAACP also recently filed suit in the U.S. District Court of Washington, D.C. against the U.S.P.S. changes.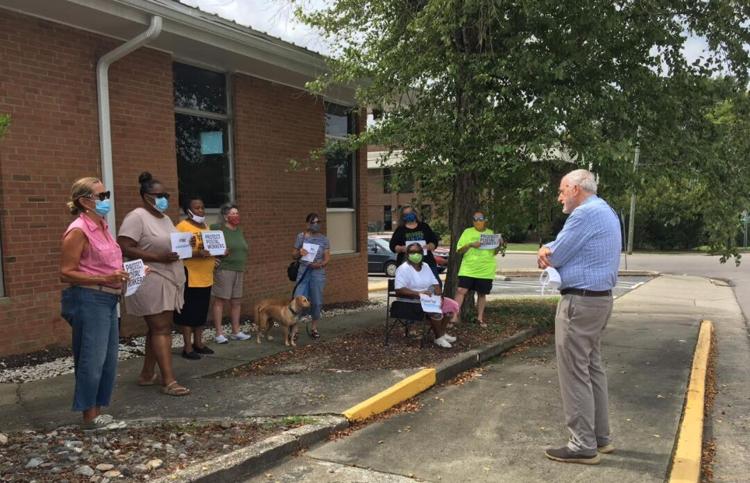 "We need to support a beloved system that every American relies on," Watkins said. "In this pandemic, mail is how many of us will deliver our democracy."
Civil rights attorney, Alan McSurely, spoke of Benjamin Franklin, the nation's first Postmaster General, and the U.S. Constitution that provides for a postal operation "to bind the nation together."
"Public schools must serve every child. The same is true for the post office. It is there to serve everybody," McSurely said.
Watkins said voters should decide now how they intend to vote, whether in-person, at an early voting site, or by mail. Absentee ballots may be requested between now and Oct. 27, and will be available starting Sept. 4. Download a request form from the Moore County Board of Elections website at https://www.moorecountync.gov/board-of-elections or call (910) 947-3868.
Absentee ballots must be completed in the presence of a witness. The envelope may be mailed or delivered in person by the voter or a relative of the voter to the county board of elections office or to an early voting site.
"If you plan to vote by mail, you need to request an absentee ballot. And when you receive it, return it as soon as possible," said Watkins.