The unobtrusive sign on the side of U.S. 1 in Sanford belies the lifesaving work going at Pfizer's 230-acre grassy campus.
Here along this quiet stretch of central North Carolina — beyond the gates and inside the gleaming, approximately 650,000-square-foot secured facility — scientists like Ray Halstead are turning molecules into medicine. The Moore County resident was one of a handful of colleagues selected earlier this year for a starring role in a micro-documentary film produced for the global biopharmaceutical giant.
Titled "I Am in the Business of Saving Lives," the two-minute piece highlights much of the work that goes into manufacturing the company's breakthrough vaccine. The Prevnar 13 vaccine was developed to prevent infection caused by pneumococcal bacteria, and is used most often in children up to age 5 and in adults over age 50.
Combining colorful images of children at play with glimpses of work in the laboratories, the film offers a short but powerful narrative.
"It's a very unique opportunity to be behind the scenes," Halstead says, speaking directly to the camera. "As a mom, I want to protect my kids, and it is amazing to know that I make a vaccine that can help protect them."
A 13-year employee of the Sanford plant, she described her brush with Hollywood glamor as both awesome and exhausting.
It was late April when a film crew of more than 40 descended on the Sanford plant. The interior lab scenes required three 14-hour filming days to accomplish, followed by a 10-hour photo shoot around Halstead's home in the Seven Lakes North community in West End. Her own three children and the young family members of a few of her colleagues are captured playing dress-up, jumping into the lake, running through tall grass, eating pizza, and goofing around at the playground.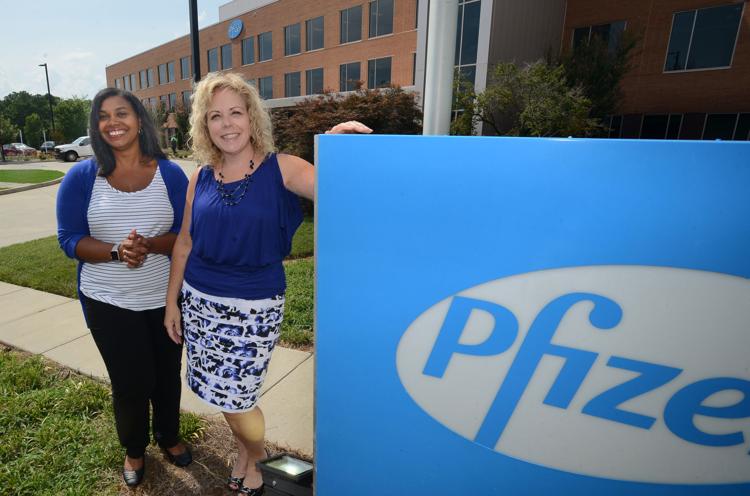 The segment is also interspersed with hard data related to the manufacturing process for Prevnar 13. A single dose of the conjugate vaccine takes 2.5 years to create, involving 1,700 people, over 400 raw materials, 581 manufacturing steps, and 678 quality tests. Prevnar 13 is considered a breakthrough vaccine and, since 2000, more than a billion doses have been manufactured.
Pfizer's full portfolio includes medicines, vaccines and consumer health-care products. Based in New York City, the research-based company produces well-known household brands in addition to many of the most widely recognized pharmaceuticals available on the market.
Industry Growth Continues  
Chances are if you've watched television for more than an hour or two over the last decade, you've likely viewed commercial advertising of a Pfizer product. From ChapStick and Advil, to Viagra and Lipitor, the company employs approximately 90,000 employees around the world, including 450 at its North Carolina facility in Sanford.
Earlier this year, Pfizer began exploring an option to expand the Sanford facility with a $100 million investment. If those plans go forward, the expansion would add a gene therapy component to the operation and up to 50 additional jobs.
This is good news, because less than a decade ago, the pendulum swung hard the other way. Back in 2009, Pfizer acquired Wyeth in a $68 billion acquisition. That action put hundreds out of work when the same Sanford facility was downsized. Like Pfizer, Wyeth had used the laboratories on-site to manufacture a pediatric Prevnar vaccine.
The global human vaccine market is a multi-billion dollar enterprise. The four main players in this field include GlaxoSmithKline, Sanofi, Merck and Co. and Pfizer. Their combined sales hit the $28.3 billion mark and accounted for 70 percent of market revenue in 2015, according to a report published by Transparency Market Research. These figures are expected to rise exponentially over the next few years with the same report anticipating the vaccine market to top $72.5 billion by 2024.
Conjugate vaccines — like Prevnar 13 — represent the largest segment of this market.
In November 2016, Pfizer announced it was expanding access and cutting the price of its best-selling vaccine for use in humanitarian emergencies. The price drop and availability of access to a multi-dose vaccine began in early 2017, with Pfizer also announcing that it would donate all sales proceeds from the first year to humanitarian groups working with the global refugee crisis.
Up the road in Sanford, work in the laboratories produces the key components to create Prevnar 13. Primarily made of polysaccharides or oligosaccharides antigens amalgamating with a protein carrier, the science behind the manufacturing process requires precision and expertise. And like all other drugs, conjugate vaccines are connected with certain side effects, from the common — soreness, swelling and redness — to extremely uncommon serious and fatal side effects.
"From a biotech perspective, we utilize fermentation, conjugation and purification processes. The cool bit about science is not the stainless steel tanks but the chemistry that happens inside," said Lynn Bottone, Pfizer's site leader. "We grow cells up and then purify them. Pfizer Sanford has been manufacturing glyco-conjugated vaccines for the last 30 years. We are very good at it."
It is one of the world's most complex vaccines to manufacture, Bottone said. "And we make it look easy."
Her team will also soon grow with space being refurbished for the production of another conjugated vaccine recently purchased by Pfizer.
"We are excited to add additional commercial production here in Sanford. This is a product that we are bringing from overseas back to production in the U.S." said Bottone.
On a more personal approach within the local community, Pfizer also stays engaged by partnering with nonprofits, schools and Central Carolina Community College.
"We are always looking for opportunities to take that nonprofit's services to the next level. We are not paying to keep the lights on, but look for programming that makes a difference," said Amy Butters, Pfizer's associate director of site communications and public relations in Sanford. "We target community giving to health care and education."
Typically offering up to 30 grants annually, this year's largest gift — a $15,000 donation — was sent to Sandhills Children's Center, based in Southern Pines.
"They presented their therapeutic intervention program, and it really spoke to our team," Butters said.
In addition, Pfizer Sanford also provided assistance for a local health clinic that works with uninsured and underinsured people, the Boys and Girls Club of Lee County, and Lee County Industries, which helps young adults with development issues transition from school to the workplace.
Butters said when the opportunity came up to feature the vaccine work undertaken at the plant, it was her job to find suitable "actors" from within the facility's team of professionals.
"I looked around for employees that wouldn't be terrified," she laughed, "and those who would represent us well. They needed to be able to speak with knowledge — there is a certain skill in that."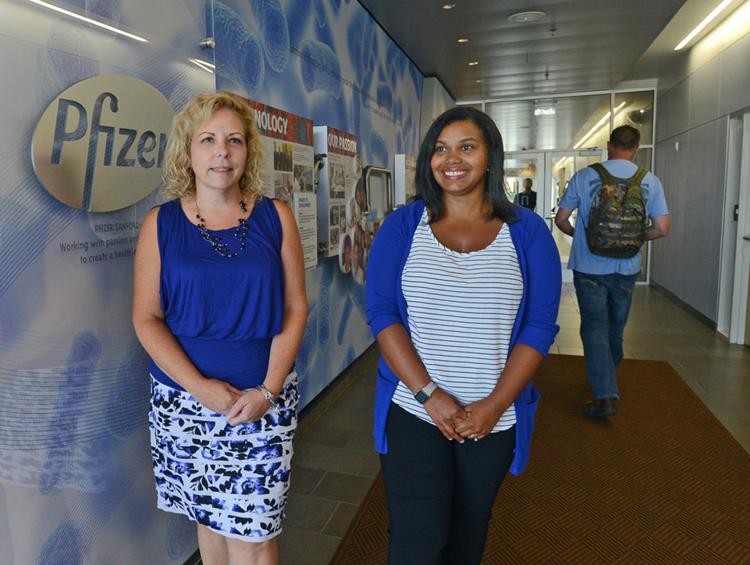 Tucker Walsh, the micro-documentary's director, came with plenty of experience. Walsh has also produced films for Apple, Pepsi, Ford Motors and Amex, among other big names.
"The director was very taken with Ray," she said.
Halstead said that in her first interview with Walsh, she had the opportunity to talk about her work as a scientist and also her children, and how they had each taken the vaccine as part of their regular preventive medical care. Later, Walsh also had the chance to talk with Halstead's children and they shared with him "why they thought Mommy's work was important."
Halstead and her husband — a popular local West End barber and budding farmer — were one of the first to view the final production. Their kids, she said, enjoyed their taste of the Hollywood experience.
"After seeing the pieces come together, it was very compelling. The director did an excellent job of telling our story as genuinely as possible, and it truly was our story," she said.
A recent promotion has moved her into a different role in the Sanford facility, but Halstead said she still works closely supporting lab personnel.
"When I try to explain to people what we do, I equate it to cooking. The manufacturing part are the chefs and cooks, and my work in the QC (Quality Control) lab is the taste testing. We make sure they did it right," Halstead said.