Students attending schools where face coverings are optional will have to quarantine for 10 days after a positive COVID-19 test or exposure, according to updated guidance from the Moore County Health Department.
That's twice as long as the five-day quarantine requirement in place for schools that require universal mask use — and it applies whether or not the student was personally masked at the time they're thought to have been in contact with the virus.
The Moore County Board of Education voted to lift the indoor masking requirement for Moore County Schools last month. That policy went into effect immediately for the last four days of school before winter break. The school board will continue to revisit that decision on a monthly basis, as the state currently requires.
Moore County Schools had 62 reported COVID-19 cases among students on Tuesday, the first day back. That figure includes positive cases identified during the two-week break. That was followed by 30 new student cases on Wednesday.
As of Friday, the district reported 32 new student cases for Thursday, excluding Robbins Elementary and the Community Learning Center. As of Tuesday, the district reported 127 student quarantines ongoing due to exposure.
The district's previous mask requirement kept quarantines to a minimum, as the health department only required post-exposure quarantine after an interaction with a positive individual in which at least one person wasn't wearing a mask.
Interim Health Director Matt Garner told the county commissioners this past week that quarantine requirements for schools where masks are required — some private and charter schools — will echo the Centers for Disease Control and Prevention's recommended guidance for the general population.
"Due to traditional schools being mask-optional, we have opted for 10 days for both isolation and quarantine guidance for students due to the problems with mask enforcement. It's simply because we can't guarantee that they're going to be wearing a mask, and enforcement of that otherwise," Garner said.
"It's hard to police and hard to regulate and a big burden on our teachers, so we just decided to go with 10 days, period."
In schools with universal indoor masking, students exposed to COVID-19 will have to quarantine for only five days after a positive test if asymptomatic. The CDC recommends that COVID-positive individuals continue to wear a mask in public for an additional five days.
Symptomatic individuals should isolate until they're fever-free and other symptoms are improving, or at least five days from the onset of symptoms, and wear a mask in public for five days more.
Staff cases on Tuesday and over winter break totaled 21, with 12 more on Wednesday and 13 on Thursday. School staff will be subject to the looser five-day quarantine requirement, as long as they wear a face covering for at least five days when they return to work.
"Positive staff may return on Day Six if fever-free for at least 24 hours and symptoms are improving, wearing a mask correctly and appropriately for the remaining of the 10 days," Garner said.
"Per school administration, it will be up to the school's principal to enforce that staff masking."
This week the CDC updated vaccine guidance to recommend the Pfizer COVID-19 booster for children ages 12 to 15, and for children aged 5 to 11 who have compromised immune systems.
Moore County Schools also saw a spike in COVID-19 transmission surrounding the Thanksgiving and winter holidays during the 2020-2021 school year. Last year, when schools were still on a hybrid schedule, the district's running tally of the year's COVID-19 trends hit 300 positive student cases and 2,000 quarantines in January.
As of Thursday 882 student cases have been reported during the 2021-2022 school year, with over 2,900 quarantines.
---
5 Long-Term Care Outbreaks Reported in Moore County
By JAYMIE BAXLEY || Staff Reporter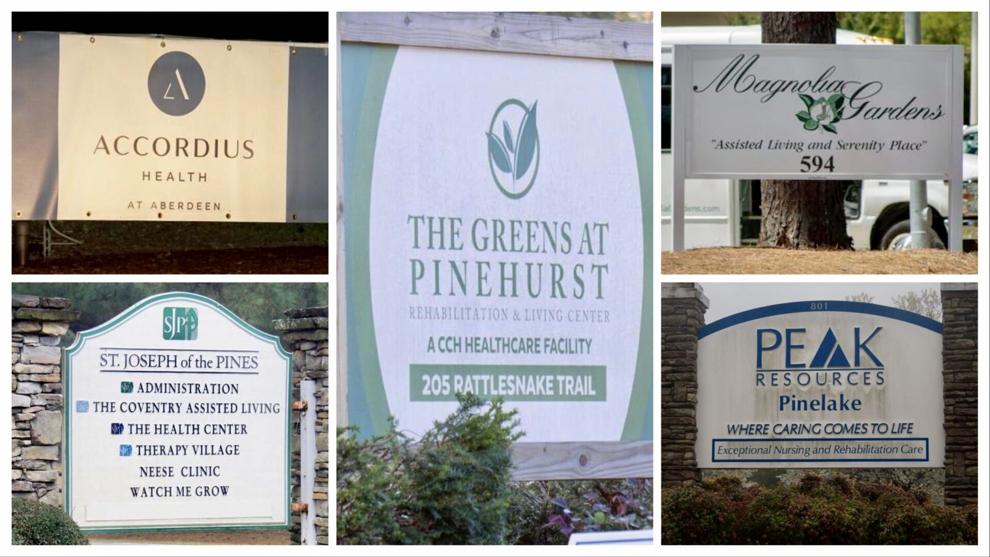 Five long-term care facilities in Moore County are experiencing new outbreaks of COVID-19, with most of the infections reported among staff members.
The facilities, which include four local nursing homes and an assisted living community, were identified Tuesday by the N.C. Department of Health and Human Services. An outbreak is defined by the state as two or more active infections in a congregate living setting.
While such events have occurred less frequently in recent months, outbreaks were once a major driver of COVID-19 cases and coronavirus-related deaths in Moore County. Residents of long-term care facilities, a population that is especially vulnerable to the virus, account for nearly half of the county's fatal infections since the pandemic's beginning two years ago.
The vast majority of those deaths were recorded before the arrival of vaccines. People in long-term care were among the first groups eligible for vaccination in North Carolina, and recent data from the Centers for Medicare and Medicaid Services showed that nearly 90 percent of the county's nursing home residents were fully vaccinated as of Dec. 19.
Many of those residents have also availed themselves of booster shots, which provide increased protection against the highly contagious Omicron variant. According to the CMS data, an average of 62 percent of the county's fully vaccinated nursing home residents are boosted.
At the same time, vaccine hesitancy has persisted among workers in long-term care facilities. Over a quarter of the county's nursing home employees are not fully vaccinated, according to the CMS data.
That number is likely to dwindle in the coming weeks. Under a federal mandate, long-term care facilities that receive reimbursement from Medicare or Medicaid must ensure that their employees receive either the one-dose vaccine developed by Johnson & Johnson or the first shot of one of the two-dose vaccines from Pfizer and Moderna by Jan. 27.
The largest outbreak announced Tuesday is at Accordius Health at Aberdeen, a nursing home where seven staff members and a resident recently tested positive. The CMS data showed that 96 percent of the facility's residents were fully inoculated as of Dec. 19, while 30 percent of the nursing home's employees were not.
The other local facilities with outbreaks include:
• Peak Resources Pinelake, a Carthage nursing home where three workers and a resident tested positive. About 71 percent of the facility's staff is fully vaccinated, along with 80 percent of its residents.
• The Greens, a Pinehurst nursing home where three employees tested positive. About 88 percent of the facility's residents are fully vaccinated but 66 percent of its employees are — the lowest percentage of any nursing home in Moore County.
• The Health Center at St. Joseph of the Pines, a Southern Pines nursing home where two employees tested positive. According to the CMS data, this is the only local nursing home with a larger percentage of fully vaccinated employees (93 percent) than residents (91 percent.)
• Magnolia Gardens, an assisted living community in Southern Pines where five employees tested positive. Vaccination numbers for this facility were not included in the CMS data.
Matt Garner, interim director of the Moore County Health Department, said "vaccination status could be a contributing factor" in the spate of new outbreaks.
"Certainly another factor in play is the sheer transmissibility of the Omicron variant, which has generated cases even among the vaccinated," he said. "I continue to urge everyone to get vaccinated and to get your booster, if you're eligible. If you're vaccinated and especially if you're boostered, you have a high level of protection and your likelihood of becoming seriously ill goes down substantially."
Omicron has fueled a surge of infections in Moore County, with the local health department recording more than 1,080 new cases since Jan. 1.
The county saw a rolling, daily average of 137 new cases for the seven days ending Friday, a 52-percent increase over the previous week. The positivity rate for coronavirus testing in Moore County stood at 25.8 percent, up from 14.6 percent on Dec. 30.
Six new COVID-19 deaths were announced Friday by the health department. Garner said the deceased individuals include:
• A man in the "65 to 74 age group" who died Thursday;
• A woman in the "65 to 74 age group" who died Tuesday;
• A man in the "50 to 64 age group" who died last Sunday;
• A man older than 75 who died on Christmas;
• A woman older than 75 who died on Dec. 22;
• A woman in the "25 to 49 age group" who died on Dec. 18.
Data from the N.C. Department of Health and Human Services showed that 54 percent of the county's population was fully vaccinated as of Friday. If counting only residents aged 18 or older, about 65 percent of the population is fully vaccinated.
A total of 16,180 cases of COVID-19 have been recorded in Moore County since the start of the pandemic. At least 266 of those infections, or about 1.6 percent, have been fatal.
The Moore County Health Department is expected to share an update on its response to COVID-19 during Monday's meeting of the local board of health. The meeting starts at 6 p.m. on the second floor of the Rick Rhyne Public Safety Center in Carthage.