A long-awaited renovation project is nearing completion at Moore County's only multiplex. 
Work to modernize Paragon Sandhills, formerly known as Sandhills Cinemas, began in earnest last year after the aging multiplex was acquired by Paragon Theaters. According to its website, the Florida-based chain specializes in "retrofitting existing theaters, as well as existing retail space that has become available as a result of high vacancy rates."
The tattered fabric folding chairs that once lined the aisles of the 18-year-old theater's auditoriums have been replaced with roomy, electronically reclining seats. Tickets can now be bought through touchscreen kiosks in the building's lobby.
But for longtime patrons, the most immediately noticeable change is perhaps the theater's renovated restrooms. Customers had complained for years about the deteriorating appearance of the facilities, which were recently outfitted with new sinks and toilets.
Mike Wilson, co-owner of Paragon Theaters, said Thursday that a handful of updates are still in the works.
The next phase of the renovation, he said, includes construction of a new concessions area with a bar that will serve beer and wine. The building's façade will also updated to include signage displaying the current name of the multiplex.
"We expect to be 100 percent completed by the fall," Wilson said.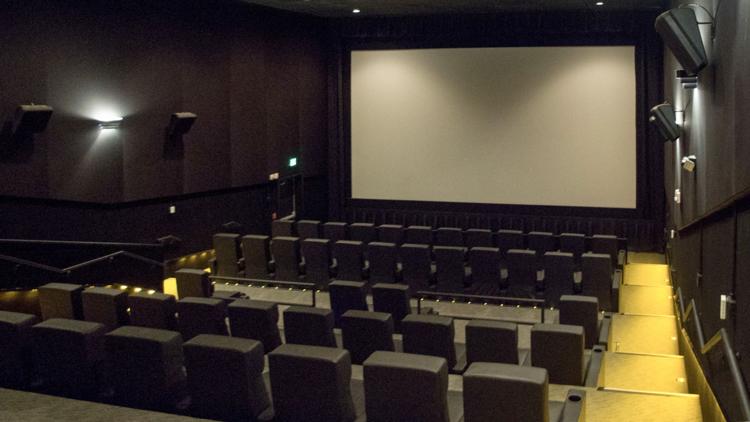 Opened in December 2000, Sandhills Cinemas outlasted two competing movie theaters to become the only multiplex in Moore County. The 10-auditorium theater is located near the Southern Pines Village shopping complex on Brucewood Road.
The multiplex was previously operated by Frank Theaters, a chain that filed for Chapter 11 bankruptcy in December. Over the past few years, the multiplex had been beleaguered by complaints about its dated auditoriums, unsanitary restrooms and crumbling ceiling.
Under Frank Theaters, the business' Yelp rating fell to one-and-a-half stars, making it the most poorly scored movie theater in the region. Calls to boycott the establishment were regularly posted in Facebook groups like Moore County Ask a Neighbor.
Fire inspectors temporarily shuttered the facility in May 2018 because of safety concerns. In an interview with The Pilot at the time, Ken Skipper of the Southern Pines Fire and Rescue Department said more than 180 code violations had been documented at Sandhills Cinemas since 2015.
After taking over management of the embattled multiplex, Paragon Theaters announced plans for a $4 million facelift. A commercial building application for the project was approved by town officials last July.
Wilson said the changes have been met so far with positive response from customers.
"The feedback has been great," he said. "The attendance in that location keeps getting better and better."
Last month, Paragon Theaters announced a wave of summer promotions that could help reel in customers who were driven away by the previous management. Some of the offers include a free summer movie series for children and a new loyalty program that rewards regular moviegoers with free tickets.