Since the Moore County Board of Education first unveiled a potential plan for countywide redistricting of individual schools' attendance lines in April, the issue has drawn heated criticism from some parents who stand to be affected.
The school board is now considering a "final" proposal presented by Superintendent Bob Grimesey earlier this month. On Thursday, more than 100 people attended a formal public hearing on that proposal in the Union Pines auditorium.
Among the 25 speakers, about half were parents who feel that their children will suffer if the board adopts the redistricting plan as proposed. Their critiques of the redistricting plan range include new lines that divide neighborhoods, an implementation schedule that could send children through successive school moves, and changes that would send some students to campuses farther from their home address.
Over the last year, the schools have analyzed enrollment projections between now and 2028. That data indicates that growth is likely to be concentrated west of Pinehurst and in the "panhandle" of Moore County east of Vass. So scenarios have been proposed with the goal of spreading growth more evenly around Moore County Schools' campuses — especially into schools north of Carthage where the historical population bases have begun to decline.
"The entire county has grown. I have been appreciative of watching and participating in this process as we've started to talk about it, rehash it and try to come to some conclusions," Tessie Taylor, a West Southern Pines community organizer, told the board. "When growth happens, plans have to be adjusted and with growth and expansion come attitude changes."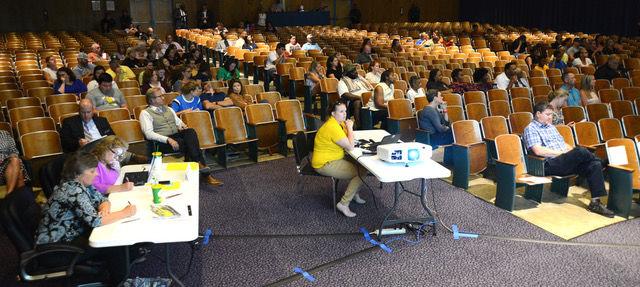 As proposed, redistricting would be phased in beginning in the fall of 2020 when the new Aberdeen elementary school opens on N.C. 5. In that school year, the Highfalls, Robbins and Westmoore elementary school districts would expand to the south and east to absorb areas now served by Carthage and West End elementary schools.
The McDeeds Creek elementary attendance area would expand to serve more of the area now served by Sandhills Farm Life. Both Farm Life and Cameron would draw students from Vass-Lakeview. Anticipating growth at West End, the West Pine Elementary area would move west to offset it. In turn, other students would move from West Pine to the new Aberdeen Elementary.
Changes affecting the new Pinehurst and Southern Pines elementary schools would not come until 2021, once both of those schools are open. The new Southern Pines school would absorb some of the area now served by Pinehurst, and some current Southern Pines students would move to McDeeds Creek.
The Lake Pinehurst neighborhood would move from West Pine Elementary to Pinehurst, while north of N.C. 211 the West Pine Elementary attendance area would move east — just inside Pinehurst's village limit to envelop both sides of Murdocksville Road and part of Longleaf Drive.
Some of the backlash the board experienced on Wednesday came from about half a dozen parents in the Pinehurst area who said they intentionally moved into neighborhoods served by Pinehurst and West Pine Elementary based on the schools' reputation.
"We selected only neighborhoods in Pinehurst that were located within the district for the schools we wanted based on the performance of those schools," said Kami David, who stands to be moved from the West Pine Middle attendance area to Southern. "This was my choice, one of the few choices I get to make for my child as a military dependent. Your redistricting process takes away the choices that I and other families have made for our children's education."
Casey Gray, a Lake Pinehurst resident who has three children at West Pine Elementary, said that two of them would change schools three years in a row if the board approves redistricting as proposed.
"My children have moved more times in their lives than most adults," said Gray. "Our closest family members are 500 miles away. Our school community has indeed become our family."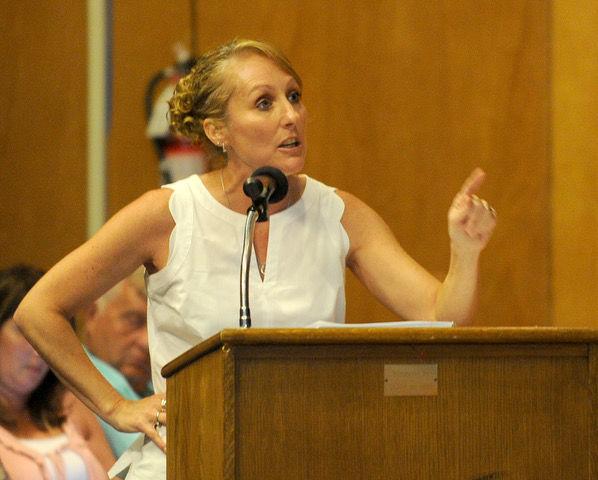 George Arno, who has volunteered with Pinehurst Elementary, expressed similar concerns about students there who are now in a temporary campus in Rassie Wicker Park so the new school can be constructed on the Dundee Road campus. As implementation has been proposed, current fifth-graders would attend West Pine Middle next year and then some would be moved to Southern Middle in 2021.
The redistricting proposal comes with a suggested transfer policy for students in their last year of elementary, middle or high school. Parents may also be granted what the schools are calling "proactive" transfers, or volunteering to enroll their children in the school they'll be moved to a year in advance. Gray suggested that provisions also be made for younger siblings in those cases.
"Please consider traffic conditions for those of us with multiple children having to go to multiple schools," she said. "I would like to propose that you consider some type of gradual reassignment plan if you are in fact actually going to vote and approve this final draft."
Parents from other areas had feedback for the board as well. Kristen Beavers, a Cameron Elementary parent, was surprised to find that Grimesey's final recommendation affected her home address. But she said that she has equal confidence in the staff and quality of education at Sandhills Farm Life, where the proposed redistricting would send her daughter.
"It's upsetting because we've established relationships, but it's okay," she said. "I know it's what needs to happen and as a parent I will continue being a positive role model for my child in that transition and show her that it's okay. … I'm a firm believer that all schools within our county are amazing."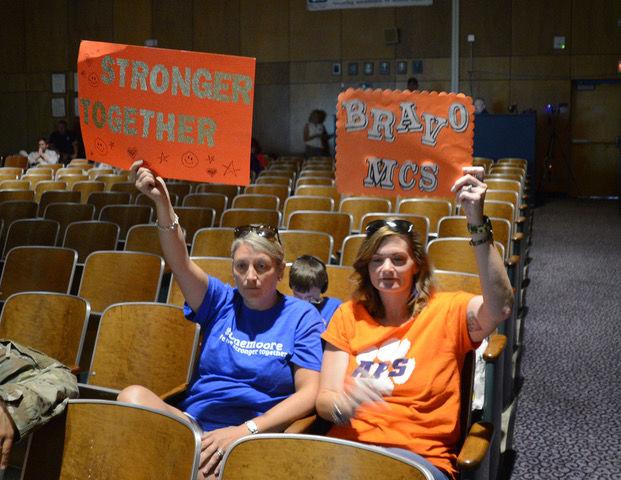 Jason Blackburn, who lives north of Carthage, said that the proposed move to Highfalls Elementary would create a hardship for his family as he works in Carthage and his wife works in Pinehurst. Even a move to Cameron Elementary, he said, would call for a shorter drive than Highfalls.
"I could logistically put my children in the car and drive to Raleigh in the amount of time I could get to Highfalls and back to my place of employment," said Blackburn.
"What I urge you to do is drive those roads, those are extremely bad roads. They're backroads, we're not taking main routes to get there. We recently had an early release day. There would be no physical way for me to get my family to where they need to be."
As proposed, redistricting would siphon students from some of the district's most overenrolled campuses. If enrollment projections are accurate, the plan would keep schools like West Pine Elementary, West End Elementary and Vass-Lakeview within their designed capacities for several more years. It would also balance enrollment among West Pine, Southern, New Century and Crains Creek Middle where otherwise West Pine would grow to 1,100 students by 2020 — 400 more than it was built for — while the other three hover at or below capacity.
New elementary school attendance areas would follow new feeder patterns through middle and into high school. Elementary schools that send all fifth graders to a single middle school would become the exception rather than the rule.
Brian Numerick, who has children at Union Pines and New Century, said that result is inconsistent with some of the priorities the school board established for redistricting over a year ago.
"(The proposed plan) is not forward-looking and responsive to the community and student needs, and it is not sensitive to the needs of our families and communities," he said. "It has the appearance of both social engineering and cronyism, neither of which are acceptable practices at public expense. It serves to divide us rather than bringing us together as a community of concerned citizens who all want the best for all of the students."
By 2021, New Century would draw students from Cameron, Sandhills Farm Life, McDeeds Creek and Carthage elementary schools if redistricting is adopted as proposed.
"It seems obvious to me that a child changing schools multiple times from kindergarten through high school, first through redistricting and then through a convoluted new feeder pattern, is detrimental to the children in this county," Numerick said.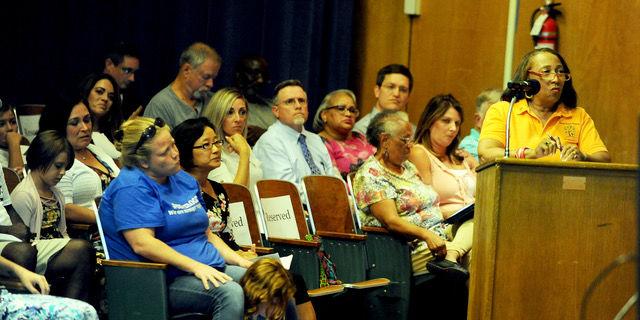 The new Aberdeen elementary school would fall within the proposed Southern Middle district, and West Pine and West End would send all matriculating fifth graders to West Pine Middle.
But the Southern Pines elementary would send students to both Southern and Crains Creek, with most students in the town limits going north to Vass for middle school. The new Pinehurst elementary school would send students to West Pine Middle and Southern. Students inside Linden Road and south of the traffic circle would be in the Southern Middle district.
Vass-Lakeview would remain within the Crains Creek attendance area, and Carthage would feed directly into New Century.
Cameron, Sandhills Farm Life and McDeeds Creek would all be split between New Century and Crains Creek. That would put students from five different elementary schools at Crains Creek, and students from four elementary schools at New Century.
Feeder patterns in the North Moore area would remain consistent, but some parents at community meetings this spring objected to having their children at middle and high schools with fewer art program offerings — namely orchestra and chorus.
Michael Jones, Union Pines' orchestra teacher, lobbied for the board to reinstate orchestra at North Moore and its middle schools if redistricting is adopted.
"These proposed changes, quite frankly, are long overdue as there are many overcrowding issues in many of our schools," he said. "However on the flip side, if we're going to move children from one school to another, these students and families need to be assured that they will be offered the same rigorous instruction as well as the same programs that they were previously enrolled in."
As a parent whose daughter moved from Sandhills Farm Life to McDeeds Creek for third grade this year, Alexa Roberts said that the sacrifices involved with moving are overshadowed by the benefits for students districtwide. Roberts also serves on the Whispering Pines village council.
"I have a student in school. We chose our house based on the school. We were redistricted, and we are still alive and thriving," she said. "Redistricting in our county and our communities is so necessary to ensure that we are not trying to provide educational services to 200 more children than a school was designed to serve. Is this plan perfect? No, it is not. What is?"
The school board is scheduled to consider approving a final redistricting plan at its regular meeting on Oct. 14.
Board Vice-Chair Libby Carter said that the redistricting proposal appears drastic to some partly because attendance districts haven't been adjusted since Crains Creek Middle and West Pine Elementary were opened in 2011 — and then only to funnel students to those schools. Regardless of the extent of the plan the board approves next month, she said that future school boards should evaluate attendance lines on a regular basis.
"This is something that is so difficult no board wants to tackle it, so it's been really a major endeavor for us to look across the whole county to see just what would be the best changes for all of our students," she said.
"I would urge whatever board comes behind to not kick it down the road, to set a goal of say every five years looking at districts and realizing that school populations and the places people want to live change very quickly."