A new project is in the early planning stages to redevelop the former McBrayer Leith dealership into a mixed-use shopping center with five buildings spread across the 7-acre site.
On Thursday, the Aberdeen Planning Board unanimously recommended a conditional zoning application and conditional use permit for the project.
Located at the corner of U.S. 15-501 and U.S. 1, the busiest intersection in Moore County according to state Department of Transportation (NC-DOT) traffic counts, plans call for retail and restaurant spaces, and a freestanding gym facility.
D & N Development, LLC, has not yet named any potential tenants.
One of the opportunities and challenges for this area is DOT's $27.8 million access improvement project that will impact businesses along U.S. 15-501, from Brucewood Road to U.S. 1; and from Old U.S. 1 to Roseland Road on U.S. 1. Construction work is expected to begin in 2020.
The former McBrayer dealership site was purchased by the family in 1983 from the Wicks Chevrolet company. In 2010, the Aberdeen Chrysler franchise and property were purchased by Leith Automotive Group, representing Leith's 22nd dealership in the state and its first foray into the Moore County market. The new dealership was called Leith McBrayer Chrysler Dodge Jeep.
Leith Automotive later purchased the former Steve Jones Honda franchise and property, in September 2013, and shifted its operations.
Since then, the old McBrayer Leith site has sat vacant. The nearly 5-acre site is listed with Bell Manley Properties for $2.3 million.
On Monday, the Aberdeen Town Board approved a request to abandon the right-of-ways for four interior roads that cross the property.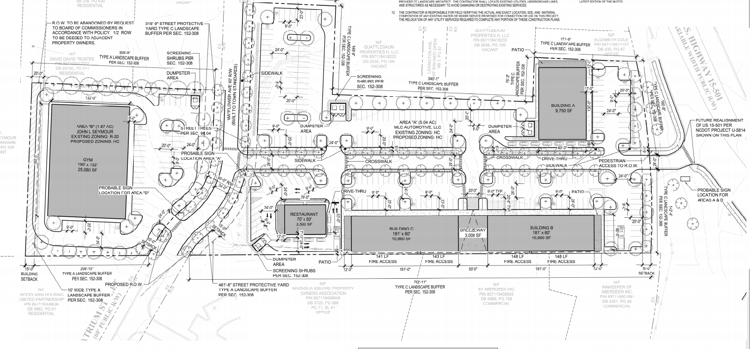 The proposed shopping center includes approximately 60,050 square feet of shopping center space, consisting of a 31,470 square foot retail and/or restaurant building, a 25,080 square foot gym, and a 3,500 square foot fast food restaurant with a drive-thru.
Graham Smith, landscape architect with Site Collaborative spoke on behalf of D&N Development, LLC, noting the site plan includes three points of access. The primary entrance is located on U.S. 15-501 and two secondary access points on the extension of Atrium Street to Johnson Street -- a roadway the developer is calling Mayflower Street.
A traffic impact analysis (TIA) was conducted by Joshua Reinke of Ramey Kemp & Associates. He estimated the project will generate 5,260 trips per day, and that no additional improvements were needed to intersections in the immediate area.
The traffic study did take into account both existing conditions and the improvements of US‐15-501, planned by NC-DOT, to convert the road to a four-lane boulevard with a hard median and restricted turns.
The applications for conditional zoning and conditional use permit will be reviewed by the Aberdeen Town Board during a public hearing. The date will be announced.