In the not too distant past, recycling was a viable and cost-effective solution to keep surplus garbage out of landfills. Used glass, plastics, mixed paper and metals were sorted, collected and shipped to processing facilities — out of sight, out of mind.
Then China quit buying America's castoff garbage and the bottom fell out of the international recycling market. Add in the complicating factors of consumer behavior and expectations, along with domestic policy issues, and what's left is an expensive mess that state and local leaders have been trying to dig out from under for going on three years.
"Right now, the market is still unpredictable," said David Lambert, Moore County's director of solid waste.
The former town manager of Robbins was hired in September to replace Chad Beane, who was hired to oversee Harnett County's solid waste.
"People don't like thinking about solid waste or sewage systems. They'd rather just throw it away or flush it away, but these are some of the most important facets of local government," Lambert said. "Here in Moore County, we do a good job and we talk about some things that people would just as soon forget."
In 2017, the county's waste problems were compounded when the Uwharrie-based materials recovery facility — or MRF, for short — where local recyclables were delivered caught on fire. The company pulled out of its contract and the county scrambled for other solutions.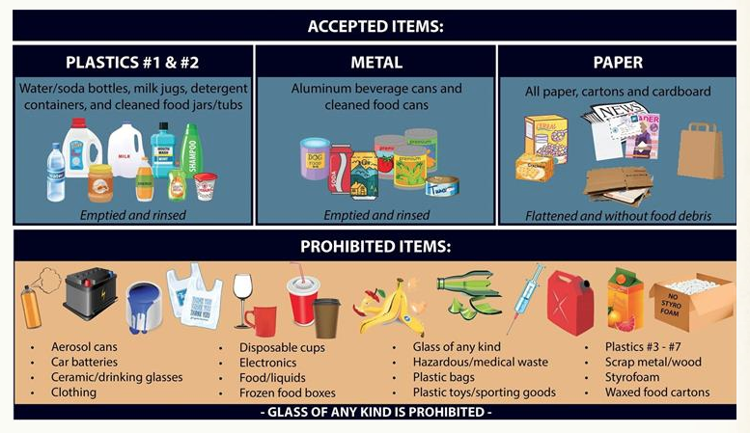 A Fayetteville-based MRF agreed to take our recyclables but almost immediately there was an abrupt increase in disposal fees mostly due to contaminated recycling. The county, in turn, passed those costs on to its municipal partners including Pinehurst and Aberdeen.
By December 2018, the county had quadrupled its recycling fees.
One bright spot was the county's new public-private partnership with Strategic Materials. The North Carolina-based glass recycler refurbished a "glass bunker" at the county's landfill on N.C. 5 last year, and the county installed separate glass storage bins at each of its seven collection sites. Once a month or so, Strategic Materials hauls the collected glass, at no cost to Moore County, to its specialized processing facility in Wilson.
But the recycling industry continues to change and legislation has not kept up.
"There is more demand for companies that can pop-up and figure out ways to dispose of things cheaper, but a lot of that has to be figured out in the private sector," Lambert said. "But I do think the market will stabilize."
Looking ahead, he views his role as not just a manager but as an educator — helping folks understand 'what is' and 'what is not' recyclable.
Contamination can be everything from greasy pizza boxes to electronic waste, like televisions and microwave ovens that people try to stash in the recycling bin.
"If people are disposing of their waste properly, it costs us less. But if what they are recycling is not clean enough, then it costs us way more," said Lambert. "What I've learned is people do care and part of my job is to make it as easy and practical as possible for them to recycle."
The good news is recycling contamination is moving in the right direction, with far fewer loads being rejected.
Lambert is quick to credit Jimmy Brown, who is in charge of the county's collection sites and oversees the landfill.
"Jimmy is one of the most essential parts of Moore County's waste operations and he is doing a great job," Lambert said. "We are collecting and maintaining high service levels and we are in constant talks about ways to improve."
Another initiative Lambert said he'd like to advance in 2020 is adding regular hours for household hazardous waste collection at the Eagle Springs collection site, and potentially expanding the service to other sites.
In addition, he's also carefully tracking the county's construction and debris landfill. Lambert estimates the current "cell" has about 18 to 20 months of available space.
"There is a consequence to the growth we've had in the county. New houses are being built, old buildings like the factory in West End are coming down," he said.
In the near term, the county facility can expand into one more area of the landfill for construction debris, but long term planning is required.
"This is the right time to evaluate changes in the marketplace and figure out where we're headed. We are trying to be smart about each of our steps moving forward," he said. "Recycling is about the impact to the environment, but it is also about economics. Even if you don't care about the environment, economically speaking you want solid waste to be run efficiently."