About 30 people gathered near the gate of Country Club of North Carolina on Wednesday to protest a private fundraiser for U.S. Sen. Thom Tillis.
Organized by Moore County Indivisible, the demonstration was planned before the mass shootings in El Paso and Dayton, Ohio. But the recent attacks led protesters to hone in on Tillis' past opposition to more restrictive gun control laws and his relationship with the National Rifle Association, which has spent millions in support of the politician.
Several protesters gave speeches denouncing Tillis for not breaking from the party line on gun control. In an interview earlier that day with The Associated Press, Tillis said he supports so-called red flag laws that would allow authorities to temporarily confiscate firearms from potentially dangerous people.
"I think it's something that's going to provide more tools for law enforcement and the community to speak up so that we can potentially end, or at least substantially decrease, these incidences of mass violence," he said.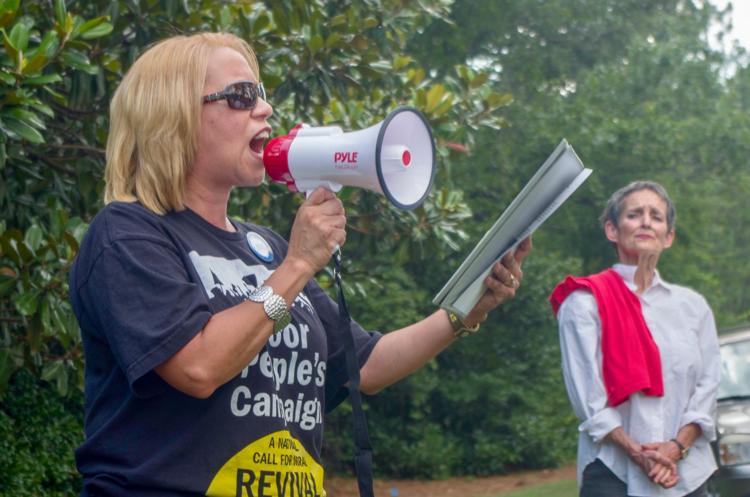 But Noah Ambrose, a Dayton native whose family lives in Moore County, told protesters that the shootings were "made only possible through the use of weapons of war." According to police, the gunman in Ohio was armed with a semi-automatic pistol loaded with a 100-round magazine.
"And let us also not forget that Sen. Tillis, to date, has taken over $4 million from the NRA," Ambrose said. "We are here to show him and the NRA that enough is enough and that change will be delivered swiftly."
Investigators believe the shooter in El Paso shared a racist manifesto online before targeting Hispanic shoppers and employees at a Walmart store on Saturday. Ana Blackburn, the state NAACP's Latino liaison, told protesters she blames President Donald Trump's "violent rhetoric" for fueling aggression toward immigrants and people of color.
"But let's be real, he could not have achieved that power unless his party enabled him to do so," she said. "And that includes Thom Tillis."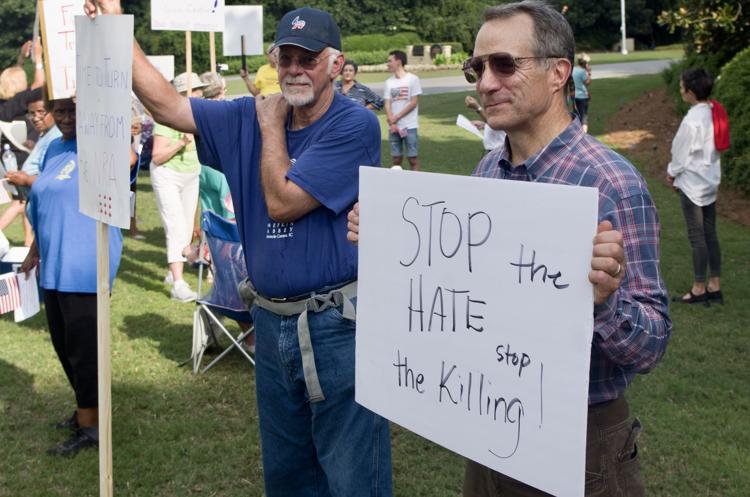 O'Linda Watkins, president of the Moore County chapter of the NAACP, condemned Tillis for "hiding behind" the gated community during his fundraiser, which cost $250 to attend. Watkins, who was twice arrested for participating in sit-ins at Tillis' office when he was the state's House speaker, said the lawmaker "has refused to meet with NAACP."
Al McSurely, a longtime civil rights attorney who is married to Watkins, later read out the names of the 22 people killed in El Paso. Each name was followed by shouts of "presente" from protesters.
Moore County is home to the deadliest mass shooting in modern North Carolina history. Eight people were fatally shot in March 2009 by a lone gunman at Pinelake Health and Rehabilitation, a Carthage nursing home that specialized in the treatment of Alzheimer's patients.