All was calm, all was bright — if a bit chilly — as a full moon guided Santa's sleigh laden with 773 bikes to a parking lot on Broad Street for the 22nd annual Project Santa distribution.
Petite pink princess bikes, sleek racers, bells, streamers, baskets, training wheels — the sight, once seen, is unforgettable: adorable little ones bundled in ski jackets, pre-teens looking for something jazzy, volunteers who give up family Christmas morning to keep things running smoothly.
Overseeing it all was Project Santa founder Earl Wright who spends the entire year preparing for this moment. He refurbishes used bikes and solicits money for new. "I do it all for the children," he says.
Grown-ups appreciate his effort. Wright has received the Governor's Medallion Award for Volunteer Service, was named Man of the Year by Moore County Foundation and on Dec. 1, served as grand marshal of the Southern Pines Christmas Parade.
Last week, in conjunction with Project AWOL, he distributed bikes to children in Vass affected by Tropical Storm Florence. Leftover bikes from Southern Pines will be trucked to Robbins for a giveaway on New Year's Day.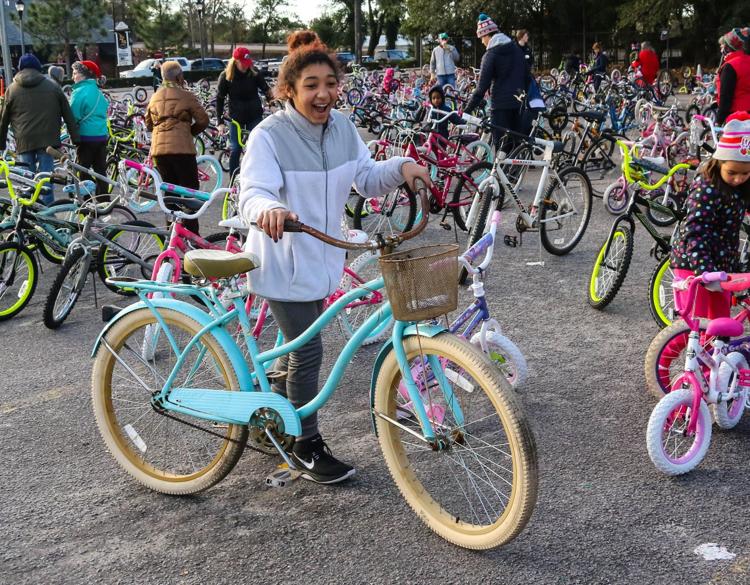 Wright, a sharecropper's son, learned mechanics repairing farm equipment. He began fixing and giving away bikes and toys from his home in West Southern Pines. As the event grew, it moved to a school and finally, the former Bo's grocery store, which has been closed since last Christmas.
The number of recipients — also food providers and merchandise — was smaller than at past events but no less enthusiastic. Ouida Newell of Wildfire Wood-Fired Pizza in Carthage returned for the fifth year to offer free hot breakfast and winter coats she collected. "Seeing this just chokes me up," said Newell, who has no children. Helping her was Sue Stovall, cheesemaker at Paradox Farms in West End. "This is my best Christmas present."
The giveaway began at 8 a.m. with a long and passionate prayer thanking God for all good things. Wright and his associate Sharon Thompson announced the protocol: No parents allowed in the bike area. At past events some parents had different criteria for their choices. Instead, each child would be accompanied by a volunteer who helped select an appropriate ride. Wright's plan succeeded. No meltdowns.
Volunteers came for several reasons. Kathie Parson brought her son Wyatt, who by volunteering earns hours for National Honor Society. "I volunteer in memory of (auto dealer and principal event supporter) Bill Smith. It's the right thing to do," Kathie Parson said. Dr. Eric Fogelman snuck away early from the crowd at home to check and inflate tires.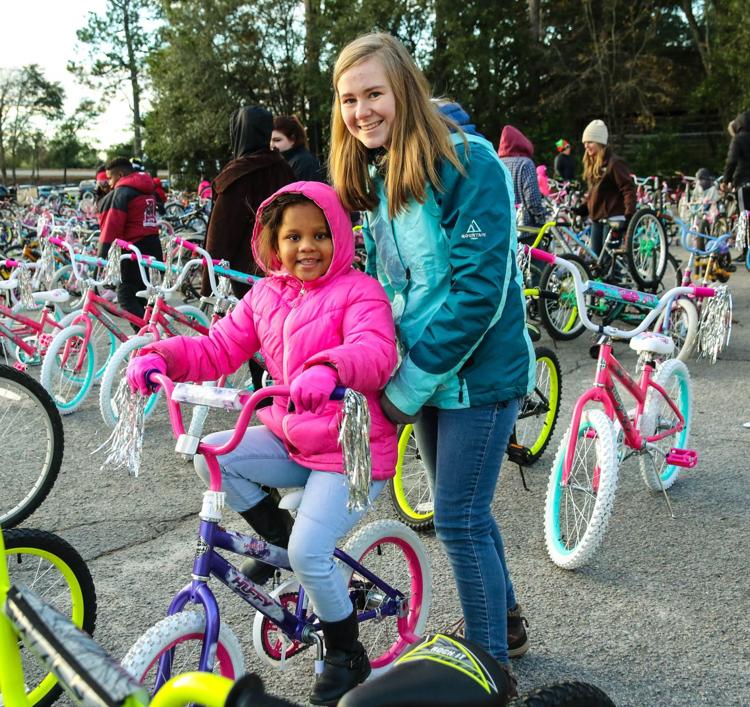 As always, the cycling community participated in making last-minute adjustments. Dermot Kelly of Rainbow Cycles presented Wright with an antique weathervane depicting an old-fashioned bike in recognition of his crusade to provide wheels for every child.
The children, overwhelmed by the sea of bikes, had wide eyes and big smiles but few words. Not so, parents like Lucinda: "No money for toys. This is my boy's only Christmas." She points to Wright and says, in Spanish: "He is a good man."
Wright announced that he will retire in two years, when he turns 65. Whether anyone will take up his mission is unknown.
For a few hours nobody cared that the government had shut down or the stock market tanked. Sunny skies, cold air, Christmas pop blaring from speakers and the wordless joy on children's faces provided a holiday high to everyone. "This is a humbling experience," said Dena Kallgren, leading a small girl and new bike back to her mother. "I definitely feel blessed."