The new Aberdeen municipal park on U.S. 15-501 is starting to take shape with preliminary site work nearly completed. Plans call for six rectangular sports fields, a concession building and restrooms on the 32-acre site.
"This will really be a game changer if we can get this done," said Mayor Robbie Farrell.
Last December, town leaders closed the deal to purchase 15-acres for $150,000 with the Ransdell family contributing a 17-acre donation of adjacent land. Additional funding will be required to achieve the full scope of the proposed project. The town is actively working with community partners and individuals for donations, and also considering other revenue sources such as grants.
The recently adopted fiscal year 2020-21 budget includes $250,000 towards improvements with another $125,000 committed next year.
Town Manager Paul Sabiston said the town is also due $100,000 included in the state budget, which remains in limbo. He anticipated the first fields would be open for play in the spring of 2021.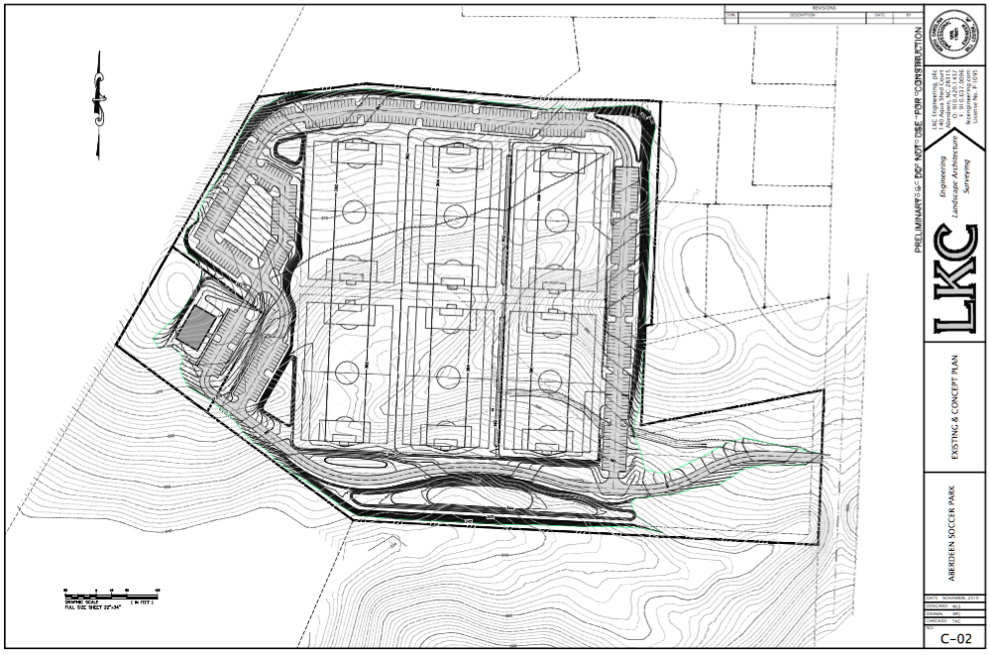 "We will develop the fields in pairs, two at a time with lights," Sabiston said."If I have to start shoveling dirt myself, we will have at least two fields open next year."
Construction of the concession building is being handled privately by the Ransdell family. The intent is to lease the building to the AC Sandhills organization while the town will also use the facility.
"When this is finished, it will be a regional destination for youth sports," Sabiston added.
The 32-acre tract is not the same piece of land once eyed by the Convention & Visitors Bureau (CVB) for development as a potential $13 million soccer complex, though that parcel was also owned by the Ransdells. That earlier concept has been at a standstill since October 2017 when the county commissioners voted against increasing the room occupancy tax to fund the project.
Instead, this more modestly scaled project will be located closer to downtown Aberdeen. The main park entrance is located near Burney Hardware on U.S. 15-501, which is also owned by the Ransdell family.
"Originally the town tried to tag team with the county but now it will just be ours," Farrell said. "This will be a nice addition for all of Moore County. The park will help this entire end of the county and it will certainly help Aberdeen."