It's hard to compete with fireworks every year, but Irene Wyson just might outshine the sparklers this time around.
On the Fourth of July, she'll celebrate her 105th birthday surrounded by family and friends at Pinehurst Healthcare & Rehabilitation Center on Blake Boulevard.
"We wanted to do something special for her," said Joan Richardson, Pinehurst Healthcare's clinical supervisor. "She is our oldest resident and just the sweetest person. I talk to Irene every day."
Born in 1914, in Carnegie, Penna., one of 11 children, Wyson has had a front row seat to some of our nation's most trying and most triumphant times.
Only days before she was born, the Archduke Franz Ferdinand and his wife, Sophie, were assassinated in Sarajevo. Quickly all of Europe, and eventually the United States, were engaged in World War I.
It was also a year of debuts: Charlie Chaplin in film, Babe Ruth in major league baseball.
By the time Wyson graduated from high school, in 1932, the country was at the height of the Great Depression.
Her father was a blacksmith in Tarentum, a small town 22 miles northeast of Pittsburgh, and people traveled far and wide to see him. He was one of the few who still made custom horseshoes at the time.
Irene played guard on her high school's basketball team, along with other sports, and was popular with her peers.
A clipping from the Tarentum High School yearbook notes she is "a very cute and joyful lass, one of the sweetest of our class."
"She always said she was lucky that she was small because she could hit her opponents in the knees," said her son, Kurt, with a chuckle.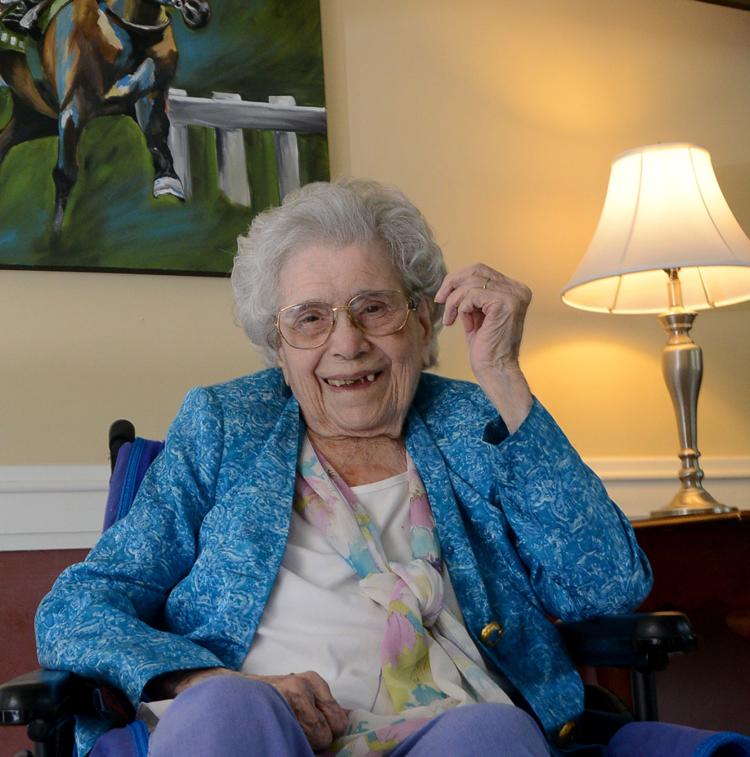 When she married in 1940, the economy had improved but war was once more on the American threshold. The country would enter World War II at the end of 1941 after the attack on Pearl Harbor.
War surround Wyson. Her husband was a B-29 navigator in the U.S. Air Force, and her two brothers and a brother-in-law all served overseas.
"It was a scary time," she said, of the two years her husband was stationed in Guam and flying bombing missions over Japan.
The Wysons had two sons and later lived in California, before moving back to the East Coast.
"My mother would run the whole neighborhood. All the kids would come to our house," said Kurt, her eldest son. "She was famous for her spaghetti and her 'City Chicken.'"
A comfort food for folks in the Rust Belt, the Polish-American dish almost never contains chicken.
"It was pork cut into rings. Everyone loved it!" Kurt said. "That and her spaghetti, those are the two favorite things everyone wanted."
Kurt followed in his father's footsteps into military service. He was stationed at Fort Bragg and then, later, at West Point when his own daughters graduated from high school.
"When I retired, I wanted to move to the desert and my wife wanted New England. We both agreed we had liked living in this area, so Moore County was the compromise."
The couple settled in Vass in 1993. A few years later his mother followed, first moving to Elmcroft of Southern Pines then to Pinehurst Healthcare after she became wheelchair-bound.
"She lived with my brother in New Jersey before moving south, but she didn't like it. She said it was too cold," he said.
And while the years may have dimmed Wyson's hearing and memory, her sense of humor and sweet demeanor remain bright.
"She will repeat herself. But if I tell her, she'll say, 'That's okay. Just remember that I'll probably ask you the same question again in a few minutes,'" said Kurt.
On Thursday, July 4, the staff at Pinehurst Healthcare & Rehabilitation are throwing a big party in Wyson's honor.
With 105 candles on the cake, this Pennsylvania firecracker is indeed a Yankee Doodle Gal.