Pinehurst residents welcomed with open arms the announcement that the U.S. Golf Association wants to build a second headquarters in the village.
A presentation and public hearing during Tuesday's Village Council meeting replaced weeks of rumors surrounding "Project Woodpecker" with an agreement to a 10-year package of economic incentives, along with other benefits, in exchange for a $25 million direct investment in facilities and 50 full-time jobs.
"Because of nondisclosure agreements that were required to the very significant and multifaceted nature of this particular transaction, the Village Council and staff and others have had to keep this under wraps for as long as possible," said Mayor John Strickland. "So I don't apologize, nor does the council, for the fact that we've had to be very quiet about this transaction."
The USGA has also committed to hosting five U.S. Open Men's Championships in the Pinehurst area every five to seven years, beginning with the Open scheduled at Pinehurst No. 2 in 2024, and at least two Women's Opens.
During a news conference Wednesday morning, USGA officials announced those Pinehurst U.S. Open dates as 2024, 2029 2035, 2041 and 2047. Traditionally, the USGA has had a 10-year course rotation for the elite courses it uses to host the U.S. Open. 
"A permanent presence has the potential to drive far more than that as the USGA shows its commitment to be a part of this community for a long time," said Pat Corso, executive director of Partners in Progress.
"In expressing their desire for a permanent second headquarters in Pinehurst, they also are prepared to continue to bring major championship events to Moore County and North Carolina, reaffirming this region as the true home of American golf."
The USGA's Pinehurst headquarters will include a combined visitor center and museum, the center where it tests golf equipment for compliance with its standards, and its turfgrass management section. The new facilities are projected to be complete and occupied by the end of 2023.
"From a kid who grew up here and told people I lived in the home of golf, I'm real excited to hear that every new golf club that someone tries had a route through Pinehurst," said Councilmember Kevin Drum.
During the public hearing, nine village residents all offered supportive reactions to the revelation, though at varying levels of enthusiasm. Advertisements for the public hearing included details about the economic incentives on offer, but the recipient was not publicly disclosed until Tuesday night.
John Hoffmann and Mary-Stewart Regensburg pressed the village for additional details about the USGA facility itself and where in the village it will be built.
"I have a hard time coming up with where, here in Pinehurst, there is commercial space for a $25 million campus," said Regensburg. "It appears that all of our council has already accepted this project, we're going to go ahead with it, and yet where your $25 million campus is to be is a question mark?"
Council members and USGA representatives did not offer a comment Tuesday in the meeting on possible locations for the headquarters.
However, a draft of the site plan obtained by The Pilot shows the USGA offices on Pinehurst Resort property where the resort currently has a bank of six tennis courts and parking for its shuttle vans. The resort has not announced any arrangements or whether it would replace those courts elsewhere.
Craig Annis, the USGA's chief brand officer, said that the end result may involve multiple facilities in order to blend in with Pinehurst's historic buildings.
"In terms of the cost, the equipment testing facility has quite a lot of technology in it … we test all of the equipment that is played in the game in the United States, so the technology that's required is pretty extensive," said Annis.
"We have the largest collection of golf history and memorabilia in the world in our Liberty Corner museum. We also have the most extensive library chronicling the history of golf and so our intent is to keep that facility there and to create an annex of sorts to ensure that we can share some of that history in a really intentional way with all those that come through Pinehurst."
The Village Council will screen the building –– and rezoning, if needed –– components of the project as it would with any other construction activity in the village.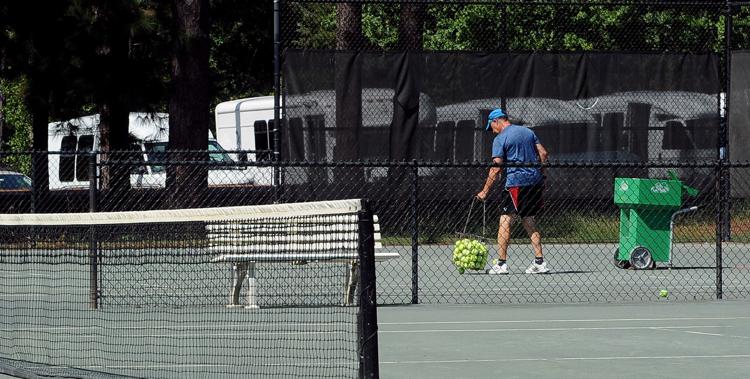 "At the moment, we have not received a specific site request. That will be forthcoming, and when it is it will be, obviously, public information," Strickland said. "Also any and all of the buildings and whatnot will be going through the normal planning and zoning process of the Village of Pinehurst."
In response to a resident who asked if the full-time jobs stipulated in the economic development package will all be transferred from the USGA's New Jersey headquarters, Annis said that about 15 of them are already here.
"That leaves about 35," he said. "There will be a significant number that will be relocated and we anticipate that there also will be jobs that will be created as a result and we'll be looking to attract folks here in North Carolina."
Pinehurst's council unanimously passed an economic incentive package, similar to what the Moore County Board of Commissioners approved earlier Tuesday afternoon, involving repayment of up to 90 percent of the property taxes paid for 10 years.
Village Council members, who have spent months hammering out the details of the deal, had little left to add.
"We really have worked hard on this … we haven't been pushovers, and we see this as an amazing opportunity," said Councilwoman Lydia Boesch.
Another stipulation of the agreement on the village's part is providing use of the Pinehurst Harness Track and Fair Barn to the USGA at no cost for parking during the U.S. Open Championships held here.
The agreement also includes "clawback" provisions for repayment of a portion of the tax grants in the event any or all of the championships are not held on the agreed-upon schedule.