After last week, Mike Erwin can add an appearance on the long-running ABC talk show "The View" to his long resume of military experience and nonprofit leadership.
Erwin, an Army officer who serves in the reserves after 13 years on active duty, now lives in Pinehurst. He spends a lot of his time flying around to some of the 560 schools in 23 states that have adopted The Positivity Project, a character development program he designed with fellow veteran Jeff Bryan. They started a nonprofit in 2015 to promote and guide schools in implementing the program.
Five years later, The Positivity Project reaches more than 320,000 students nationwide and has attracted high-profile support. Its board members include Olympic athletes and television personalities like Elisabeth Hasselbeck, who formerly appeared on The View as a regular host.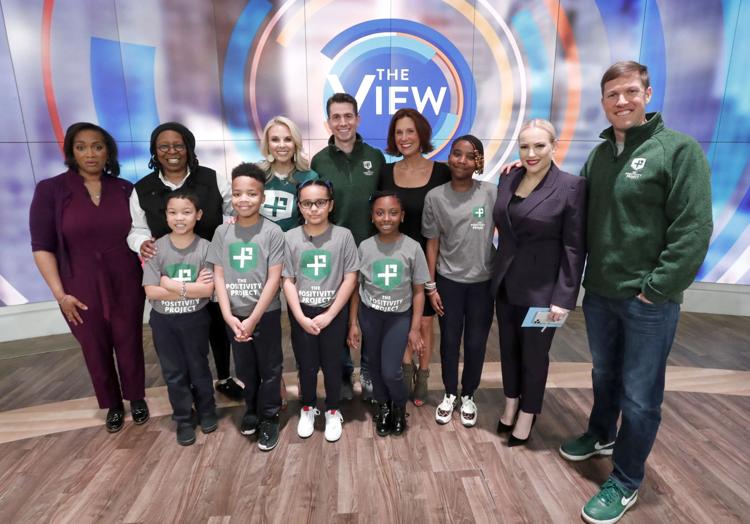 For her guest reappearance on the show March 11, she invited Erwin and Bryan along to showcase the program. They appeared along with Karyn Lind, principal of a New York City district elementary school in Staten Island, and five of her students.
"I heard those students talk about perseverance and being brave in the face of being scared and self-control and curiosity," Erwin said.
"To hear them talk about why relationships matter and why it's important to be a good friend was incredible. I wish we'd done nothing but a panel with the kids to hear them talk about what they've learned through The Positivity Project."
Closer to home, The Positivity Project has been adopted by more than 100 schools in North Carolina, including West Pine Middle. It's designed to be applied at any grade level.
"These traits are instilled in all of us and it just gives the language to the students, and then they identify it in themselves, they identify it in their classmates," Lind said during the interview. "The faculty embrace it."
Erwin, who now serves as the nonprofit's board chair, believes it has the potential to transform lives and expects it to reach 500,000 students next year. So limiting himself to less than 60 seconds' speaking time during the five-minute interview came as a slight hardship.
"When you're going on national TV and 3 million people are going to hear what you say, it's a case study for use in the importance of character strengths," he said. "I had to decide what is the most important thing that we say to the world about who we are and why we exist."
At first glance, the timing was not opportune; last week The View placed a moratorium on studio audiences due to concerns about spread of COVID-19. But with schools and businesses closing for the same reason, and the resulting disruption to children's lives, Erwin said that The Positivity Project offers families tools to handle the crisis with grace and composure.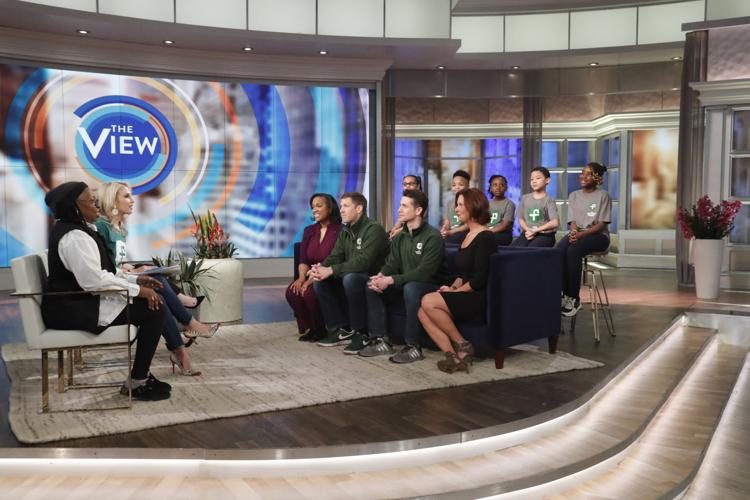 More to the point, it helps them find the tools within themselves: things like bravery, humility and integrity.
"All this stuff is going on and it causes a serious amount of adversity in everyone's lives, so it's about how you think about that and how you process that," Erwin said.
"No amount of writing or math or history is as important as learning about character strengths and optimism and self control. We also need them to be prepared with the ability to respond to adversity in the most productive way possible."
The Positivity Project stems from Erwin's masters-level work in positive psychology at the University of Michigan. It encourages students to focus on their own strengths and to appreciate what their classmates and other people around them have to contribute as well.
Before starting The Positivity Project, Erwin founded Team Red, White and Blue, an organization devoted to helping veterans reintegrate into civilian life through athletics.
At schools participating in the program, teachers learn to integrate emphasis of 24 character strengths into everyday teaching. Only about 15 minutes of the school day is devoted solely to The Positivity Project, but Erwin said that the consistency makes it effective.
"We see the dire need to teach these strengths, so we build capacity within teachers so they can do this for 15 minutes every day," he said.
Erwin said he received more than 150 inquiries about the program in the two days after the show aired last week. In a culture where bad information tends to go viral as easily as television segments and contagious maladies, he's excited to see The Positivity Project expand.
"What are we doing to develop the whole child and support parents in the information age where kids have so much exposure to bad examples and bad character around them on the internet every day?" he said. "What are we doing to help them see the good in themselves and see the good in other people?"
For information about Erwin and the Positivity Project, visit posproject.org.