Members of the Pinehurst Police Department received a pleasant surprise Tuesday evening when a group of teens presented them with cards, gift certificates and other "goodies" to thank them for their service to the community.
The teens are members of the newly formed Pinehurst Robotics, who decided they wanted to do something to thank police for what they do to keep the community safe. After coming up with the idea for the project, they shared it on the Next Door social networking platform and the community support "poured in."
"What an honor, what a blessing to know we work in such a compassionate and caring community," Police Chief Earl Phipps said Wednesday. "It is just another thing that shows just how much of a humbling experience it is part of a community that cares so much about our police department.
"It is just something you can't put into words to know that our young people love our police department. These kids came in and you look at them and you see they are our future. Our future is bright. This is so awesome."
Four of the teens involved in the project — Alyssa Hutchison, Houston Wrona, Winston Pound and Ephraim Boyte — were recognized during the Village Council's meeting Tuesday afternoon prior to going over to the Police Department. A fifth member, Hannah Kirkpatrick was out of town.
Councilwoman Lydia Boesch, who introduced the teens, said Hutchison came up with a "simple idea" of doing 31 cards for the employees of the police department.
"They wanted to show the Pinehurst Police Department how much they appreciate what the police do for us," Boesch said.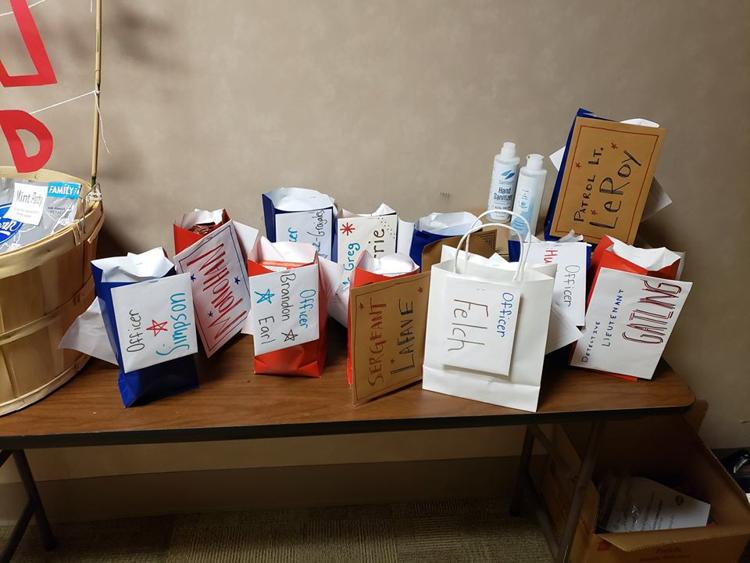 The idea was to do individual thank-yard cards for the officers and other employees and put together "goodie" bags with candy and other treats, Boesch said.
She said Tina Wrona, the mother of two of the teens, put out a request on Next Door to solicit community support.
"Anyone who goes to Next Door knows how these things could explode," she said.
Boesch said this effort "blossomed" into 46 gift cards totaling $1,665. She noted that one was from Drum & Quill Pub, owned by fellow council member Kevin Drum.
In addition, they initially put together 29 bags with candy and chocolates and then added another 22 bags, 29 bottle opener/keychains with the wording "Thank you from Pinehurst. Come home safe," 22 boxes of Girl Scout cookies and 29 thank-you cookies baked by Shelly Cooper. Her husband, Aaron, who owns Cooper Ford in Carthage, kicked in gift certificates for free oil (up to five quarts of synthetic oil) and filter changes and tire rotation, Boesch said.
Boesch praised "these young people who care so much about our community and our police."
The council viewed a video made by Houston Wrona about the project. It says "there is more to the club than just making robots" out of metal parts and taking part in competitions. One of the things that is important to them "is helping the community when we can. God calls us to love others."
They said that there is "a lot of negativity about police forces all across the country" and that they wanted Pinehurst police to know "that we appreciate you. We thank you for being willing to put your life on the line for us. Thanks you to your families."
They made the individual thank-you cards and then the request was put out on Next Door, and "the response was unbelievable. The community support poured in."
Mayor John Strickland thanked the teens for putting this project together. He also recognized a few of the "proud parents who were in the audience.
"This is a great thing," he said. "We really appreciate this effort on behalf of our police department."
That was one of several special recognitions during the meeting, which was the first in-person meeting since March when things shut down because of the COVID-19 crisis. The council had been meeting remotely online.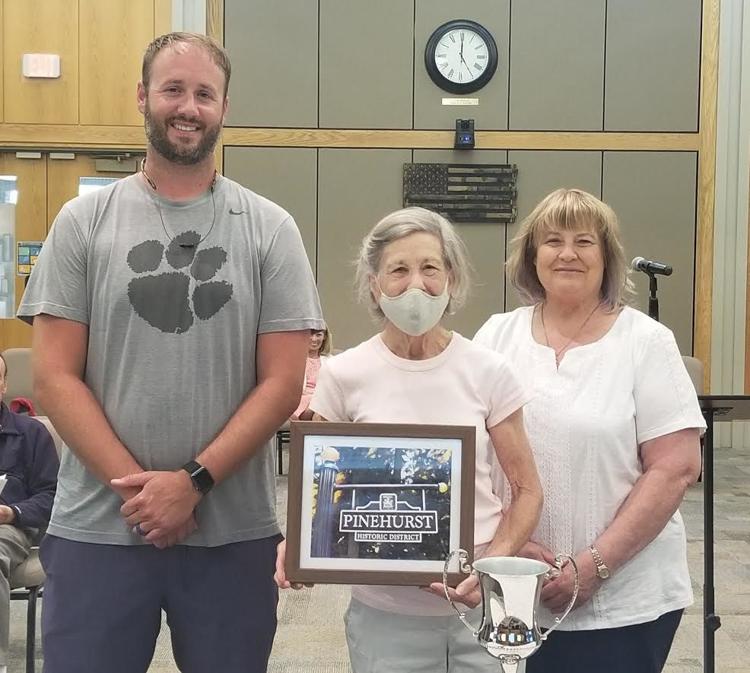 Molly Gwinn, who recently stepped down as chairwoman of the Historic Preservation Commission, was honored as the village's top volunteer. She was among the three Volunteer Champion Club nominees who were all recognized.
Village Manager JeffSanborn said the award normally would have been presented in April at the annual volunteer recognition luncheon at the Fair Barn, but it was cancelled because of the coronavirus pandemic.
"We say it a lot, and we say it because it is true: We are really blessed in the village of Pinehurst to have just a wealth of really dedicated and talented volunteers," he said.
Sanborn said nominations are made by department heads and other volunteers each year "based on the depth and breadth of the contribution they have made in the past year." The selection committee includes senior staff and some council members.
In addition to Gwinn, the other two nominees are Cody Smith and Nancy Donahue.
"All are exceptional nominees that do wonderful things in their own right for our community," Sanborn said. "I want to thank you."
He said all three had "exceptionally strong" nominations. He said the criteria is based on the village's four core values — service, initiative, teamwork and improvement.
"As always it was a difficult decision," he said. "These are really tough calls because these are three different people that do very different things, but at a high level, for the community. It would be nice if we could select three, but we can only select one."
He noted from Gwinn's nomination that she "led the charge and was instrumental" in revising the Historic District guidelines, which regulate new construction and renovation of properties. It said she has also helped develop new commission members "to ensure the preservation of the Pinehurst historic district special character."
Smith is a volunteer for the Parks and Recreation Department who given more than 110 hours and "impacted" more than 200 participants. Sanborn said Smith initiated a new free fall baseball clinic that served more than 156 participants.
He was described as someone who is "willing to do whatever is necessary to provide a successful program."
Donahue volunteers at the Welcome Center and was praised for "consistently going above and beyond this year," Sanborn said reading from her nominations. He said she covered 59 shifts, or 15 percent of the total workload last year.
She was praised for "paying great attention to detail and selflessly helping fix whatever needs fixing."
Sanborn presented a Championship Club Cup and a frame photo of a Historic District sign to Gwinn.
"This is such a surprise, Gwinn said, before turning to address Smith and Donahue. "You two are fabulous. What you do is wonderful."
It was the second recognition for Gwinn during the meeting. She and Jim McChesney received framed copies of resolutions honoring them for their service on the Historic Preservation Commission. Both were appointed in 2014 and served two three-year terms before stepping down at the end of May. Gwinn was named chairwoman in 2018.
David Kelley, who served on the Planning and Zoning Board, was also to be recognized but was unable to attend.
Strickland said these presentations are "a mixed blessing because it's to say thank you to some people who have served the village so well. That is always the case, but particularly the two individuals that are here with us tonight."