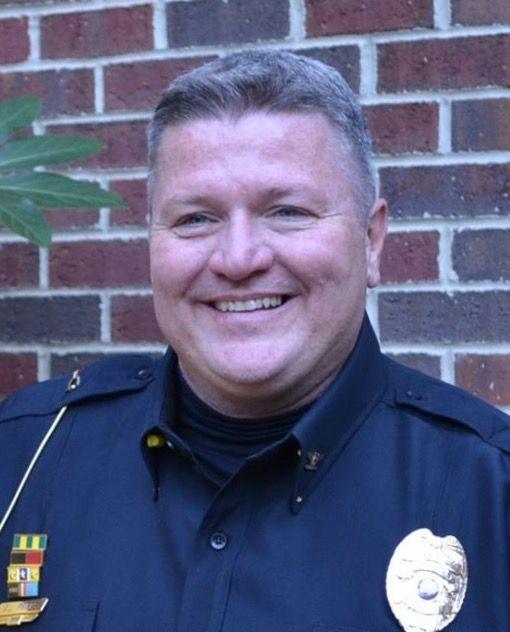 Pinehurst Police Earl Phipps will retire effective Oct. 31 after an eight-year tenure with the village.
Village Manager Jeff Sanborn shared the news in his brief report at the start of the Village Council's regular business meeting Tuesday afternoon. He said Phipps provided the village with "wonderful and dedicated service."
"It's going to be a sad time for the village of Pinehurst," Sanborn said.
He said Phipps plans to remain in the area and will go to work for Southern Software, a Southern Pines-based company that provides software for public safety agencies and municipalities.
Council members praised Phipps, who was not at the meeting, for improving the department's image, especially in the area of traffic enforcement.
"When he came in, he did a really good job of both increasing protection of the village but also softening the police department," council member Kevin Drum said. "They were approachable. It was a really delicate, incredible move he did. … I think Earl did an incredible job."
Mayor Nancy Fiorillo recalled that the department had a "terrible reputation" when it came to drunk driving enforcement.
"Our police were very aggressive," she said. "I asked the chief how are you going to change that. He said it was just like a speed boat, you gradually steer it in the direction you want it to go. … That is exactly what he did."
Council member Jack Farrell said Phipps has done a "fabulous job." He said he recalled the days when officers were aggressively enforcing speed limits.
"But now it's not just relaxed, it just feels more comfortable," he said.
Council member Judy Davis joked that she is glad she was not living in the village back then noting she has had a "few points" on her license. She added her kudos to Phipps for the job his has done improving the department.
"He is really an approachable guy and really just one of the community," she said. "I think he will definitely be missed. I am sure he is going on to a great opportunity and he will do good things with that as well."
Phipps became the village's police chief in December 2011 after a 22-year career with the Greenville police department.
He was commander of a newly formed Code Enforcement Division. He was also co-founded Angel Cops, a Greenville-based nonprofit outreach ministry that cares for the homeless throughout Pitt County.
Reached by phone Wednesday afternoon, Phipps said he and his wife, Rhonda, love Pinehurst and that they are "excited" about the opportunity to remain here after he retires. He said the decision was not made "lightly."
"It has been an honor to be chief of police in Pinehurst," Phipps said. "This is home. These are some of the best people I have ever policed. This is something we prayed about. You always have to be open to where God leads you.
"We prayed about it before we came here as we considered where to end my career as a police chief. We felt like we were being led here. And now we feel like we are being led to the next chapter. Rhonda and I are very excited about that. We look forward to remaining here in this community we love so much."
Phipps said he will miss serving with "some of the finest men and women" in law enforcement who work for the department.
"The village will be in capable hands," Phipps said. "I wish the new chief all the best."
Also during the meeting, the council unanimously approved new three-year leases with the Track Restaurant and Country Saddler tack shop at the Harness Track.
Assistant Village Manager Jeff Batton said the rent for the restaurant -- managed by Real and Tracy Cormier who are long time tenants of that property -- will increase by $8 to $587 a month.
He said the rent for the tack shop -- managed by Wayne and Janet Rasmussen, who have also been tenants for a number of years -- will increase by $6 to $448 a month.
Batton said the village uses a measure of the Consumer Price Index to determine annual increases in the rent.
He said having the leases run through 2022 will give the village time before the next U.S. Open in 2024 to work out issues on track usage by the USGA since that will impact both businesses.
The Harness Track has been used as the shuttle bus terminal in previous Opens in 1999, 2005 and 2014.
This is a developing story that will be updated online later and for the Sunday print edition of The Pilot.