Federal prosecutors say the man accused of extorting and sexually exploiting a group of students at Sarah Lawrence College forced his victims to perform manual labor at his stepfather's home in Pinehurst.
Lawrence Ray, 60, was charged Tuesday with sex trafficking and other offenses. The alleged crimes were first brought to light last year in New York magazine by reporters James Walsh and Ezra Marcus.
The decade-long cycle of manipulation allegedly began after Ray moved into his daughter's dormitory at Sarah Lawrence College, a liberal arts school in Yonkers, New York, in 2010. He is accused of creating a cult-like group with the victims, who were all students at the time.
"Ray exploited and abused young women and men emotionally, physically, and sexually for his own financial gain," Geoffrey S. Berman, the U.S. attorney for Manhattan, said in a statement. "College is supposed to be a time of self-discovery and new-found independence. But as alleged, Ray exploited that vulnerable time in his victims' lives through a course of conduct that shocks the conscience."
In a statement issued Tuesday, Sarah Lawrence College said the charges against Ray are "serious, wide-ranging, disturbing, and upsetting." The college said an internal investigation launched after the allegations were first detailed in New York magazine "did not substantiate those specific claims."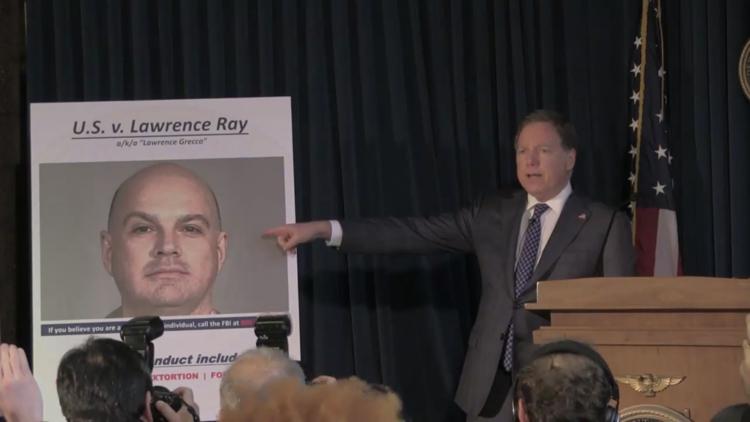 According to the unsealed indictment, Ray traveled with three of the female victims to a family member's home on Scarborough Place, a cul-de-sac near the Pinehurst No. 6 golf course, in 2013. The group stayed at the home for several months, the indictment said, making improvements to the property in order to repay for supposed damages they had caused Ray while living with him for a period in Manhattan.
He allegedly restricted the women's access to food and sleep at the Pinehurst residence, the indictment said, "placing a lock on the refrigerator" and ordering the victims to "work in the middle of the night and to sleep outside in the summer heat."
It is alleged that Ray physically assaulted at least one of the victims on multiple occasions in Pinehurst. He was also verbally abusive, the indictment said, berating the women and accusing them of "intentionally doing bad work, intentionally damaging the Pinehurst property and causing Ray monetary loss."
Tax records list Gordon Ray, the 92-year-old stepfather of Lawrence Ray, as the property's owner. The stepson was born Lawrence Grecco, but later changed his name.
According to prosecutors, Lawrence Ray forced the women to install an irrigation system at the home, among other projects. The victims were told Gordon Ray "would have a heart attack and die" if their work was inadequate, the indictment said.
Call logs provided to The Pilot on Wednesday by the Pinehurst Police Department show that law enforcers were summoned to the home multiple times in 2013. Many of the calls were made by Lawrence Ray.
On Sept. 7, 2013, he told police that Isabella, a victim whose last name is being withheld by The Pilot, had "walked off" after damaging a garage window at his stepfather's property. Lawrence Ray said he did not wish to press charges against the woman.
About 40 minutes later, he called back to inform police that Isabella had returned. She was now calm, Lawrence Ray said, and "everything is O.K."
Yaltiza, another victim whose last name is being withheld, was reported missing by Lawrence Ray on Oct. 10, 2013. When Pinehurst police Sgt. Tina Sheppard arrived to take the report, she observed several freshly dug holes on the property.
Fearing the worst, Sheppard's supervisor asked the Fayetteville Police Department to send two dogs trained to sniff out cadavers. While the dogs were searching the property, the Pinehurst Police Department received word that the missing woman had been found collapsed from an apparent drug overdose in the parking lot of Staples in Southern Pines.
Yaltiza regained consciousness later that night at FirstHealth Moore Regional Hospital, but she refused to talk to investigators. She was reported missing again on Nov. 17, 2013.
Speaking then to a dispatcher for the Pinehurst Police Department, Lawrence Ray said Yaltiza had taken "all her belongings and left this morning to catch an Amtrak train in Southern Pines to New York." But he later learned that Yaltiza never boarded the train and suspected she "may be in a hotel somewhere," according to the police dispatcher's notes.
The police department also received multiple complaints in 2013 about landscaping machinery being used at the property after-hours, a violation of the village's noise ordinance. No criminal charges have been filed against Gordon Ray, who is still listed as the home's owner.
In 2014, Lawrence Ray allegedly told one of the women to become a prostitute to pay for supposed damages she had caused to his stepfather's property. The proposition followed years of "sexual grooming" by Lawrence Ray, the indictment said, including an incident where he directed the woman to "engage in sex acts with (a) male victim while Ray observed." Both victims were students at Sarah Lawrence College.
According to the indictment, the woman spent nearly four years working as a prostitute, with Lawrence Ray collecting the "majority of (her) proceeds (...) through force, threats of force, fraud and coercion." He ultimately bilked more than $500,000 from the woman, the indictment said.
Lawrence Ray, who was arrested at his home in New Jersey, is charged with extortion, sex trafficking, forced labor and money laundering, among other crimes. He pleaded not guilty to the charges during his arraignment Wednesday in Manhattan federal court.
Read the indictment by clicking the below image: