The U.S. Golf Association has secured a conditional rezoning allowing it to build its second headquarters planned off of Carolina Vista Drive in Pinehurst.
Its application to rezone 6.3 acres on the current Pinehurst Country Club campus from Hotel and Office Professional to a Village Mixed Use conditional district went before the Village Council on Tuesday.
The project known as "Golf House Pinehurst" involves a pair of two-story buildings totaling just over 40,000 square feet: a combination welcome center and museum as well as a testing facility for golf equipment.
This past week was the Village Council's first look at the rezoning proposal since Pinehurst's planning and zoning board reviewed and recommended it be approved early in July. Nevertheless, all five council members voted to approve it after several hours of review.
Last September the USGA announced it would develop a second headquarters in Pinehurst in an effort to champion and advance the game. Pinehurst Country Club will also serve as the USGA's first "anchor" site for the U.S. Open, with championships scheduled in 2024, 2029, 2035, 2041 and 2047.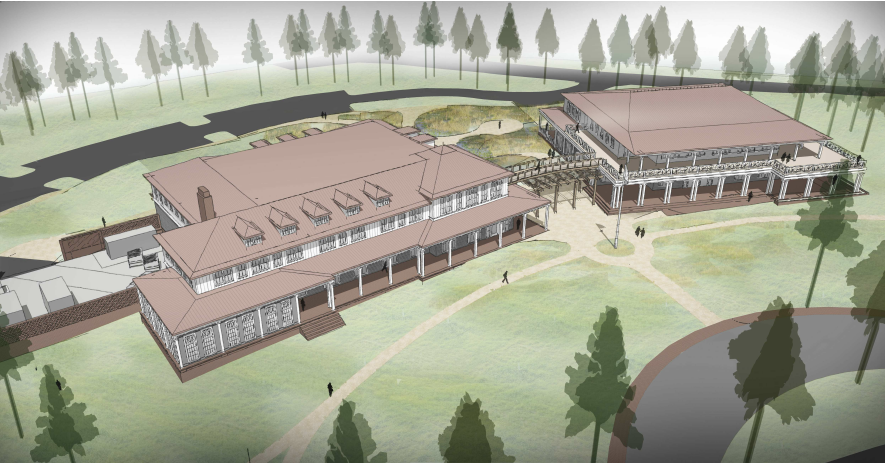 The project represents a partial relocation of the U.S. Golf Association's base operations from its current headquarters in Liberty Corner, New Jersey. That shift will bring the USGA Foundation and championships team as well as its management of its turfgrass agronomy section to Pinehurst.
"We know that locating some of our mission-critical activities here in Pinehurst will make them better and make them stronger, because this is a community whose heart and soul are connected to the game," said Rand Jerris, the USGA's senior management director of public services.
Traffic Concerns
Concerns about the nature and the scope of those activities drove some of the discussion, as the village's leaders worked through how those activities might translate to traffic in and out of Pinehurst.
"My concern is that we don't get traffic backed up from the traffic circle to the light at Cherokee," said Councilmember Jane Hogeman.
"I don't think anybody really knows whether we're going to overwhelm that little traffic circle."
Along with the rezoning, the Village Council approved a general concept plan for the USGA site. The Golf House Pinehurst project has been considered in tandem with The Lodge at Pinehurst, a 36-room boutique hotel overlooking the resort's Cradle short course, all along. Both projects are planned along a similar timeline, to be up and running in time for the 2024 U.S. Open at Pinehurst No. 2.
The village approved the rezoning for the Lodge project back in June. That approval placed the onus on Pinehurst Resort to come up with plans for overflow and temporary parking during special events.
Plans for the Golf House Pinehurst site include 109 parking spaces. That's in line with what the village's development ordinances indicate based on the square footage of the museum, visitor's center and office space.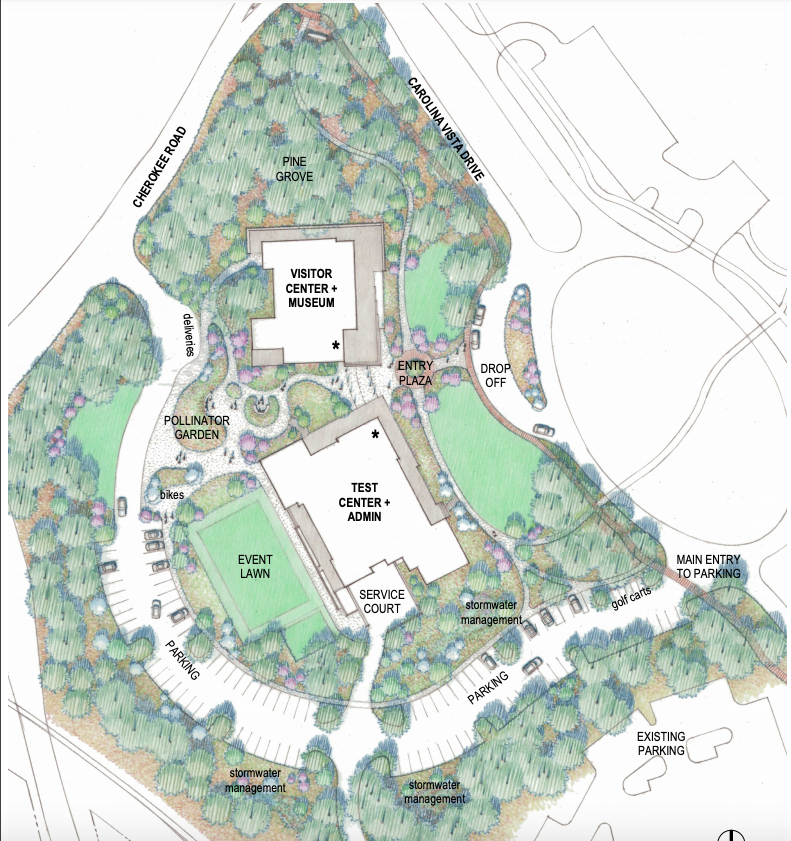 The surface of those parking spaces remains up in the air for now. The project's architects are hoping to pursue permeable paving, so the approved rezoning allows the USGA to propose an alternative to traditional asphalt for review by Pinehurst's technical review committee later in the process.
The general concept plan shows vehicle entrances from Cherokee Road. The N.C. Department of Transportation recommends the addition of a 50-foot right turn lane from Cherokee. As proposed, that entrance will allow only right turns in and out of the parking area. The other end of the parking area, which curves behind the buildings, will be accessible from Carolina Vista just off the west side of the ellipse.
Traffic analyses anticipate about 40 vehicles arriving on the site in the peak morning hours and leaving during peak afternoon hours. Travis Fluitt with Kimley-Horn and Associates said that even at double the anticipated flow of cars, new traffic associated with the Lodge and USGA would add only fractions of a second to travel time through the roundabout and N.C. 5 intersection.
"Just listening to the level of visitors to the building, the level of people that will be there on an ongoing basis, I certainly agree with them that there's a lot of people that will already be on the site in some way, either as guests at the Holly Inn, the Carolina or wherever, or people bringing in local visitors," said Councilwoman Judy Davis. "I don't think it'll be as dramatic as you might be imagining."
As approached from the Cherokee Road roundabout on Carolina Vista, the visitors' center and museum — the smaller of the two buildings — will be in the foreground. The USGA project will displace six tennis courts and the resort's existing overflow parking area.
Pedestrian planning
In reviewing plans for the USGA facility, council members gave as much consideration to how it will be accessed on foot. Typically the Pinehurst Development Ordinance would require projects in the Village Mixed Use district provide a five-foot brick sidewalk along all existing street frontage.
But village leaders will allow the Golf House project to hold off on that for now, until the village has worked through its broader plans for pedestrian, bicycle and golf cart traffic. Given the potential safety issues posed to pedestrians near Cherokee Road, N.C. 5 and the railroad, council members roundly endorsed that plan.
"I don't see this as a practical place for a sidewalk … and also we're talking about where to put walkways in the village and this is an intersection that has not been discussed, which tells me it's something that's even farther off into the future," Councilmember Lydia Boesch pointed out.
"When we were talking about Village Chapel, we didn't ask them to put a sidewalk in to nowhere."
Moving people in and around that part of the village might eventually involve sidewalks, a wider multimodal path or a greenway trail. How the new USGA campus will be incorporated into those plans is an aspect of the project that will be left for future determination.
"It's more that we're not sure where that connection will be. It's kind of on us why this is happening, because sending people down to their death to Beulah Hill Road doesn't make a lot of sense. It's possible this trail could come out somewhere else and could cross somewhere else," said Counclmember Kevin Drum.
"I think it's a lack of knowledge on our part of how we're going to connect to Highway 5 and you guys are respecting that in working with us when we get it figured out."
Village Manager Jeff Sanborn said that a north-south oriented path — parallel to Carolina Vista and the railroad — would be the most likely long-term solution. Both he and Jerris were eager to keep those opportunities on the table.
"Golf is a walking game, it's sort of in our DNA to have walkers and to welcome walkers to our facility," said Jerris. "We love the idea, honestly, of being integrated into the village's long-term plan for pedestrians and just want it to be really clear we're very supportive and welcoming of that notion of being integrated with that plan once it's developed."
As part of the rezoning the USGA has agreed to cede an easement to the village, and to pay 125 percent of the estimated cost to build sidewalks before a certificate of occupancy is issued for its new facilities.
New Uses
Defining the scope of the Golf House Pinehurst facility and its eventual uses has expanded the village's institutional vocabulary. Conditions attached to the rezoning add golf museums, welcome centers, and golf offices to the list of activities allowed in the Village Mixed Use district.
After much debate, golf office was defined as "professional, administrative, research, educational, philanthropic and technical services, and activities and special events related to the golf industry."
"The USGA's mission is more than just golf equipment: it's actually agronomy, it's different kinds of golf-related research and testing," said land planner Bob Koontz of Koontz Jones Design, who applied for the rezoning on the USGA's behalf.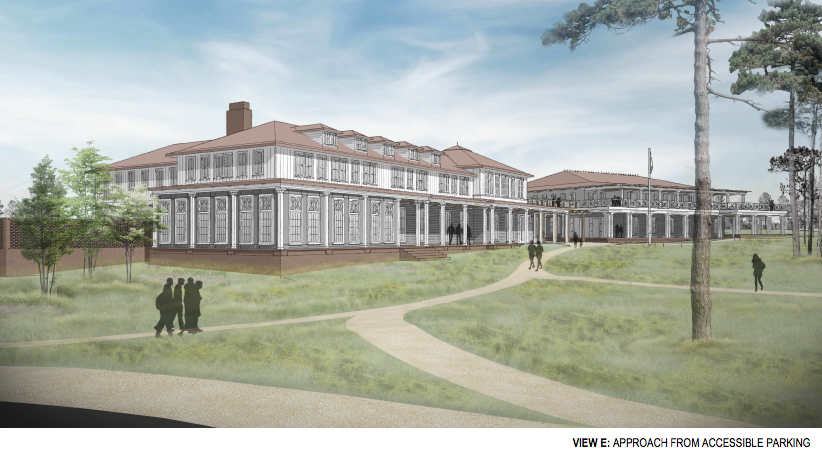 The new Pinehurst testing center is where the USGA will ensure that all golf balls and clubs manufactured in the United States comply with its regulations on size, weight and performance specifications. That's been one of the organization's key functions since the early 20th century.
The USGA requires that golf balls be tested, and Jerris said that most manufacturers also submit prototypes of the golf clubs they're developing.
"The idea here is to protect the fundamental challenge and nature of the game," said Jerris. "We want to make sure that technology doesn't replace skill as the fundamental determinant of a golfer's success."
Council members also expressed concerns that museum visitors might overwhelm the facility, given that Pinehurst's visitor base is more heavily oriented toward golf than the USGA's existing base in New Jersey.
"Within a small radius of Pinehurst we have so many golf courses, we promote this, we have people coming down here to play our courses, to go to tournaments," said Boesch. "I think we are a much bigger draw than Liberty Corner."
Jerris said that the facility has been designed with a tenfold increase in visitors from what the USGA attracts in New Jersey: up to 300 per day from 30 to 40. That's based on the visitor count at the Pebble Beach Visitor Center in California relative to general tourism in the Bay Area.
In the event the USGA's welcome center and museum significantly outperformed that estimate, Jerris said that it would likely move to a ticketed, timed admission process.
"Given the footprint of the facilities, and the size of the galleries and welcome center, if we had more than 300 people a day it's not going to be a great visitor experience," he said.