As they work to map out the next several decades of development in two key areas on the periphery of the village center, Pinehurst's leaders are waist-deep in quandaries.
Last week the Village Council devoted a four-hour work session to reviewing a set of preliminary small area plans formulated by the consultants they hired to help give form to their vision for Pinehurst South and Village Place.
After revision and input, those proposed plans, which outline how new streets and developments could play out in both areas over the next 30-50 years, will form the basis for strict development regulations known as form-based codes stipulating the type and style of development there.
Throughout the process, Village Council members will work to strike a balance both between commercial and residential uses and between high- and low-density development. Those aren't the only moving parts: market analyses of the demand for single-family homes, condominiums, office space and hotel rooms will also factor in. So will fluctuations in those market forces, to the extent that they can be predicted decades in advance.
Preliminary renderings from the Design Collective show high- and low-intensity development options for both Pinehurst South, the nearly 300-acre commercial area around N.C. 5 just south of the harness track, and Village Place, the 100-acre Rattlesnake Trail corridor between Village Hall and downtown.
Connectivity and density
Pinehurst will send plans for Village Place back to the drawing board with general disapproval of the proposed high-density plan drawn for the area north of McCaskill Road.
Both versions of the plan for that area map out residential development north of McCaskill and the area southeast of the intersection with Magnolia Road. But the high-intensity plan envisions a more extensive addition of new streets connecting Magnolia to Rattlesnake Trail and a new north-south road from Community and Orange roads that would connect to an extension of Kelly behind the police department.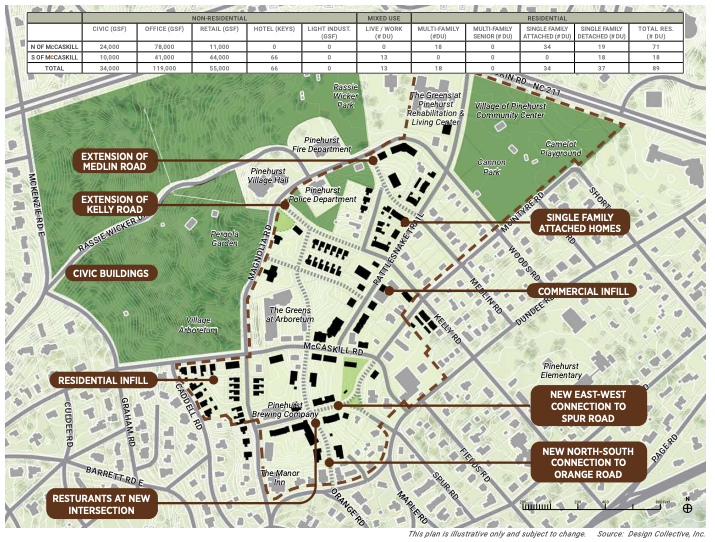 Council members debated whether additional roads would compound traffic congestion or relieve it by keeping traffic off of Rattlesnake Trail. Councilmember Kevin Drum stood on the side of giving traffic somewhere to go.
"Connectivity will always be in style. We have very little connectivity," he said. "That's what we're having a problem with now: there's only one way to get anywhere." - Drum
But Councilwoman Jane Hogeman said that taken too far, "connectivity" can turn into "a rabbit warren."
"Are we creating a road pattern that's going to make there be more cut-through traffic through the residential areas here: the existing ones and the new ones?" she asked.
South of McCaskill, both versions of the plan design an extension of Pinehurst's downtown anchored by Pinehurst Brewing Company and The Manor Hotel. That plan depends on Pinehurst's relocation of its public works facility from McCaskill Road to make way for a connection between Power Plant, McIntyre and Spur roads.
"At the staff level we had appreciation for what the low-intensity plan showed north of McCaskill and maybe greater appreciation for what the high-intensity plan showed south of McCaskill," said Village Manager Jeff Sanborn.
More detailed proposals for that area involve a mix of uses ranging from another hotel to restaurants and retail and "live/work" units. Councilmembers worried about opening the door to a national hotel chain discussed the ability of new development standards to obviate that possibility.
"When I hear 'hotel,' it's shocking, but then you think about the Manor, you think about the Pine Crest, you think something appropriate," said Councilwoman Lydia Boesch. "If we describe it differently, I can see lodging down there if very well done with adequate parking, boutique… Tufts built hotels."
"The code is going to tell them how to build it: we want three stories, we want human scale, we want variable facades, whatever we say," Councilwoman Judy Davis added.
Putting the eventual "plans" into action won't be up to the village itself, but property owners and developers. But Drum framed thinking ahead of those stakeholders as the best way to influence the current hodgepodge of uses in Village Place and Pinehurst South toward a more coherent flow of development extending from the village center.
"If you don't make a plan, things happen on their own with no plan," he said.
Residential options
Councilmembers were hesitant to endorse maps showing what appears to be higher-density residential development in some areas of both Village Place and Pinehurst South.
Plans for Pinehurst South in particular depart from the vision for the area outlined in Pinehurst's 2019 comprehensive land use plan as an "innovation hub" for business and enterprise. Renderings add a paid of new north-south roads — in addition to the approved 'Cottages' development — connecting Blake Boulevard to Olivia Lane and at least three new east-west streets in between them.
At this stage of the process, the most likely destination for Pinehurst's public works department is just south of the harness track. That relocation would trigger a realignment of Monticello Drive to the south to allow for the facility and adequate buffering.
"I was shocked you came up with this as a location," Davis said. "I was concerned it would be out in the middle of nowhere and so I thought it was terrific that it was as central to PInehurst as possible."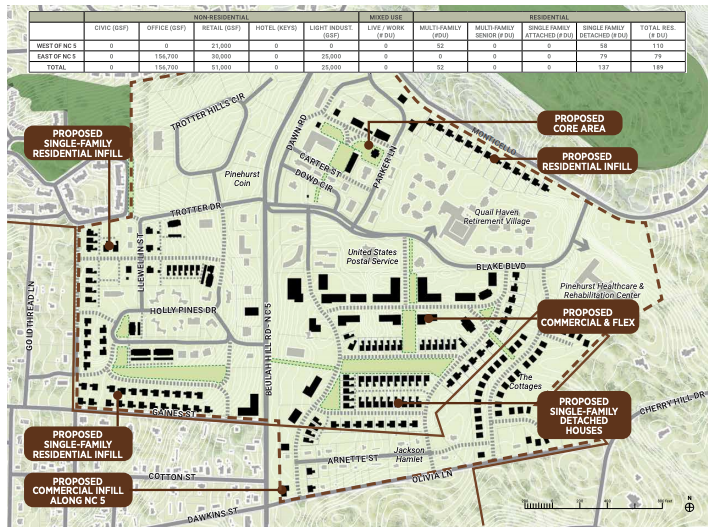 Eventually the Aberdeen Carolina and Western Railroad plans to close either Olivia or Arnette Street just north of it. In that scenario, Olivia Lane would likely remain, improved and adopted into the village's limits, as a primary route from Pinehurst South onto N.C. 5. Arnette would extend east, through the Jackson Hamlet neighborhood, to the new Cottages neighborhood.
Those proposals would place some new commercial development and light industrial uses, such as golf equipment assembly, just south of Blake Boulevard. But the rest of the plans, including along new streets proposed around Holly Pines Drive west of N.C. 5, show more single-family housing.
"I think this concept of running parallel to Beulah Hill for a lot of this traffic on either side is terrific," said Councilwoman Judy Davis, adding that striving to match the curvilinear street design of historic Pinehurst might be "a little too esoteric."
"I don't think Olmsted would lose any sleep if there were straight roads down here," Boesch agreed.
Market analyses indicate demand for about 100 homes in Pinehurst each year, regardless of size. That easily outstrips anticipated demand for retail or office space. Pinehurst Planning Director Darryn Burich said that all of Pinehurst South could be devoted to residential development within a relatively short timeframe, while commercial development could take up to 75 years for the entire area.
"I'm really interested in the market analysis component of this," said Boesch. "What do they see long-term? Right now I'm just having to trust the people that we hired to say this right here makes sense based on whatever they're working with."
Councilmembers debated reimagining the residential plans somewhat to move toward mapping out fewer homes on larger lots.
"There's a huge market in Pinehurst for any kind of residential property that's built, from low-end to very high-end," said Mayor John Strickland. "So why wouldn't we try to maximize some of the middle and higher-end, and therefore have space that's going to create larger and better lots, rather than packing in and creating density that's going to pour out on HIghway 5 and create other challenges?"
Davis pointed out that the Cottages will be built adjacent to The Country Club of North Carolina — i.e., the most logical place in Pinehurst South to build high-value homes.
"If there was a place where you would do that, and put an $800,000 property, that's the place you would have done it," she said. "I think the commercial aspect of it, the Route 5 aspect of it, can be entry-level into Pinehurst in townhouses or smaller single-family homes."
But Hogeman characterized the apparent density of the proposed plans as irresponsible based on the village's infrastructure. Moreover, she said she'd like to see proposals more in keeping with the spirit of the 2019 comp plan.
"We had a vision that this area was going to be the area for office and research and those kinds of things, and that was the place within the village for those kinds of uses and it was going to be set aside for that," she said.
"If we sway at this particular moment in time because there's a big rush on a Cabbage Patch doll situation for small residential units, and we commit most of this land to that small residential use, then we will have lost the opportunity in the future when things may be quite different to have those offices and so forth.
"If this area is not built out by a week from Thursday, I'm not going to be upset about it because it's reserved for a use that we want to have in the village in the future."
Drum responded with a vote of confidence in consultants' and planners' ability to consider the long-range forecast for various forms of development.
"They're doing a long-term plan, they have long-term ideas on land use and the work at home is affecting why there's only 5,000 square feet of absorption for office space," he said. "They know all this and they know how this is going to extend out."