A popular assistant principal's tenure at Pinecrest High School remains intact, despite reports that Moore County Schools was seeking to transfer or remove him from his job.
In the hour before school started on Tuesday, more than 50 Pinecrest students marched around the courtyard chanting "We want Chief," the affectionate title given assistant principal Herb Hanson in his decade at Pinecrest that refers to his prior career as a noncommissioned officer in the U.S. Air Force.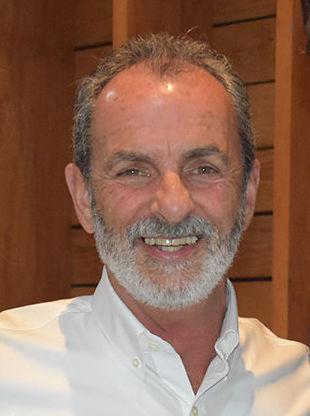 Hanson told The Pilot Tuesday that district administrators met with him last week and said he would be transferred to North Moore High and Westmoore Elementary, but did not give him a reason for that decision.
Personnel matters are normally confidential and protected by state law, but once word of the action leaked, parents and students reacted with swift support for Hanson and condemnation for school administrators.
Superintendent Bob Grimesey said Monday that Hanson remained an employee at Pinecrest. On Tuesday, he issued a further statement, saying that Hanson will be returning to Pinecrest after a mutually agreed upon leave of absence.
"We appreciate the passionate appreciation and support that so many students, alumni, parents and other community members have expressed in recent days for Mr. Herb Hanson and for Pinecrest High School," Grimesey wrote.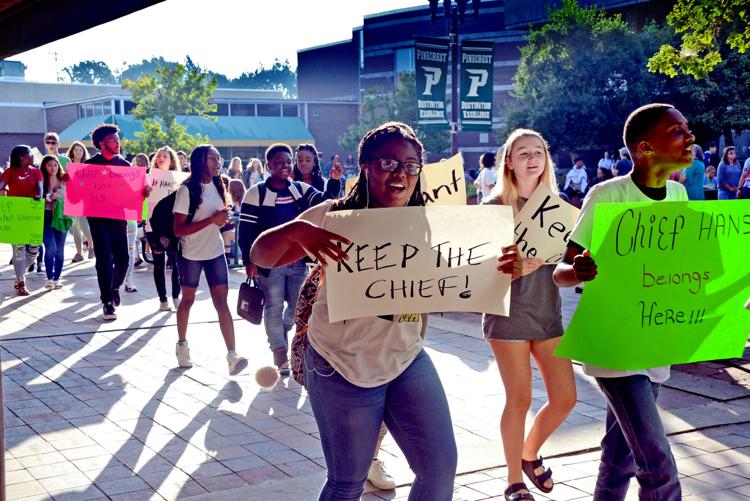 "Mr. Hanson requested and was approved for a leave of absence. It is expected that Mr. Hanson will return to his role as an assistant principal at Pinecrest High School shortly. We welcome his return and continued service to our students and community."
Over the weekend, a change.org petition started by a Pinecrest student supportive of Hanson garnered more than 3,600 signatures and comments describing Hanson's role at Pinecrest as integral to the school's culture.
The exact number of valid signatures was not obtainable. Change.org is a private, for-profit company that makes its money advertising petitions to users and selling email addresses. It does not verify names, email addresses or other information.
During Tuesday morning's protest, Senior Caroline Landry led her classmates, bearing signs proclaiming "Keep the Chief," "We Want Facts," and "Chief Belongs Here." Landry said that Hanson helped her feel that she had a place at Pinecrest after coming from a private middle school.
"Chief Hanson means a lot to me and my family; he's one of the main reasons I'm at this school," she said. "He really creates a loving environment and makes you feel that you're needed at this school, and we want him to stay."
Students described Hanson as someone they generally rely upon to help with everything from scheduling classes to problems with bullying. Sophomore A.J. McDowell said that Hanson helped him figure out how to fit theater arts, which he hopes to study in college, into his schedule along with required courses.
"Hanson has been nothing but nice and caring and listens to everything that we have to say," said McDowell. "He helps us with information about the world when we get out of high school, so that's why we want to save Chief."
Several students and parents speculated over the weekend that Hanson was being reassigned for punitive reasons as a fallout of a controversy last spring when 440 Pinecrest students' ACT test materials this went missing and were never turned in for scoring, nullifying those tests. Pinecrest's test coordinator was dismissed in June, shortly after the loss of the tests was discovered.
"A lot of the people out here are seniors who were directly affected by the ACT scandal, including myself, and we still want Chief here," said student Helen West. "Even if Chief Hanson was responsible for the ACT, I think we'd be willing to forgive him for that based on the immense amount of good he's done for the school.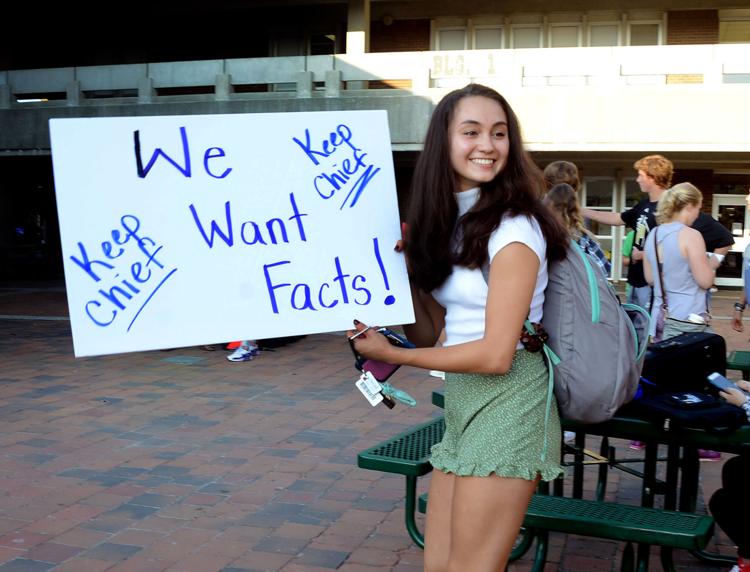 "Pinecrest can be a scary place. It's a school of like 2,500 kids and Chief Hanson is a real advocate for the students and brings in a lot of programs that are really good for the environment at Pinecrest."
Hanson joined Moore County Schools as a Pinecrest teacher in 2007. He became an assistant principal the following year. Other than a semester at North Moore and a year as principal of Southern Middle, he's held the position ever since.
"I've got other options, like retirement, and that's what I told them I would opt for if I was not going to be able to stay at Pinecrest," Hanson said.
"I've known that community — Pinecrest and Southern Middle — for so long and I know the younger brothers that are coming through now that have older siblings go through. I know the parents and the community very well."
A small group of parents and grandparents cheered on their students at Tuesday's demonstration. Suzann Laws, whose son Jackson Smith is a junior, spent Monday night imprinting "Hanson Strong" onto T-shirts for the event.
"There have been problems, there have been situations and he's a phone call or a text message away and he will immediately handle it," she said. "Other administrators don't respond to emails, but Chief Hanson has hands-down been instrumental in my son's education."
Hanson told The Pilot that he is taking a medical leave of absence. He did not say how long he would be gone, but expressed enthusiasm about returning to Pinecrest and confidence in the school's leadership.
"I'd just like to get back to work and continue to take Pinecrest higher and higher. There are some things we need to address and Stefanie Phillips is great to work for. She's a tremendous principal and she's the long-term solution for that school," Hanson said.
"I love the place and the families, and appreciate so much the outpouring of support from the community. It's extremely humbling."