The Pinecrest High Air Force JROTC program's has a long-running designation as a Distinguished Unit, but the students it turns out will affect the world far beyond the armed forces.
Pinecrest's JROTC unit was one of less than 400 across the United States and on overseas military bases to fulfill the 2018-2019 award requirements. Air Force JROTC units worldwide enroll about 120,000 cadets, less than five percent of whom will join the military after high school or college.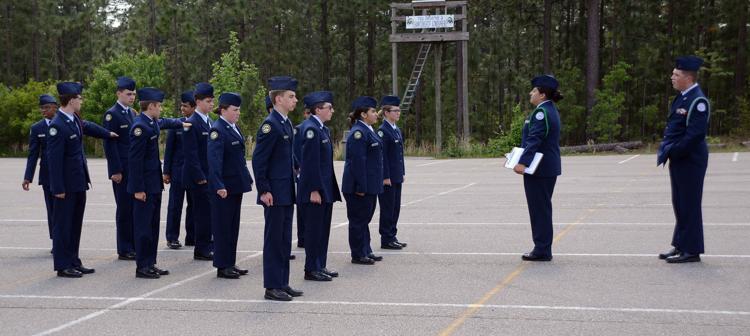 Enrolling about 115 cadets each year, Pinecrest's AFJROTC chapter is about much more than endless drill exercises. The program's objectives transcend academic disciplines, but include teaching leadership, civic responsibility and community service.
"At the end of the four years, whether they join the military or they go to college, I just hope they're a better young person that understands the responsibility of civic involvement and community service and who will do the right thing when nobody's looking," said Col. John McDonald, a retired Air Force officer and the senior JROTC instructor at Pinecrest.
"I tell them this every year, you're representing something bigger than you can even fathom, so you have to act accordingly."
For many of Pinecrest's JROTC cadets, the program was initially a place for them to fit in when starting school in a new state. As they're gradually assigned more challenging leadership roles over the four years, they learn that their success has more to do with knowledge, confidence and integrity than what they look like or where they're from.
"You're put in positions you never really thought you'd be put in before," said Titan Milstead, a junior who hopes to attend N.C. State University on an ROTC scholarship. "Starting off you're an element leader and you're put in charge of five or six people. Those people are your responsibility. You start to learn what responsibility really is and what you have to do to maintain that group."
The curriculum incorporates the history and role of the Air Force globally in the aerospace science section, and a wellness component designed to equip cadets to live healthy, active lifestyles regardless of whether or not they join the military.
AFJROTC units are inspected every three years, and evaluated based on the program's service culture and cadets' ability to set and achieve goals.
"You meet the metrics because you have good kids in your program who are going to participate in community service and who are involved in different activities across the school — we have band, orchestra and theater members, we have kids who play lacrosse and run track," said McDonald.
Liliana Gonzales doesn't have veterans in her immediate family, but she became intrigued by the JROTC program after a group of cadets visited her middle school, so she signed up her freshman year. She said she wanted to meet new people and learn how to be a leader.
Now a junior, Gonzales said that JROTC has helped her become someone that she wouldn't have recognized three years ago.
"I never expected to be a leader; I started out just like everyone else and then I became a flight commander," she said. "Overall I've learned how to be around people who aren't the same as me, people who are younger that need more attention, all of those things I've learned how to do. That's something no class could teach you besides JROTC."