Concerns about speeding and commercial trucks using residential roads in an Aberdeen subdivision as a cut-thru to the county landfill may be mitigated by converting Abilene Way to a one-way road.
During the Aberdeen Town Board's work session on Monday, Planning Director Justin Westbrook presented the proposed change. He said traffic exiting from the landfill on Turning Leaf Way will try to bypass a backup at the N.C. 5 intersection by turning into the 150-lot Meadow Ridge subdivision.
Abilene Way is a short road that connects Whitney Drive to the southern side of Turning Leaf Way. Only two houses front Abilene Way and no other adjacent lots may be developed. Westbrook also proposed the town install "No Thru Trucks" signage on Whitney Drive near the N.C. 5 intersection to further mitigate issues with commercial traffic.
A public hearing to formally consider the proposed changes is scheduled for Sept. 28 at 6 p.m. at Town Hall in downtown Aberdeen.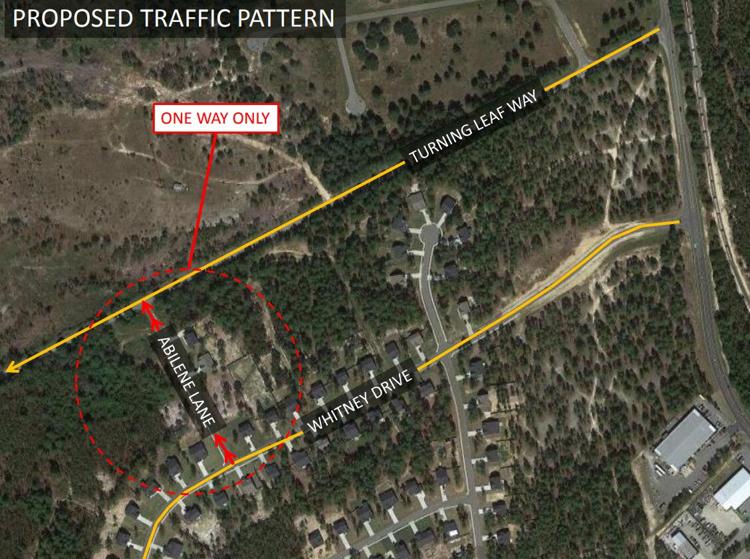 The county landfill currently operates a transfer station, a household waste and recycling collection site, and construction debris dump on Turning Leaf Way.
Recently, county leaders approved a proposed $96,150 deal to purchase a 14.25-acre section of the Morris property on the northern side of Turning Leaf Way. The tract is adjacent to the existing household waste and recycling collection site and located within Pinehurst's zoning jurisdiction.
The purchase agreement is contingent upon approval of a pending rezoning application. The Pinehurst Planning Board is expected to conduct a public hearing to discuss the proposed project in October, followed by a discussion and public hearing in November before the Village Council.
Solid Waste Director David Lambert said the landfill expansion will create a separate and safer layout for residents who use the Pinehurst/Aberdeen collection site. Of the seven household waste disposal and recycling sites operated by the county, Lambert said this particular facility is also the busiest.
The proposed site would shift the entrance of the collection site approximately 435 feet closer to Abilene Way and N.C. 5 along Turning Leaf Way. Plans call for a design similar to the collection site located in Eagle Springs.
"Traffic is an issue, we agree," Lambert told Aberdeen Commissioners on Monday. "The traffic is here and it will continue to increase as we continue to grow (population)...The status quo is not acceptable and it will only get worse."
The design of the proposed new collection site design would move residential traffic in-and-out of the landfill area more efficiently, reducing the number of conflicts with commercial vehicles. Long-range state transportation improvement plans also call for dedicated turning lanes on N.C. 5 to Turning Leaf Way; however, that work is not anticipated for several years.
Lambert said the proposed new area would only be used for the collection site, not an expansion of the construction and debris landfill.
"We want to be good neighbors," Lambert said, noting landscaping and buffering areas are proposed as part of the overall design for the collection site. "The landfill is called a dump but it doesn't have to be. There are improvements that could be made."
In other discussion on Monday, the Aberdeen Town Board:
* Explored potential changes to the intersection at Knight Street and North Sycamore Street.
The area is frequently congested due to truck deliveries to nearby businesses. Several options were presented, including converting North Sycamore and Knight to one-way roads, or reducing the number of parking spaces in the immediate area; however, it was determined that additional research and analysis is required before any action is taken.
The Town Board is expected to resume discussion next month. A public input session is also anticipated later this fall.
"One thing for sure is we have had a problem for many years. I am glad we are getting to the point we are addressing it," said Mayor Pro Tem Joe Dannelley. "Let's really look at the parking. That will make it pretty obvious what we can do."
* Approved the town's spending plan for qualifying Coronavirus Relief Fund (CRF) monies through Moore County. Aberdeen was approved for over $134,000 in reimbursement funds.
Town Manager Paul Sabiston said they have received payment for approximately $100,000 of these funds and the final reimbursement request for the remainder will be submitted later this week.
Expenditures include the purchase of multiple hand-sanitizing stations; a camera security system for the public works division; protective glass, outdoor speakers and door conversion at Town Hall; and laptop computers for remote workers in various town departments.
"These are touchless items and systems to make it safer for the public to interact with town staff," Sabiston said.
In addition, town leaders approved 40 hours of additional vacation time for full-time town staff as a reward for working through, and continuing to work in, a difficult and risky environment. There is no direct cost for the benefit as the hours will be absorbed by each department through regular scheduling over the next year.
* Heard from Town Commissioner Wilma Laney a concern that littering is a problem at certain spots at Aberdeen Lake Park. She recommended additional garbage cans and anti-littering signage was needed.
There was also a brief discussion about the potential formation of a citizens volunteer group — Friends of Aberdeen Park — that could assist with education, clean-up and beautification efforts.