"Kaleigh's Adventures in Kibera" might sound like the title of a whimsical young adult novel.
At the age of 12, Kaleigh O'Leary knew only that she was in for an awakening when she cajoled her parents into letting her travel with a volunteer organization to work in Africa's largest urban slum.
"I grew up being a very avid reader and I always wanted to go on one of my own adventures, so 12-year-old-me was like 'I want to go,' and on top of that I've always loved service work," said Kaleigh.
Now 15, she recently returned from her third summer trip to Kenya with Crossing Thresholds, a New York-based nonprofit which manages several schools in and around the capital Nairobi.
Kaleigh was still in the seventh grade at the O'Neal School when she first heard her mother's side of a phone conversation about her aunt's work with the group. At the time, she hadn't traveled overseas since infancy. Based on news snippets about civil wars, genocides, and deadly viral epidemics, what she knew about Africa led her only to believe that it would be entirely different from her life on a horse farm in a quintessential American small town.
"I had this stereotypical view, that it was going to be — for lack of a better term — worse than where I come from," she said. "But I also knew it was going to be a new experience and that I didn't exactly know what to expect."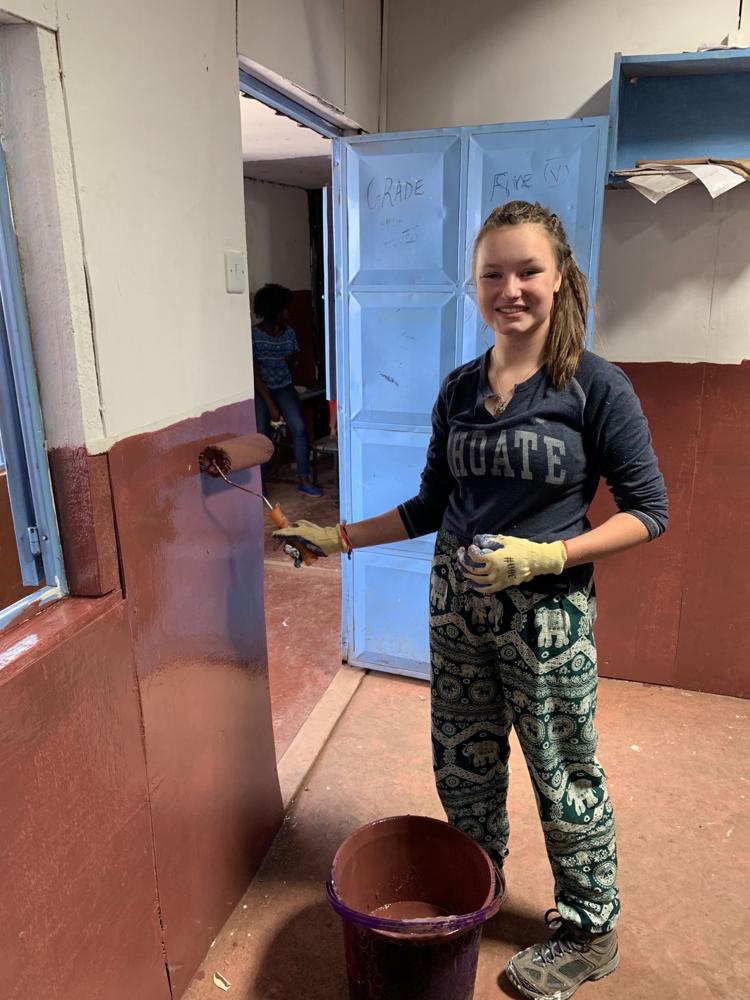 When she got there, the conditions confirmed her expectations.
Most of Crossing Thresholds' schools are located in Kibera, a shantytown sprawling over an area of less than two square miles within Nairobi. Kibera was established in the early 20th century under British colonial rule. Its population is now estimated at 1.5 million people, or nearly half of the city's population.
The Kenyan government, which owns the land, maintains that Kibera's inhabitants are there illegally. So infrastructure is virtually nonexistent. Few parts of the slum have electricity or sewage, and running water is limited to a few collection sites.
"I think when your family lives there, and you can't get out of the slum because you have no education and no way to put yourself in a position to make a better life for yourself, you don't have the choice to leave," Kaleigh said. "So it's just a cycle."
Last month, Kaleigh spent 10 days working at one of Crossing Thresholds' schools in Kibera. The schools themselves serve more than 1,000 children at a time. Financial support for the schools, which covers pay for teachers and support staff as well as two meals a day for every student, comes in part through paid volunteer trips.
On one of those trips, Kaleigh and her fellow volunteers led student activities and helped maintain the schools' facilities. For the last three years, she has volunteered at Facing the Future school, or Fafu for short, a 300-student primary school.
Where the environment matched Kaleigh's worst imaginings of what an African slum might be like, the people who live there defied them.
"It's house after house, crammed together along the roads. There are a lot of stores and a lot of markets and shopping and people going back and forth," she said. "It is desperate and kind of sad to see, but there's living going on. People aren't just sitting there in poverty and desperation."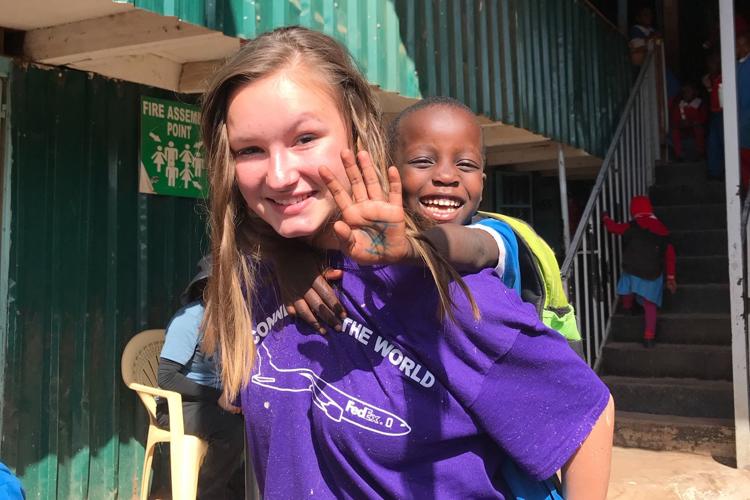 Most of the teachers in Crossing Thresholds schools' are locals from Nairobi, and each school is managed by a grassroots community organizer. As a group, Crossing Thresholds emphasizes the leadership of locals in Kibera rather than going in and imposing one-size-fits-all solutions.
"We're not going over there to be saviors … we're really working together with others to make a difference," Kaleigh said. "A lot of the people we work with in Kenya, they're like family. We're working with them to make it a better place."
Talking to older students, who speak fluent English, Kaleigh said that she's usually hesitant to ask what they hope to achieve in life. In Kenya, eighth-grade students must pass the Certificate of Primary Education exam to qualify to matriculate to high school.
"It's a difficult topic to bring up with them, because you don't know their past or their story, but whenever I talk to them about their hopes, I'm always struck by how similar they are to kids here. They don't exactly talk about wanting to get out of the slum, because I think that everyone really does, but they never know if they will," she said.
"What I often hear is: 'I want to be a pilot, I want to be a singer, I want to be a firefighter.' They have dreams that they want to achieve, which is why they're so driven and they work so hard."
With the rest of her volunteer group, Kaleigh spent the second week of July climbing Mt. Kilimanjaro in neighboring Tanzania in a fundraising effort. Pledges from her friends and family totaled more than $3,000 for Crossing Thresholds — enough to sponsor 60 middle school students for a year.
During most of the six-day climb to Uhuru Peak, at 19,341 feet, Kaleigh herself wondered why she was there and what she was doing. But each time she gets back to Southern Pines, it's an easy question to answer.
"It's just part of who I am at this point. To really appreciate something you have to let it break you first," she said. "A lot of times my friends just don't understand, but I find it very important to share my experience with others because you never know who it might touch or inspire."
This fall, Kaleigh will start 10th grade at Choate Rosemary Hall in Connecticut, which she hopes will be a springboard to an eventual career in human rights or political advocacy. Fortunately, Kaleigh is no stranger to diving headfirst into new experiences. The hard part, she said, is going back.
"Even sitting in school I see people casting other people out because they're different from them. In Kenya, one little kid falls and the rest swarm them to help get them back up," she said.
"A lot of us have differences: skin color, gender, sexual orientation, what you like to do. But at the end of the day we're all one big community."