A major event usually takes several years to really take hold, and spring is traditionally loaded with them. But a full calendar got wiped out a year ago by the coronavirus almost before anything could begin.
Heading into spring 2021, the situation is looking decidedly better. New cases are way down compared to January and February spikes. At the same time, vaccination rates are on the way up, and state restrictions are loosening up just a bit.
With all that in mind, organizers are again warily eyeing the calendar and other dynamics to see whether to try and move forward with their events.
"It will be hit or miss until people are feeling more comfortable," said Phil Werz, president and CEO of the Pinehurst Southern Pines Aberdeen Convention & Visitors Bureau (CVB). "Until the vaccines take hold and the governor makes the decision we can open up further and have more people in public spaces, we will have to wear masks. But nobody knows how long this may take so we have to plan events with the best intentions."
For some used to springtime spots, an emerging strategy is postponement. The Festival D'Avion, scheduled in April, is the first major event already to announce it will postpone, again, until late October. Touted as a celebration of flight, the festival relies on all five branches of the military to provide aircraft support for the event, in addition to vintage aircraft displays, a 5K race, and live concert.
Organizer Peter Stilwell said the decision was critical to maintain the integrity of the event since various military bases are still standing down at this time from participating in public events due to COVID-19. The Festival D'Avion is now scheduled for Oct. 29-30 at the Moore County Airport.
But other events are beginning to fill in blank calendar pages this spring and summer. Werz said that outdoor activities, in particular, like the Painted Ponies Art Walk in downtown Southern Pines are ideal and may be the norm for some time.
"People can come and view the display as they wish. In the short term, these types of events that are outside will be the most popular. That is what we see coming this spring, outdoor races and outdoor events will come back," Werz said. "And I think people want to get out and they want to travel, but most will stay closer to home."
As a result, the CVB has steadily pushed out more promotional materials aimed at what Werz calls the "drive market" to reach prospective visitors. The idea is that people will more readily drive four to six hours for a short trip, rather than fly somewhere.
"We have limited marketing dollars and the dollars we have to spend, we are more laser-focused," Werz said. "And right now, events that are outside and people can do at their leisure are important right now."
A sampling of upcoming events in Moore County includes the Downtown Aberdeen Dog Fair scheduled for Saturday, April 17, 10 a.m. to 2 p.m. This is a free event with vendors, food, and games, with all raffle and donation money given to local animal shelters and participating rescue organizations.
Event coordinator Jackie Cornell said they are anxious to move forward after having to cancel last year, and have received good feedback from the town and their expected vendors. As part of their planning process, Katrin Franklin with Pinehurst Business Partners offered some advice on guidelines her group followed in hosting the Holly Arts festival last fall.
"We have been going back and forth to make sure we are as good as we can get," Cornell said, noting the South Sycamore Street location of their event in downtown Aberdeen gives them a broader area so vendors can be spaced out comfortably.
In addition, local stores have coordinated their spring open houses and "A Weekend in Downtown Aberdeen" event to coincide with the event. Restaurants are also being asked to offer more outdoor seating that day, especially since many visitors bring their own dogs to the outdoor fair..
The town of Aberdeen is also sponsoring Blue and Brews, a festival at Malcolm Blue Farm the same day, April 17, from 12-7 p.m. Admission is $5 per person for the outdoor bluegrass performances featuring Cumberland County Line, Cuttin' Grass, Shortly Thereafter and Lorraine Jordan and Carolina Road.
"We want a fun weekend in Aberdeen that is safe and spread out. It'll be nice because people can float back and forth between events, there will be constant movement," Cornell said. "There will be places to sit down and enjoy or you can just go on to the next thing."
The Southern Pines Business Association (SPBA) is also busily planning its annual Springfest for Saturday, April 24, 10 a.m.-4 p.m., in downtown Southern Pines.
The free event typically hosts over 160 arts and crafts vendors in addition to food trucks and children's activities. Two blocks of Broad Street will be blocked off on both sides of the railroad track and masks will be required for all participants.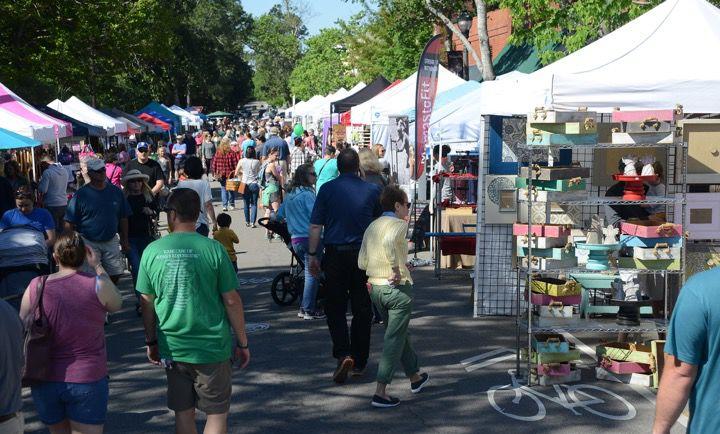 "We are in the early planning phases," said SPBA president Julia Brockmeyer. "We don't know what it will look like at the end of April, so we are trying to be extra careful. It is really challenging."
The Carthage Buggy Festival is scheduled for Saturday, May 8, with organizers anticipating a potential change to the layout of the event to ensure safety and potential social distancing guidelines can be followed.
First established in 1989, the Carthage Buggy Fest, as it's more informally known, is a celebration of the rich history of Carthage and its famous Tyson and Jones Buggy Factory.
The Sandhills Motoring Festival is also scheduled to return this year on Memorial Day weekend, May 28-30, in downtown Pinehurst.
Initiated by Porsche Club of America member, Marvin Waters, and Mercedes Benz Club of America members, Steve Redwine and Bill Faison in 2018, the festival draws thousands to its featured displays of collectible vehicles. Proceeds from the festival benefit scholarships for the automotive program at Sandhills Community College.
Waters said 132 cars are already committed, including the 1925 Rolls-Royce Springfield Silver Ghost Roadster, purchased new by reclusive billionaire Howard Hughes, that captured the coveted Best in Show award at the fifth and final Pinehurst Concours d'Elegance in 2017.
"The appetite for these types of shows is greater than ever," Waters said. "The village is excited to have us coming back and we are doing everything we can to make sure people are safe. The beauty of our event is it is almost all outside."
Scheduled activities include a road rally through Moore County on Saturday, a hangar party at the Moore County Airport, a car club showcase and a capstone event with over 100 cars on display along the streets of the village of Pinehurst on Sunday.
Later this summer, the three-day Pinehurst Barbecue Festival will be held over Labor Day weekend. Anticipated events include a concert, grilling classes, a Whiskey and Wings event, and a final pitmaster invitational in the village.
Werz noted that people may be reluctant to purchase a ticket to an event because they do not know if the event will postpone or cancel.
"This makes running events very difficult. The idea that 'if you build it they will come' is our only option to keep events alive," he said. "We know there is a great pent up demand for outdoor events in this and every community."