Elizabeth O'Brien has held other scholarship pageant titles, but when her name was called last August as the new Miss County, it was a "surreal" moment.
Growing up in Aberdeen and having previously held the title of Miss Moore County Outstanding Teen for 2014, O'Brien dearly wanted one more opportunity to represent her home county.
"It was perfect timing," O'Brien said in a recent interview with The Pilot. "This has really been such a special year representing the place that I am so lucky to call home. I have gotten to meet so many wonderful people. It has just been perfect. It is hard to believe it is coming to an end"
O'Brien, who is starting her senior year at High Point University, will say her farewell and take her final walk as Miss Moore County on the stage at R.E. Lee Auditorium at Pinecrest High School — where she graduated in 2016 — before relinquishing the crown to a new titleholder at this year's pageant on Saturday, Aug. 24.
Admittedly it will be an emotional evening for O'Brien, who says she has cherished her year representing her home county and advocating for her platform of supporting Military Missions in Action (MMIA). She says proudly that she has made more than 100 appearances through her year, which was the goal she set for herself.
MMIA has been a cause near and dear to her heart since she first got involved in Miss North Carolina preliminary pageants years earlier as a Carolina Princess.
Her father, Matthew, is a command sergeant major in the Army at Fort Bragg, and her older brother, Connor, is in the National Guard and recently was deployed overseas.
"This is something that I really believe in" O'Brien said. "Military Missions in Action has done a lot in Moore County. This area has been so supportive and receptive to our platform. The support has been amazing."
One of the highlights of her year was winning five scholarships totaling $5,500 at the Miss North Carolina Pageant in June, which helped ease some of the disappointment of not making the top 15 on the final night of competition at the Duke Progress Energy Performing Arts Center in Raleigh.
"This year, my goal was to go to Miss North Carolina and do the best job I could do," said O'Brien, who had competed in the pageant previously as Miss Thomasville in 2017. "I would be happy if I just won one (scholarship). My name was called every night. That has never happened before. That is one of the coolest feelings. I was one of the top five in scholarship money. That is pretty awesome."
One the first night of the preliminaries, O'Brien won the Jack Norris Military Veterans Scholarship and was named one of the five semi-finalists for the Dana Reason Quality of Life Scholarship. On the second night, she won the Wells Fargo NC Community Service Impact Award and Jennifer Varden Barth Innovation Scholarship.
Night three saw her receive the Quality of Life Scholarship, beating out Miss Jacksonville Alexandra Badgett, who went on to win the Miss North Carolina crown the next night.
O'Brien capped off the experience on the Saturday night of the finals winning the Miss America Community Service Award.
"I was on cloud nine," she said. "This was so amazing to be recognized by the Miss America organization for the work I've done in North Carolina."
As a youngster, competing in pageants was probably the last thing anyone would have predicted for O'Brien.
"I was so shy, when people tried to talk to me, I would hide behind my mom's legs," she recalled. "I was afraid to have a voice. This pageant and all of the parents I have been involved with have given me confidence and the ability to believe in myself and dream big."
By the time the family moved to Aberdeen from California in 2006 when O'Brien was 7, the family had already moved three other times because of her father's military career.
One of the first people they met was Jan Spivey, who was teaching a cheerleading class for the Aberdeen Parks and Recreation Department — Spivey is co-executive director of the Miss Moore County-Miss Sandhills Scholarship Organization. O'Brien's mom, Shelbi, also worked for the town.
"Mom put me in the class to help with my shyness and confidence," O'Brien said.
When Spivey was in need of a Carolina Princess for the one the contestants in the local pageant, she got O'Brien to do it.
"My contestant didn't win, but it was still so fun to do and also to get that mentorship," she said.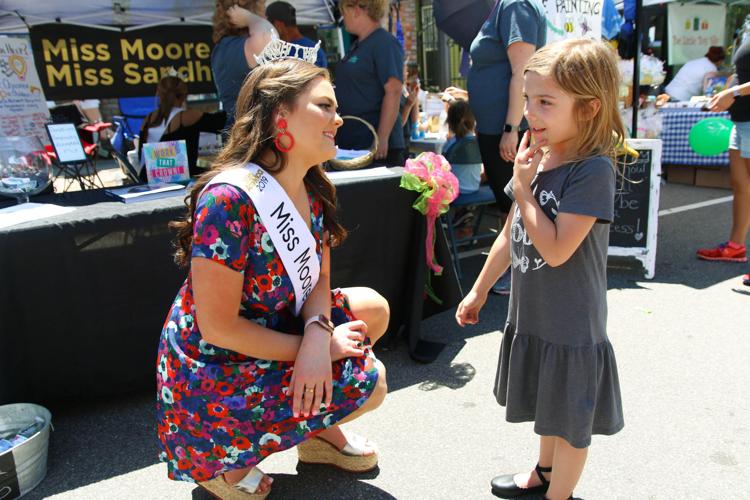 O'Brien got her first taste of Miss North Carolina a few years later when a former Miss Moore County she had been a Carolina Princess for won another preliminary pageant.
"It was such a wonderful experience," she said. "I knew I wanted to go back someday as a contestant."
O'Brien started competing in Outstanding Teen pageants at age 13. She did 13 preliminaries her first year before finally winning her first title as Miss UNC-Pembroke's Outstanding Teen in 2012.
"That just goes to show you how shy I was then," O'Brien joked. "My interviews were terrible. I was so terrified to talk."
She won the Miss Moore County Outstanding Teen title in 2016, her sophomore year at Pinecrest. Prior to being Miss Thomasville, she was also held its Outstanding Teen title.
O'Brien credits the Carolina Princess program and competing in the pageants at an early age with helping her overcome her shyness and lack of confidence.
"It kind of gave me a boost of confidence," she said having the Miss contestants as mentors. "It was so cool to be a Carolina Princess and get dressed up and go on stage, and also to cheer on your contestant."
O'Brien said she is "very grateful" that her parents made the decision after moving to Aberdeen that it would be their last move while she and her brother were in school, even though her father was still in the Army and would likely have to move.
"My parents wanted somewhere me and my brother could call home and graduate from the same high school," she said.
O'Brien said there was a "tradeoff" because her father would have to be away from them. He has since been stationed in Germany and Indiana and been deployed a few times, she said.
"I don't remember much about the other places we lived before we moved to Aberdeen," she said. "It has been great to be able to call this place home. But I have still had to experience my dad being away so much. My dad has sacrificed time away from us."
That has helped O'Brien empathize with other military children go through when they have to move around and go to different schools every few years.
"That would be really hard," she said.
O'Brien has also been a national semi-finalist for the Military Child of the Year three times, the last in 2016. That year she won the inaugural Booz Allen Hamilton Innovation Award in conjunction with the competition. She got to go to the awards ceremony in Washington, D.C., and met the five winners — one for each branch of the military.
She also had the opportunity to meet with a team from Booz Allen Hamilton to learn about ways to market MMIA and different fundraising activities.
"That was such a wonderful experience," she said.
O'Brien made supporting MMIA her platform in her very first pageant. When she was a Carolina Princess, her Outstanding Teen contest who won Miss Coastal Carolina OT in 2012 also had the same platform.
She met MMIA founder Mike Dorman, the founder of the national nonprofit at a "Fill the Footlocker" event Fuquay-Varina that Christmas. It is "dedicated to assisting veterans with disabilities, members of the Armed Forces and their families.
"I got to see it in action," she said. "I have been volunteering for them since then. When I first got involved with pageants, my dad was deployed."
She added that if something ever happened to her dad, this is an organization that would help her family,
O'Brien said she has helped raise more than $30,000 for military children with disabilities to help fund things such as installing wheelchair ramps and making other modifications and improvements to their homes like fixing an air conditioner, which are often not covered by insurance.
She added that it also does a lot to help homeless veterans though what are called "stand-downs" throughout, including one at the National Guard Armory in Southern Pines, the year to collect donated items such as blankets, socks, toiletries. Businesses also come in and veterans can apply for jobs.
O'Brien most recent drive and her final one as Miss Moore County is collecting items for her brother's National Guard Unit, which was just deployed overseas. on Aug. 24. A number of local businesses agreed to host drop-off sites.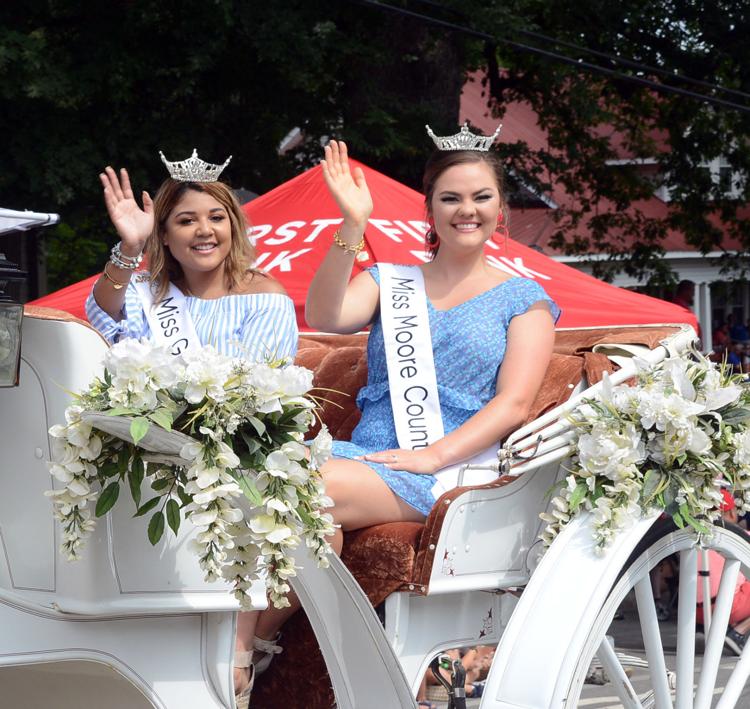 "We all have those people in our lives that seem braver, stronger, more heroic and I'm lucky enough to have an older brother who has protected me since the day I was born." O'Brien wrote on her official Facebook page last month announcing the collection drive.
On Thursday, O'Brien moved back to High Point University to start her senior year of college. She was selected as one of three elementary education majors at High Point University to complete her student teaching Kuwait starting in January.
"This is not something you apply for," she said. "I was very interested in it. This is very exciting."
For O'Brien, there was no doubt what her major would be in college.
"I've kind of always known I wanted to be a teacher," she said.
That stemmed from her own struggles with reading when she was in elementary school. She attended Episcopal Day School in fourth and fifth grade, and it was there she encountered a reading teacher "who really inspired me."
"She was the trencher I will always remember," O'Brien said. "She took time to help me, She was a teacher I will always remember. I want to be that teacher for my kids in the future."
Reflecting back on her year as Miss Moore County, O'Brien said one of the biggest surprises she as experience this year has been the community support.
"From growing up here and mom working for the town of Aberdeen, we know so many people" she said. "So many people and businesses have reached out to me to come to an event. It has been so heartwarming. Some people have negative connotations about pageants. But this area has been supportive and encouraging."
She has been touched by the support most recently for her collection drive for her brother's National Guard unit, which she credits to her being Miss Moore County.
"If it had been any other title, that might not have happened," she said the businesses that stepped to support her efforts.
The other thing O'Brien said she will always remember about her year as Miss Moore County is the children she has met. She would often take off her crown and put on a little girl's head.
"They get to see what it feels like to be a princess, a queen," she said. "They get to feel the same joy I feel every time I put it on.
And it is not the girls. She recalled a little boy at the Santa Fly-In at the Pik n Pig.
"I was an elf and this little boy was attached at my hip," she said. "He put it on and was king for the event."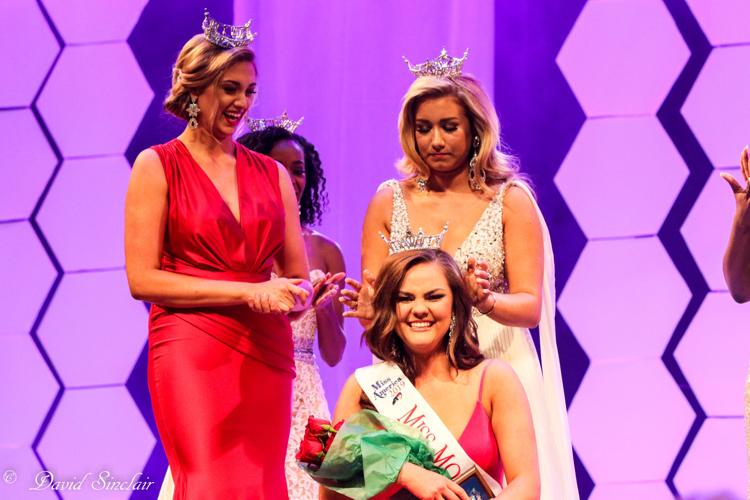 O'Brien says she will always be an advocate for scholarship pageants and encouraging young girls to get involved.
"Besides all of the scholarship activities all of scholarship activities this organization provides, it is here only to help better you," she said. "It has changed my life. It has given me the ability to attend a university that I wouldn't have considered going to.
"Everything happens for a reason. Getting involved in this has made me a better person and has allowed me to meet people who have changed my life."