Only a handful of high school seniors remain in the running for the Park and Morehead-Cain scholarship programs at North Carolina State and the University of North Carolina.
About 2,000 students from around the United States — and in the case of the Morehead, around the globe — were nominated for each program this year, and ultimately only 2 or 3 percent of them will be offered the full-ride scholarships.
All of which makes North Moore High School's Mallie Clara Purvis pretty special: she's still in the running for both.
Purvis is among about 160 finalists for the Morehead-Cain at the University of North Carolina and 112 finalists for the Park Scholarship at N.C. State.
Purvis spent last weekend participating in a final round of virtual interviews and selection activities for the Park Scholarship. Finalists' weekend for the Morehead is coming up in a few days.
Both programs were designed to attract motivated, community-oriented students from North Carolina and beyond, and the cost of tuition and living expenses for four years of study is just the start of what they offer. Scholars have the financial and institutional support to address community needs both through volunteerism with existing agencies and with original projects, and to engage in research in their individual fields of interest.
During the summers, both the Park and Morehead-Cain develop their scholars as future leaders through retreats and funded service experiences in U.S. cities and abroad.
After interacting with the other Park finalists last weekend, Mallie Clara found that the candidates have strong academic merit, but are also self-starters — and a little bit visionary — with grander goals than earning a college scholarship.
"Everyone had different majors, different interests, different backgrounds and things they were passionate about," she said.
"Ultimately what really unified us — all these people from different backgrounds, why we were all there — was our willingness to help others and give back to our community and the world around us and not just excel in the classroom but in our extracurriculars and service involvement. I felt in talking to all of them that they were really genuine people, really authentic and just their true selves."
Mallie Clara is the daughter of Jerry and Jenny Purvis, North Moore's principal, and grew up in High Falls. She's president of North Moore's Future Business Leaders of America and Future Health Professionals clubs and captains the varsity volleyball team.
She's known since ninth grade that she wants to pursue a career in the sciences. Amy Dahl, who teaches chemistry at North Moore, pushed her early on to broaden her horizons and think beyond classwork and lab reports.
Mallie Clara started exploring her options the summer before her sophomore year in a two-week program for high school students at Johns Hopkins University in Baltimore.
She came home from that experience with her heart set on medicine, and a year later learned how to suture wounds and gauge blood pressure at the National Youth Leadership Forum in Medicine at UNC.
"it was really medically based and I honestly had one of the best times of my high school career there and talking to people from different places," said Mallie Clara.
"I really wanted to be in a program that had like-minded individuals and push people to excel and do more than what's expected of them. They really preached for us to become global citizens and benefit not only our world but our community."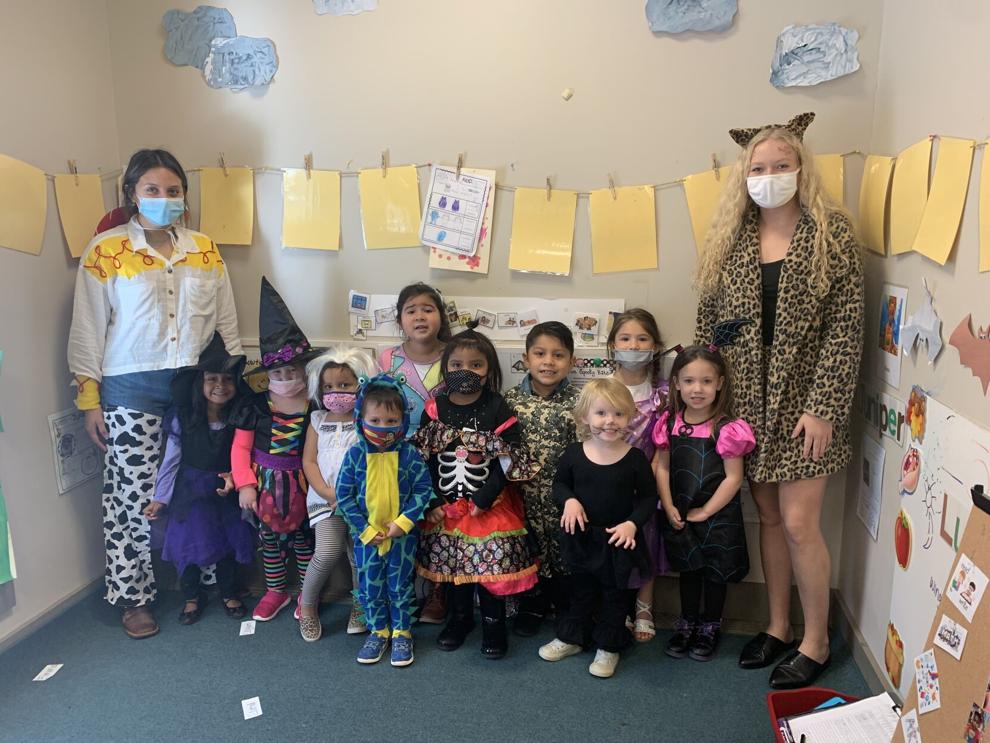 So she reached out to Clare Ruggles at the North Moore Family Resource Center with an idea that combined her passion for health and education. Since the start of her junior year, Mallie Clara has spent 10 to 25 hours each week teaching preschoolers at the center's HOPE Academy about healthy eating and exercise.
"There is a documented correlation between obesity and marginalized populations," she said.
"I didn't start the program to get recognition or to get a scholarship, but it was a great opportunity and it helped me both as an individual, a leader and a student. Opportunities like that really shape somebody to do more and reach out farther than just their school and just their club."
Mallie Clara is juggling that obligation with her course load at Sandhills Community College, where she's dual-enrolled, and clubs and athletics at North Moore. She's on track to graduate from high school with 54 college credits completed.
She won't hear back from her "reach" school until April, but she says that UNC and N.C. State are her top two choices. Whether or not she's offered the Park, the Morehead or both, Mallie Clara has secured acceptances to both schools' honors programs. As a Park finalist, she also has an automatic $10,000 scholarship to N.C. State if she ultimately chooses to attend.
Wherever she ends up, she's planning to major in both psychology and biochemistry while completing prerequisites for medical school. She's considering pediatrics, but she'll also explore her interest in mental health along the way.
"Mental health and mental health advocacy are essential as a health professional. You can't just treat someone's exterior; you have to evaluate them as a whole person."
Mallie Clara will learn the outcome of both the Park and Morehead selection processes in early March. She hasn't thought ahead so far as to decide which one she might choose if offered both.
"I've done some research, I've visited both schools and I honestly feel like I really couldn't go wrong with either at this point. They are both spectacular schools, top public universities in our state. So if I had to choose I really don't think I could," she said.
"They both have excellent mentorship programs and they really facilitate students going beyond their campus with study abroad and enrichment. You really choose your path and let them know and they help you accomplish it."