North Moore High students might not be getting a new school, but when they return to campus after winter break in January they'll find the one they have has been virtually transformed.
Work on a 39,000-square-foot expansion along the eastern perimeter of the Robbins-area high school's quad-style campus is scheduled to wrap up by Thanksgiving.
Face coverings protected school board members not only from the coronavirus but the pungent smell of fresh paint in the school's brand-new auxiliary gymnasium during a tour of the work site on Tuesday.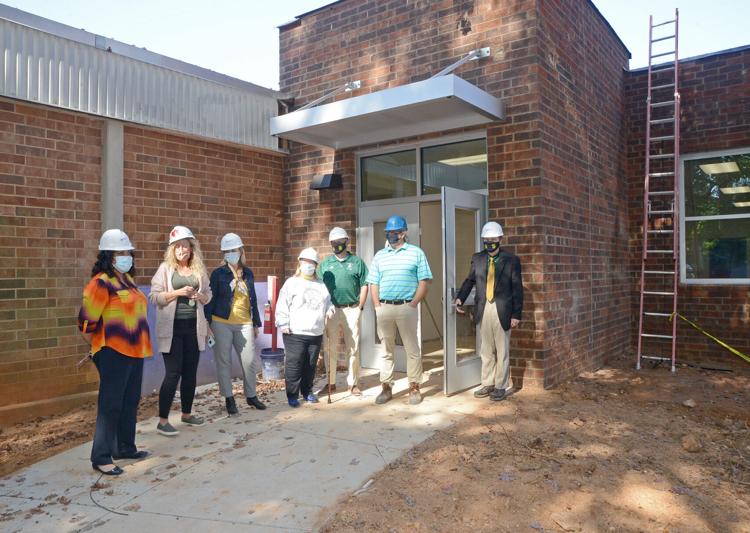 That gym, similar to the ones built at Pinecrest and Union Pines in 2013, is one of the sorely needed features that has driven the expansion. Though a smaller school, North Moore offers nearly the same complement of athletic programs as its larger counterparts. With a single gym, practices start as early as 5:30 a.m. and extend late into the evening.
The $12.9 million expansion also includes classrooms and labs. Come January, North Moore will have no further need for the modular classroom building it's used since 2009.
The school was originally constructed in 1965 and last saw a significant addition in 1989. Its newest facilities are being built by Monteith Construction and will comprise about 25 percent of the campus once they're open.
A science wing will be dedicated in honor of the late Charles Lambert, a longtime school board member and retired educator from Robbins. It will add four classrooms and a pair of laboratories –– one for biology and one for physical sciences. Currently North Moore students conduct labs around the perimeter of their classrooms.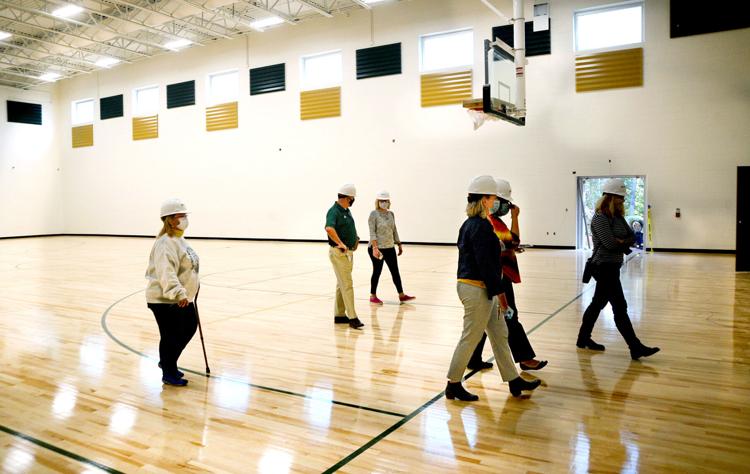 Teachers will have a preparation room between the labs where they can keep chemicals and fragile glassware secure between classes. Principal Jenny Purvis said that the project's budget will extend far enough to buy new lab equipment, so that 20th-century lab guides can be relegated to a hallway display case.
"We're able to take a look at what's outdated, what we don't have enough of right now, and make sure that they have new equipment and everything's updated," she said. "Of course there are things that are usable that we will bring over."
The addition will enable North Moore to offer all of the classes students need to qualify as certified nursing assistants. The school's new nursing fundamentals lab will offer three simulation beds. Currently, students have to travel to Sandhills Community College to take that course.
A hallway with four math classrooms across from the current Building C will stretch between the new science wing and the main administration building, tying in what's now the English department along the way.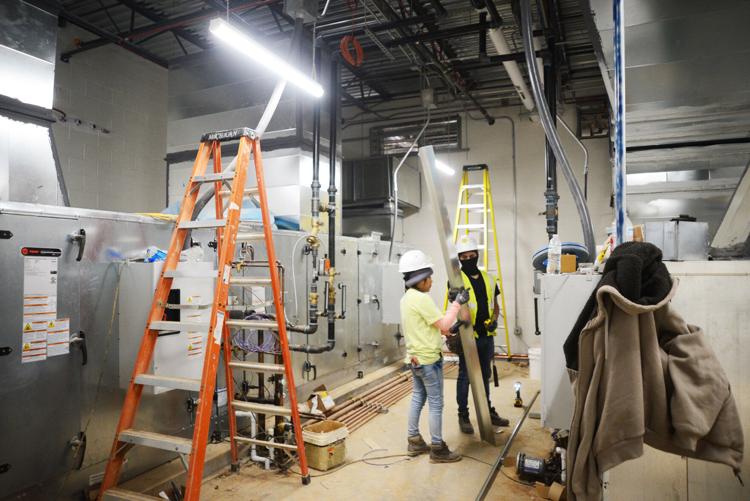 The design by Morris Berg Architects creates a solid perimeter where there was once an open patchwork of buildings around an open center quad. That will limit the ability of intruders to access campus from the eastern side.
Early plans for adding a gym and classrooms to North Moore originally situated those additions in the center of campus closer to the media center. Purvis said those early proposals were panned by students.
"If and when we get to that next phase that connects Buildings A and B across the front, at that point the whole perimeter will be closed," she said. "It's a fabulous space, and it doesn't take away from the natural flow and what (the students) like to do, which is to be outside. If they want to travel inside the building to get to every class on this side of campus, they can. If they want to exit and walk outside, they can do that as well."
New athletic facilities include designated rooms with appropriately matted floors for weight training and wrestling practices, new locker rooms and a concession area. Weights and equipment are scheduled to arrive at the end of this month.
During the day, the wrestling room will double as a "recess" area for students with special needs.
North Moore High Construction Tour
Moore County Schools officials received a tour Tuesday of construction work at North Moore High School. Workers there are in the late stages of a $12.9 million project that involves a 39,000-square-foot expansion that should be open to students in January.
The project includes an auxiliary gymnasium, weight training and wrestling rooms, and a second set of locker rooms. A new academic wing will add six classrooms and four science labs.
"This is a great place for self-contained kids to have free time during the day safely," said Purvis. "We've ordered some things for them that they can have in here that are safe on the mat and they can still have a good time."
The expansion will also make modern restrooms easily accessible for visitors at theatrical performances and athletic events via a canopy-covered ramp outside.