They may have spent the last decade teaching the next generation while surrounded by 50-year-old buildings long in need of repair.
But now that the staff at Aberdeen Elementary is situated in a brand-new school, a month into an unprecedented school year, they're done looking into the past.
Signs declaring "Tigers together at last" lined the fencing on Wednesday morning as teachers whose shirts proclaimed "We are powerful. We are strong. We are AES." gathered outside to celebrate a ceremonial ribbon-cutting at the new school off of N.C. 5.
"I promised myself that I wasn't going to cry today," said Principal Dante Poole.
The school opened on Aug. 17, uniting students in kindergarten through fifth grade who previously attended the old elementary school for third through fifth grade students and the K-2 Aberdeen Primary about two miles away from each other.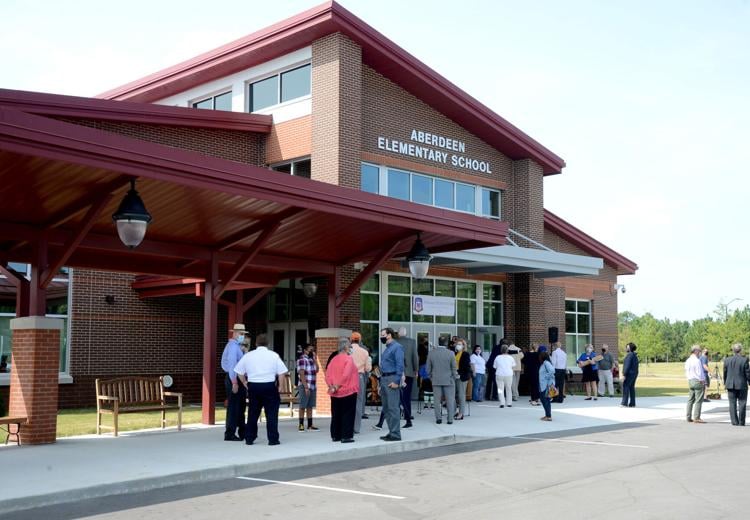 The exigencies of opening during the coronavirus pandemic have meant that the school's' 700 students haven't been fully united as of yet. Some are enrolled in fully online curricula until at least January, and the rest are split into two groups each attending two days per week.
All students are currently assigned to online learning on Wednesdays, leaving many of the school's teachers free to attend the ceremonial opening of their school.
Superintendent Bob Grimesey commended Poole for managing the transition to a single school.
"A ribbon-cutting ceremony recognizes the opening of a building, but it takes leadership and love to turn the building into a school, and even more important: to turn a school into a family," he said on Wednesday.
"We want to thank you and everyone else associated with this family for all of your extra hours, all of your detailed planning amid an extra-special challenge. Your creative problem solving, the sleepless nights, and above all the loving devotion that you have invested into the conversion of this beautiful facility into a school and for your vision for a school that houses a family."
Construction on the $30.8 million school building began in late 2018. Aberdeen Elementary was the first school to get underway after the passage of a $103 million general obligation bond referendum in May of that year. Those bonds are also funding the construction of the new Southern Pines and Pinehurst elementary schools now underway.
Frank Quis, chairman of the Moore County Board of Commissioners, pointed out that new schools are just one piece in the larger framework of Moore County's development. On top of new schools opening, the last week has brought the announcement of plans for a second U.S. Golf Association headquarters in Pinehurst and a U.S. Department of Agriculture grant that will bring long-awaited broadband internet service to 1,300 homes in the Robbins area.
As with the current portfolio of school building projects, none of those came to be without a broad community effort.
"Having been part of this process from the beginning, I can tell all of you that it's been a privilege and a joy to see folks from all walks of life working together to bring this about," Quis said. "It is truly heartwarming. It is a credit to our entire community."
The three new schools are all replacing campuses with original buildings dating from the 1940s and 1950s, built as high schools and expanded piecemeal since then. They're designed to be secure and accommodating to high-tech, collaborative learning.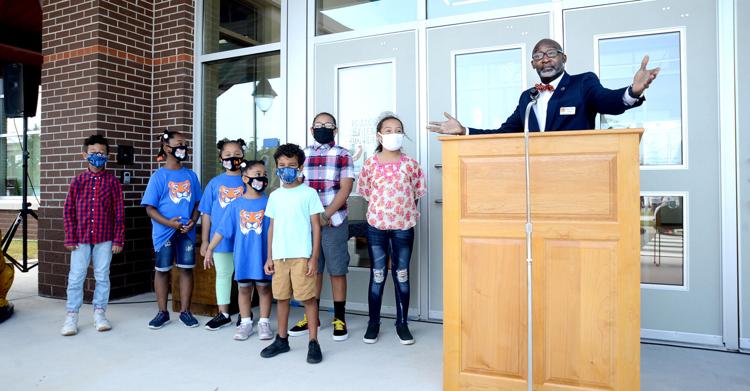 Poole and the teachers and staff of Aberdeen Elementary aren't going to rest on all of those built-in advantages, though.
"My hope is that, 20 years from now, we are even more proud of the great people who created and educated here who went to have an impact on the world. This year, we develop our new school mission and it goes like this: it's to build relationships that engage, inspire and empower students so that they will be confident to pursue and lead in any future they dream," said Poole.
"As a staff we have a declaration that says we are a dynamic group of educators, here by choice and not by chance. We are not satisfied with the status quo because our students deserve better. We are motivated, innovative change agents and we believe that our school is a great place to work and learn."
The 800-student school may be comfortably under capacity for now. But its future will almost certainly involve educating students who have yet to be born, and who will live in homes and neighborhoods that haven't been imagined. Aberdeen has already approved a subdivision of more than 500 homes on the 230 acres adjacent to the elementary school campus.
For Mayor Robbie Farrell, a lifelong Aberdeen resident, the new school hasn't been a moment too soon in coming.
"I do have one world that I had in my mind coming here today, and that is: 'Finally,' we do have a new school in Aberdeen," he said. "I was an Aberdeen Elementary Red Devil. That tells you how long ago that was."
Farrell framed the new school as the continuation of an educational tradition in Aberdeen, that includes all of the families who have attended Aberdeen schools for generations, made possible by the voters, with current school and county leadership.
"Most importantly, I want to thank the teachers and staff that have waited patiently for this wonderful school to open," he said. "With them, and with this new campus, there is no limit to the possibilities for the children."