At the nadir of his 30-year career, Bob Grimesey stood at the center, trying to keep it all from spinning out of control.
His professional life had been nothing but a steady march of progress, a lifetime dedicated to the education of young minds. Now here he was in the main courtroom of the old Moore County courthouse, shortly before 11 a.m. on June 4, having just been fired and not told why.
A divided Board of Education had exercised its "unilateral termination clause" to Grimesey's contract as Moore County Schools superintendent. As the gavel fell and the board members slipped behind burly sheriff's deputies and out back doors, hundreds of Grimesey supporters hollered ugly invectives after them.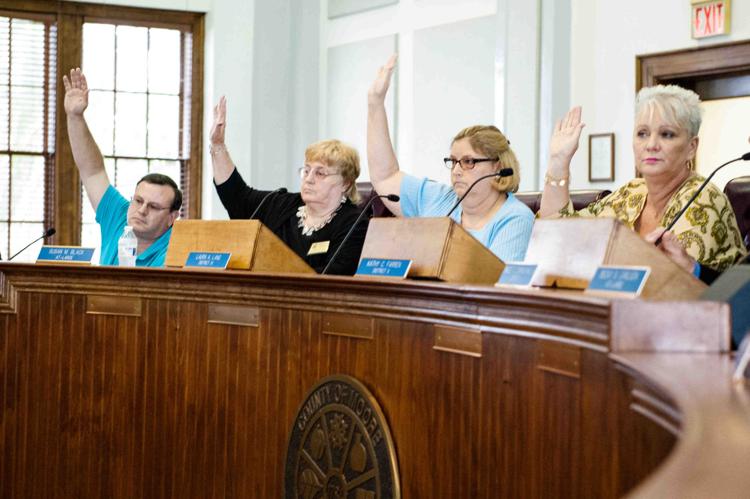 Grimesey stepped to the well of the historic courtroom. He took a microphone from the dais and asked the crowd for permission to read a statement.
He had hoped it wouldn't come to this. He'd hoped cooler heads would prevail, that the board majority might reconsider and work out its differences with him. But he wrote the statement anyway. It was important that this community hear from his heart the way he had heard from theirs.
In that moment, as he had so often in the past, he pulled off the strength of family and faith, keeping in mind the Bible verse that had been his guidepost for years, Hebrews, chapter 11, verse 1: "Faith is the substance of all hope, the evidence of things we cannot see."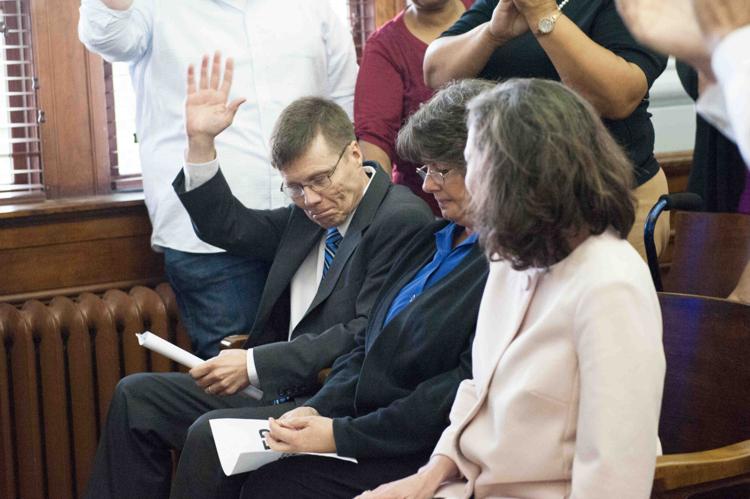 He wanted everyone to know how important they all were — to him, to each other, to the entire community. He wanted them to have faith in tomorrow. He wanted them to know that Bob and Carol Grimesey would be OK, that it was the children and the teachers who needed to be lifted up, that the higher purpose of building community through quality education must go on. He was, again, the big brother trying to hold together everyone around him.
The man in the middle that day — the man who once thought all he ever wanted in life was to teach government and coach high school football — had one more lesson. But could he deliver it?
---
As nerdy career educators go, Robert Patrick Grimesey Jr. is a rock star in Virginia.
"I am a superintendent because of his encouragement," says Eugene Kotulka, the school superintendent in Alleghany County, Va. "He recommended to me to apply for my superintendent's license, he recommended that I attend the Rising Superintendent's program, and encouraged me to apply for superintendent positions. His values, work ethic and principles are very similar to my own, and therefore we provided support for each other both professionally and personally.
"We both believed very strongly that God and family are very important parts of our lives and not to let them deteriorate."
But it is Grimesey's compassion for others that is remembered the most.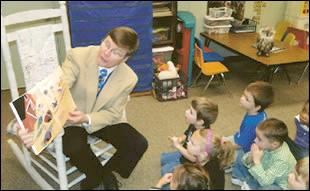 "As the principal of Orange County High School, he allowed me to conduct an early graduation ceremony for a student whose mother was dying of cancer," Kotulka said. "The ceremony was held at the student's house about six weeks prior to graduation.
"After the ceremony and later that evening, the student's mother passed. The ceremony was a very special moment, and he recognized everyone at the next school board meeting. Needless to say, there were many tears at that meeting."
In his more than 30-year career as teacher, coach, principal, administrator and superintendent, Grimesey earned numerous plaudits from his home state. When it came to formulating educational policy for Virginia, he frequently held a seat at the table. He could out-think, out-work or out-hustle almost any problem that came his way.
Drive — internal strength — is forged in fires so deep inside one's soul, all anyone ever rarely sees is the burning desire.
Grimesey grew up in Fairfax County, Va. His father, originally from Janesville, Wis., was in the Navy, and his parents moved to the Washington, D.C., suburbs when he was young. He was the oldest to two brothers, John and Mike, and a baby sister, Noreen.
As far back as Noreen Grimesey Hill can remember, her brother "has always been an old soul."
Their parents divorced when Grimesey was in middle school. Noreen was only 3. With his family pulled apart, it fell to Bob to try to hold everyone together.
"Things were pretty chaotic in our home before we went to live with our aunt and uncle, and Bob always took on more than he should have had to take on," Noreen said. "He still has a sixth sense, I think.
"There are days when I am just feeling lousy, and I'll come home to find a card in the mail from my big brother, just telling me how much he loves me and admires me. It always seems to happen on those days when I am feeling the least admirable or lovable. Bob is and always has been a 'fixer' and a caretaker."
Bob Grimesey graduated from Annandale High School in 1974 and was a member of the football team. He put his emotive personality to use in school plays. Even then, education struck him as something special.
"I wanted to be a history and government teacher, and a football coach," Grimesey said. "But in my freshman year I won a campus-wide speech contest. One of the teachers said, 'Son, you've got a future in communication.'"
An already fragile world began losing more pieces in 1977. Grimesey was studying at James Madison University at the time. One day, Bob Grimesey Sr. went out for a jog. He had a massive heart attack and died. He was 47.
"Bob exhausted himself in the midst of his own grief," Noreen recalls, "trying to make sure that the rest of us were OK. Our mother was very sick, having been diagnosed with stage four cancer by that time, so we were dealing with the unexpected death of one parent and anticipating the death of another. Bob was the one to tell us about Dad because John, Mike and I were living with Mom."
Barely a man, Grimesey was left to be executor of his father's estate and the steadying force as they dealt with the melanoma taking their mother. Mary Theresa Grimesey died a year later, in 1978. She was just 42.
"I can remember the day our mother died, one year later," Noreen says. "I was in sixth grade, and we were having our field day. I looked up and saw Bob walking toward me, across the playground … and I knew.
"He took me back to my classroom so we could have some privacy, and held me while I cried. Then, we drove home in silence.
"He was only about 20 years old at that time — 19 when he had to tell us about Dad. As an adult, I know now how much he was dealing with on his own, and I can appreciate how much he put aside to make sure that the rest of us had what we needed."
Noreen and Mike were taken in by their maternal aunt and uncle, Anne and Wilbur Smith. John, now 55, went back to college, as did Bob, finishing with a degree in communication arts.
Bob and John returned to "Aunt and Unc's" house at holidays so the family could remain together. Even today, Bob calls "Unc," now 88, on Saturday mornings. The two talk for at least an hour.
In the wake of his parents' deaths, Grimesey struggled for grounding. In that post-Watergate era when journalism was so glamorous, he went to work for a while as a reporter at the Harrisonburg Daily News-Record. He even earned first-place awards from the Virginia Press Association for "Best Sports Feature Article" and "Best Series of Stories."
But he was still casting about, adrift in an uncertain world and working through what he termed "personal examination." Through a church program with Israel, Grimesey set off to work as an agricultural volunteer in an Israeli kibbutz during 1979-1980.
"He has always forged ahead in his life," Noreen said, "doing things that are interesting and that helped him grow into the person he is today."
On the kibbutz, Grimesey taught tennis and baseball, and he tutored students in English. He still remains close today with his kibbutz "family."
"It was a great experience," he said, "and it reawakened me to my initial passion, which was education."
Back in the United States after a year abroad, Grimesey found work teaching social studies and coaching football and wrestling at Harrisonburg High School from 1982 until 1984, and then at Osbourn High School in Manassas City from 1985 to 1986.
He completed his master's degree in school administration in 1985, and earned his doctorate in education with a focus on leadership and policy studies from the University of Virginia's Curry School of Education in May 1991. For his doctorate, he studied parental involvement in school decision-making.
"Schools cannot be effective unless they engage their communities," he said.
From 1987 to 2001, Grimesey worked at Rockingham County Public Schools in Virginia, where he served as a middle school assistant principal, an elementary principal, a high school principal and as a division-level administrator. He was superintendent of Alleghany County Schools from 2001 to 2009 before accepting the superintendent's position at Orange County that year.
It was while he was in Alleghany County that his younger brother Mike passed away in 2008 from colon cancer. Just as he had done for his own siblings 30 years earlier, Grimesey held the center together again for his sister-in-law, Beth, and his three nieces. Whatever major life event those girls had — graduation, concerts — Grimesey made sure he was there.
"He feels responsible," Noreen says, "for representing Mike."
It was in January 2014 when Grimesey learned that Moore County Schools Superintendent Aaron Spence was leaving to take a job in Virginia Beach. Grimesey's son, John, was expecting to get transferred to Fort Bragg in part because of his service in the U.S. Air Force. Bob and Carol liked the area as a possible retirement spot. He applied for the job.
The Moore County Board of Education picked him for the position in May 2014.
"Although many qualified candidates applied, the board felt that Dr. Grimesey's depth and breadth of experience, in addition to his passion and dedication to student learning, would best serve Moore County staff and community for years to come," said then-board Chairman Kathy Farren. "The board is confident that he will lead Moore County Schools to even higher achievement."
Grimesey felt likewise, thinking this could be a strong relationship based on faith and a desire to do great things in a state where public education was undergoing its own crisis of confidence.
"I knew about 90 seconds into my first interview with the school board members that they would be a great group to work with," Grimesey said upon accepting the position. "I felt early on that if they wanted my help as superintendent, then I would be very interested in doing so."
---
It seemed so solid, that relationship. And yet, here he is in the middle of that Moore County courtroom, cupping a microphone with his right hand and holding his remarks in the other.
He isn't sure he's going to get through this without crying. He begs his audience's forgiveness for "sticking to the script" instead of speaking from his heart, but he isn't sure where the latter might lead him.
He says he accepted the board's decision and respected its authority. He asks everyone to support interim Superintendent Larry Upchurch. Then:
"A contract may be terminated, but a calling may never be denied. "I was called to serve the children…"
And right here — thinking of all those kids he'd sat with on reading rugs and around cafeteria lunch tables and computer desks — he almost loses it.
"We love you, Dr. Bob!" a woman hollers out.
He smiles and settles in.
"... the employees — help me out here, friends — families and other citizens of Moore County and by most indications it has seemed I have filled that obligation. Today my contract may be terminated, but my calling remains intact. All of this outpouring symbolizes the warmth that we have felt since the day I became superintendent of Moore County Schools.
"To my countless Moore County Schools fellow employees, I offer my gratitude for all of the hard work, creativity and support you devote to our children every day. It has been a genuine privilege to serve with you.
"To the countless Moore County parents with whom I've become acquainted, I am pleased to report that your children form a community of young people that is quite extraordinary. They are very courteous, very intelligent very hard-working and a whole lot of fun. You have done well, and I thank you for all of your support for our schools.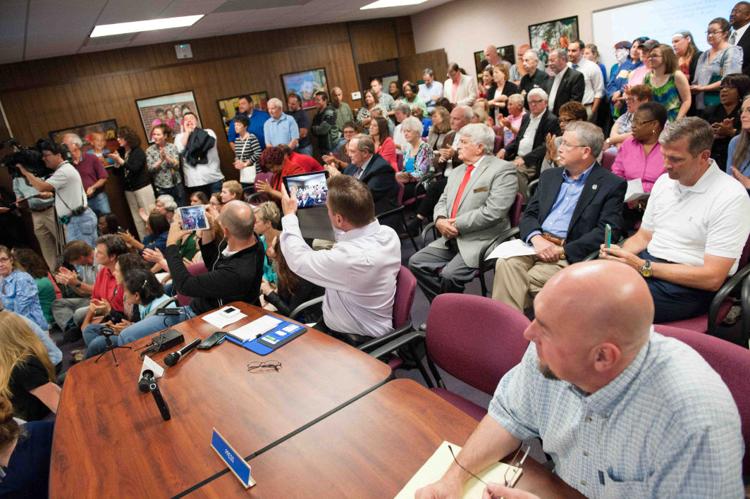 "To the countless community groups and individuals with whom I've met throughout the year, I offer my congratulations for the safe, secure and enduring Moore County community you are building. It has been my honor to add a small measure of value to the service you were providing long before I arrived.
"To the countless active members of the military, military veterans and their families …"
And here he starts to cry. As the parent of a deployed son, he knows those sleepless nights spent praying in bed. He knows the awkward silences in calls from Afghanistan, the clipped answers that never quite add up, the hospital visits that don't give a full picture of what happened to his boy. All this he knows — he feels. But in that moment, he is thinking what it must be like to be the 5-year-old whose daddy is struggling with a traumatic brain injury. What about all those kids? Their moms? Their fears and uncertainty of the future? These people have a special place in his heart, and at this moment, his heart is in his throat.
"I retain a debt that will never be repaid. You were among my chief reasons for coming to Moore County ... As a proud military parent myself — a proud father of a Bronze Star, Purple Heart recipient son — it has been an honor to serve our military families in some small way...
"Let there be no mistake, if I could do it 100 times over again, I would accept the call to serve as your superintendent of schools even if though I knew that today would be inevitable. I do not regret any of the moments that we have shared in the past year. It has been my honor and privilege to serve you all.
The room erupts in applause.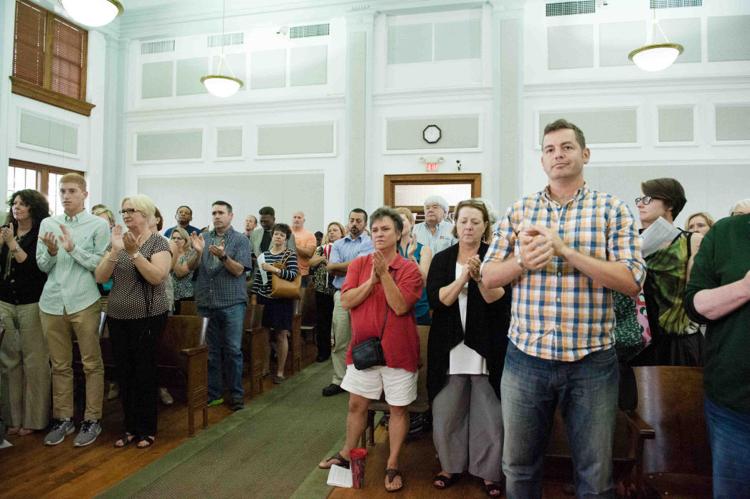 "Faith is the substance of all hope, the evidence of things we cannot see" — it buoys Grimesey, in life, in marriage, in parenting, in tragedy and loss. But on this day, there's no lack of visible evidence. He is drenched in affirmation.
---
It never made sense, what happened in those final days of May and the first week of June. Only the plotters knew what was rushing toward them. Board Chairman Bruce Cunningham only got let in on the plan over the Memorial Day holiday — more as a courtesy than anything else — but never an explanation.
Grimesey knew that this school board had issues with each other. That became apparent to all in December, when it took 78 rounds of voting over three hours to pick a chairman.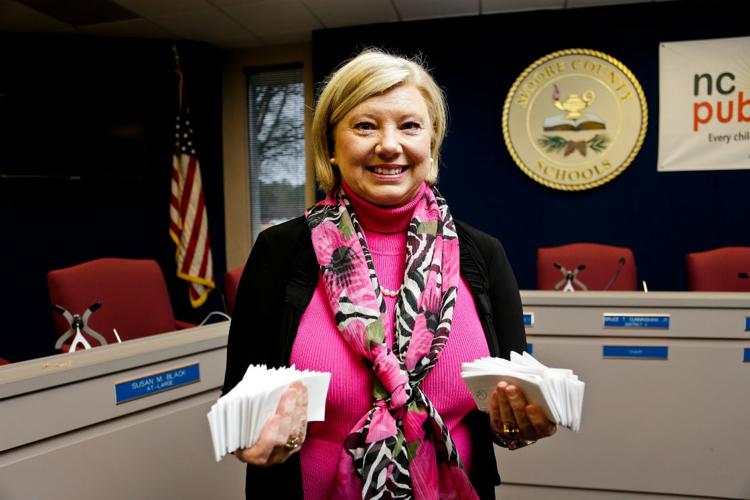 Rumblings grew through winter and into spring that some board members didn't like Grimesey's style. Word leaked to a few community leaders that his footing was growing perilous.
But going into that first annual evaluation on June 1, Grimesey had no idea of the acrimony ahead. After a routine business meeting, he and the board broke for a supper of sandwiches. Then the members adjourned into a conference room for a closed executive session to discuss his evaluation. At 6:30 p.m., Grimesey stepped across the hall into his office to do paperwork.
At 9:30 p.m., his attorney, Ann McColl, called him and said a board majority wanted him out. "It took a while," Grimesey said, thinking back on that night, "for the meaning of 'out' to sink in."
He was given no reason, just told to clean out his office and not to come back Tuesday or Wednesday. The board had called a meeting for Thursday morning, June 4, to make it official. Grimesey would not even get a chance to shake the first hand of a high school graduate.
None, save for those five school board members — Sue Black, Ben Cameron, Becky Carlson, Kathy Farren and Laura Lang — know the full story of why they wanted Grimesey gone. He was dismissed without cause. Because it was a personnel issue, the board didn't have to say anything.
Of the five board members, only Laura Lang agreed to respond to questions in writing from The Pilot. On Dec. 15, she sent an email saying she would forward her responses, but she never submitted them.
In their June 6 resignation letters to Cunningham, Black, Cameron, Carlson and Farren all said they acted in the best interest of the board, the county and the children, and that they would comment no further. They've remained true to that.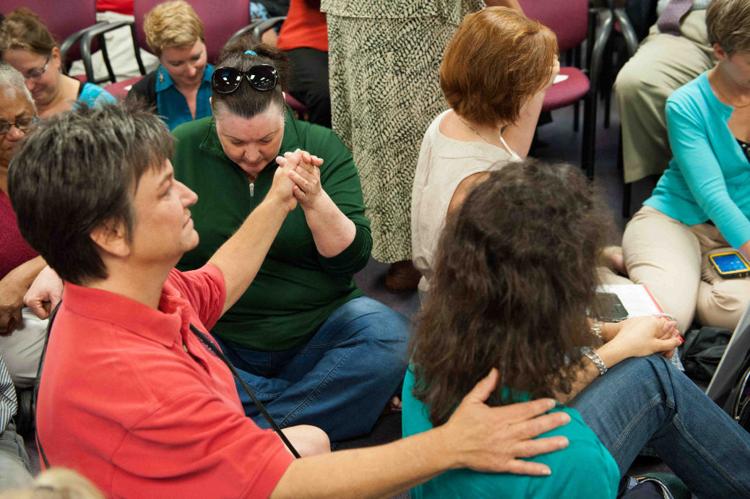 By that Tuesday morning, June 2, word of Grimesey's ouster spread through text messages and phone calls, then social media. The board announced a meeting for 8 a.m. June 4, the penultimate day of state-mandated testing.
First, there was disbelief. Then anger. Then action.
Rich and poor, Democrat and Republican, young and old, business leaders and civic gadflies — it was almost a near unanimous outpouring of support for Grimesey. On Thursday, ministers of local churches brought congregants by the vanload to the meeting. They sat next to county commissioners, who sat next to a multitude of mayors and town council members, who sat next to angry moms, who sat next to outraged teachers lucky enough to find a substitute. The crowd doubled, then tripled the school board meeting room's capacity, forcing the move up the road to the old courthouse in Carthage.
Within an hour of Grimesey's termination, petitions formed to recall school board members. The Board of Commissioners scheduled a meeting to strip the school board of budget authority. State recall legislation was proposed. Outraged teachers, students and parents took to Twitter and Facebook. People started making and buying bumper stickers, T-shirts and car decals that read, "I (heart) Dr. Bob" and "#SupportGrimesey."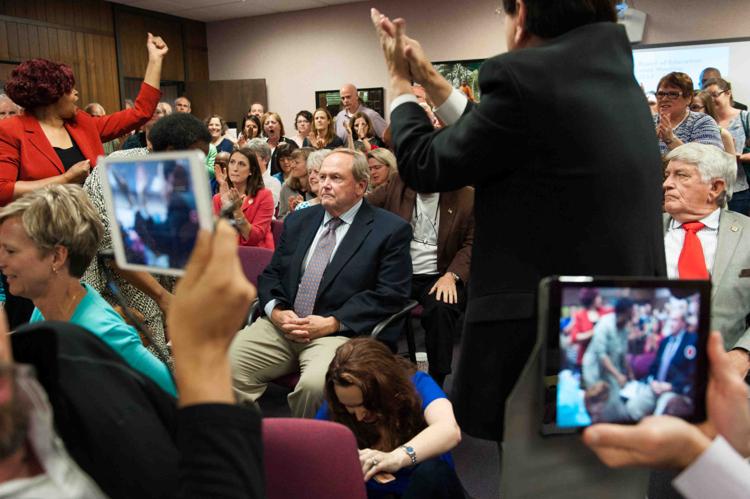 By Friday morning, mobilized by social media, thousands of students and teachers united to attend school dressed in black to show solidarity with Grimesey. They proudly posted their pictures across the Internet. Local attorney Tom Van Camp, acting on behalf of State Rep. Jamie Boles, obtained a judge's temporary restraining order preventing the school board from hiring a permanent superintendent.
By the morning of Saturday, June 6, it was all over for the five board members. After a sleepless night, interim Superintendent Larry Upchurch, already comfortably retired from his own 40-year career in education, knew his part in this was wrong and prepared to step down. With no one on their side and nowhere they could go — physically or strategically — resignation was the only option left for the five. Across Moore County, only one question remained: Could Bob Grimesey be convinced to return?
On June 6, about the only person who wasn't worked up over events from the past 48 hours was Bob Grimesey. With his wife and son John, he set about a long-planned move into a new house.
By late Saturday afternoon, after a day of lugging around boxes and unpacking, it was time for John Grimesey to fire up the grill at the new place.
Bob Grimesey took a call from his sister. She asked how things were going. Fine, he told her. They'd been "off the grid," focused on the move. John was starting dinner, and they were going to have a nice quiet evening. He knew nothing of the resignations or the calls online for his return.
"Yeah, don't get too comfortable," Noreen told him. "Go read and I'll talk to you later."
At first, Grimesey was defensive. He could take the easy road out and get paid not to work. The board had agreed to pay him $165,000 in severance. Why put himself through all that again?
But those who knew him, like Eugene Kotulka in Alleghany County, knew that wouldn't last.
"For Dr. Grimesey, the superintendency is not a job or a vocation, it is a calling," Kotulka said. "He truly believed he could assist Moore County become a greater community, a community in which all children are provided the best education possible. He especially believed he could assist the transition for children from military families.
"During the entire time from (that) Thursday to Monday, he never lost his faith nor his focus."
So by Saturday evening, with attorneys from both sides pulled in, contract negotiations began. Within another 48 hours, Bob Grimesey ascended the stage of the Union ` Pines High School auditorium as the new superintendent — for a second time — of Moore County Schools.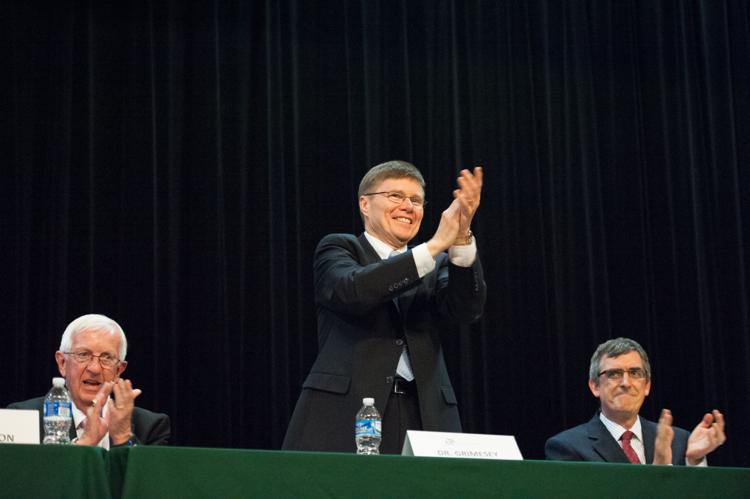 A packed house of more than 1,000 people leapt to their feet in a roar of approval.
Grimesey thanked everyone for the support, and he offered his admiration for setting aside all differences to show what it is to be the "finest community in all America."
"This is the superintendent's report," said the man in the middle of the stage dais, "and I am again at your service."
Asked if he felt the experience of those eight days in June had benefited him in any way, Grimesey said that his position in the events that transpired was "irrelevant."
"If the students of Moore County don't benefit, then how do I benefit?" he said. "If parents don't recall my time here as one of great civic pride and accomplishment, if teachers don't see my tenure here as one in which they rediscovered a sense of nobility in their jobs, and if staff members aren't treated on the same level as certified employees, then how have I benefited?
"What benefits me is the degree to which teachers and parents express their satisfaction in what they see us capable of doing in the classroom. If they approve, then I am doing my job."
---
About that job — it wasn't as if Grimesey could just pick back up where he'd left off. Everything had changed.
Immediately, he knew he'd have four new school board members to work with. He knew many in the community and schools were suspicious that some of his senior staff had undercut him. And he knew he had three high school graduations coming up.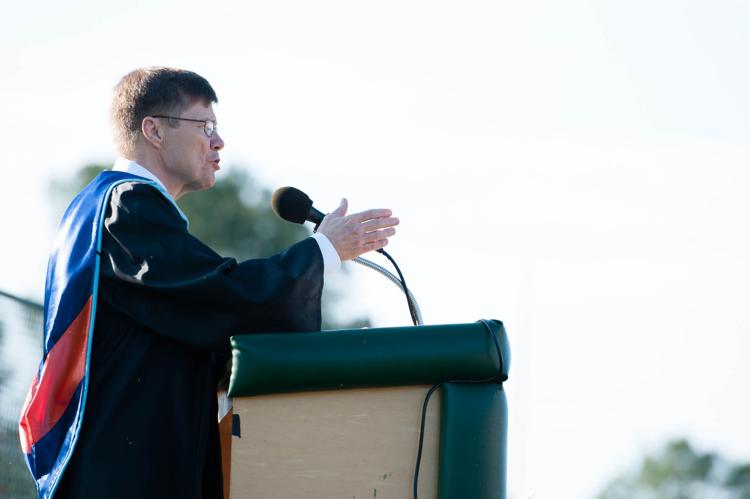 He had the mandate. Now he needed to use it.
By the end of June, he released a video on the school system's website, acknowledging a "new normal" for Moore County Schools. He reassured people that he would address all their concerns, but in a way so that "a new culture of collaboration, trust and respect will rise." He empowered teachers to speak freely and implored the community not to relinquish the power of its will when it comes to the children.
"After all, are we not the same Moore County community who spoke with a single voice so loud that it gained the attention of the entire state? You stood up for those ideals and principles that you share across all geographic, economic, ethnic, political and cultural boundaries."
Newly emboldened, Grimesey launched himself into an aggressive campaign of policy making and educational leadership:
* He initiated a senior staff reorganization that moved out divisive and controversial personalities, including associate superintendent Kathy Kennedy. Greater reorganization is still in the offing.
* He helped the Board of Education redefine its school construction priority list to bump up construction of three new critically needed elementary schools in Whispering Pines, Southern Pines and Aberdeen. And as part of that, he championed a new top priority: a specialized high school to focus on advanced career-oriented coursework.
* He strengthened a personal and professional bond with Sandhills Community College, drawing together the two to work on the new high school and other initiatives in ways never done before.
"Bob Grimesey pays more attention to details than anyone I have ever worked with," said longtime college President John Dempsey. "He is an absolute bulldog when it comes to that."
*He fostered respect with the county commissioners and business leaders, enlisting their support for a voter referendum this coming March to raise the sales tax a quarter-cent to help fund the construction priorities.
"The transparency and honesty that Dr. Grimesey exhibits, along with his humility and good resolve, are some of the qualities that make him the successful leader that he is," said Commissioners Chairman Nick Picerno. "When you combine him with our county manager, Wayne Vest, you have two fine leaders in the community. Moore County is blessed."  
*Grimesey tackled the thorny subject of whether to continue dual calendar tracks at four elementary schools, a policy that has been costing $400,000 a year to do. He held three community forums to discuss the procedure and invited hundreds of parents to participate in the process. A survey sent to parents came back with an astounding 89 percent participation rate. A recommendation on the calendar policy is due in January.
*Working with staff, he pinpointed potential sites for all three elementary schools and SCC-owned land for the Advanced Career Center high school.
George Little, chairman of Little and Associates Inc., of Southern Pines, and chairman of the Sandhills Community College Board of Trustees, like what he sees in Grimesey's efforts.
"He is a very good player in the community," Little said. "He understands the differences between operations in the school system and the college, and he has done a great job at reaching out to the business community to tie them in to the schools.
"I'm very encouraged by Dr. Grimesey's leadership and involvement."
Moore County Chamber of Commerce President and CEO Linda Parsons agreed that Grimesey's efforts to reach out to the business community have been appreciated.
"He recognizes the need to have an environment in which students can learn skills that will positively impact local businesses, and he promotes what I call a 'K to Life' approach. From kindergarten to high school, he recognizes that it is imperative to educate toward a career.
"The business community sees him reaching across borders, and that is appreciated."
Parsons said that Grimesey's cognizance of others is another positive aspect of the his leadership style.
"He always takes the time to say thank you, whether it is to administrators, teachers, students or others," she said. "In a world in which we are always so rushed, he stops to take a breath and listen to others' concerns. I am very impressed by that."
---
It's in the classroom where Grimesey still feels most at home. He makes a point regularly to get out to schools. His goal is a break-neck pace of 20 school visits a month. His visits are so frequent, his interactions so deep, it's not unusual for even kindergarteners to know him. Teachers jostle to have him in the classroom.
On a recent trip to Vass-Lakeview Elementary School in Vass, students laughed at his jokes and were thrilled when he took part in some of their activities, which included sitting on the floor with them or eating in the cafeteria at their table. Third-grade teacher Julie Shook said it was the "fifth or sixth time" Grimesey has visited her class.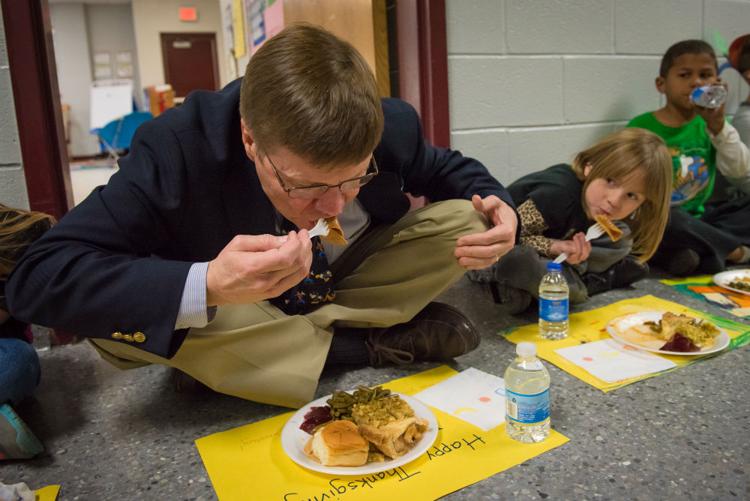 "He's done science lessons, social studies and math with us," Shook said. "The students love it when he comes in."
While at Vass-Lakeview, Grimesey also joined 110 kindergarten students as they lined the long hallway, sitting on the floor and enjoying their first ever "Thanksgiving Feast" event while dressed in seasonal attire as Pilgrims and turkeys.
Following a visit to Angie McDevitt's fifth grade class, in which Grimesey participated in a math exercise, McDevitt said her students were excited at the superintendent's anticipated visit.
"They kept asking, 'When is he going to be here?'" she said. "Will he have to do work with us?' Dr. Bob is very cool. He's really down to earth, and the kids love him."
Vass-Lakeview Principal Bridget Johnson agreed.
"In a staff meeting, when I announced that Dr. Grimesey was coming, teachers raised their hands to say he can come to their classes," Johnson said. "It's not always been like that in the past."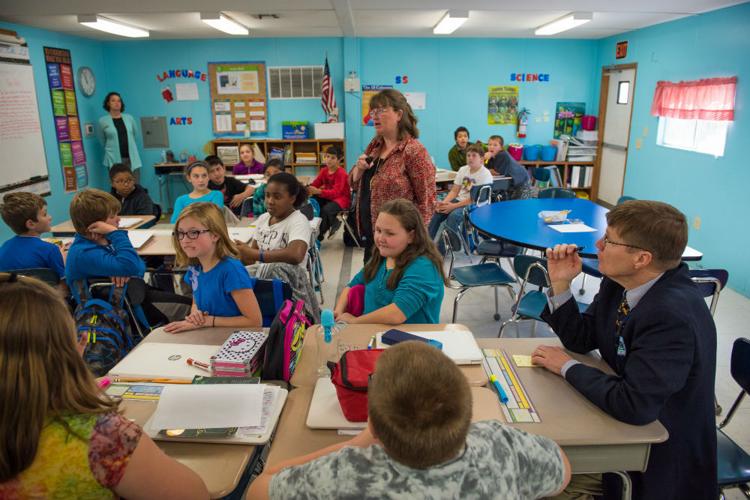 No, it hasn't. Teachers in years past feared visits from Central Office staff. They routinely complained of being subjected to critical review of everything from classroom decor to lesson plans to desk arrangements and posters on bulletin boards.
Unlike most superintendents, who travel with an entourage of senior staff and mid-level administrators, Grimesey often comes alone. Teachers often marvel at the long and detailed thank-you notes he offers back.
The kids are easy to charm, the teachers less so. But parents? A greater force of skepticism you're unlikely to find on the subject of school administration, right?
"As a parent, I truly appreciate the spirit of accountability and open communication he is fostering within Moore County Schools," said Karin Kent, organizer of the Parents For Moore advocacy group. "He clearly has very high expectations of his staff, but also of us as parents and as a community to get involved and stay involved. I think he's what we needed."
Kent said that Grimesey has changed the atmosphere of the parents' relationship with school administrators for the better.
"I think both parents and administrators are seeing the benefits of collaboration and mutual respect," she said. "I feel we are being heard and in turn are more willing to listen and understand the situations. We will never agree on everything, but being able to discuss things as adults is crucial. Parent awareness of the stressors and issues facing teachers on a daily basis is drastically increased. Parents are more aware of the need to be supportive and show appreciation.
"Personally, I am extremely pleased with the progress that has been made with the county commissioners and the start of new buildings, which is so long overdue. From a parent's perspective, we see teacher morale gradually improving, and have a new realization that we need to do our part to effect legislative and funding issues. He is willing to lead us in the right direction if we are willing to follow."
Bruce Cunningham, who has been on the school board since 2004, has seen plenty of superintendents in his time. And as the husband of a high school English teacher, he certainly hears plenty more from a grass-roots level.
What strikes Cunningham about Grimesey is that he doesn't kowtow to any power structure. His decision-making is genuine and unaffected.
"I believe that his largest, most important impact has been on the culture and climate in Moore County Schools, and his ability to genuinely make teachers feel respected and valued," Cunningham said. "This doesn't take away from his willingness to confront difficult issues, including the facilities plan, the dual enrollment issue, the transfer policy, the re-examination of the organizational structure at central office, and more.
"He doesn't walk away from tough issues."
Helena Wallin-Miller, who was appointed to the board after the events of last June and is running unopposed for a full four-year term, said Grimesey's engagement in the community and with school personnel was "impressive."
"We have been very focused on some exciting work for the past six months, and Dr. Grimesey has impressed me with his drive to ensure the students get what they need," said Wallin-Miller, who herself has two young children in the public schools. "Facilities has obviously been a big issue, and he has looked at that from a long-term perspective regarding both new facilities and the need to upgrade aging ones so that they will last another 50 to 100 years.
"He has a lot of great ideas, and is willing to use his expertise and knowledge to ensure that we are moving in the right direction."
---
This past August, a week before the new school year, Bob Grimesey hosted staff pep rallies at the three high schools for each area's various schools. He ran up and down the aisles exchanging high fives, he mugged it up with mascots, and he danced on stage with the pep bands.
It was part catharsis, part revival. It was a time to express faith, to have hope, to lead.
"Last June's remarkable events that resulted in my reappointment and the reconstruction of the school board were not about me, or the board or any other single individual or group," Grimesey exhorted teachers at the Union Pines pep rally. "They were about all of Moore County, all of its people, its values, its principles, its economic vitality, its future, its schools and — above all — its children."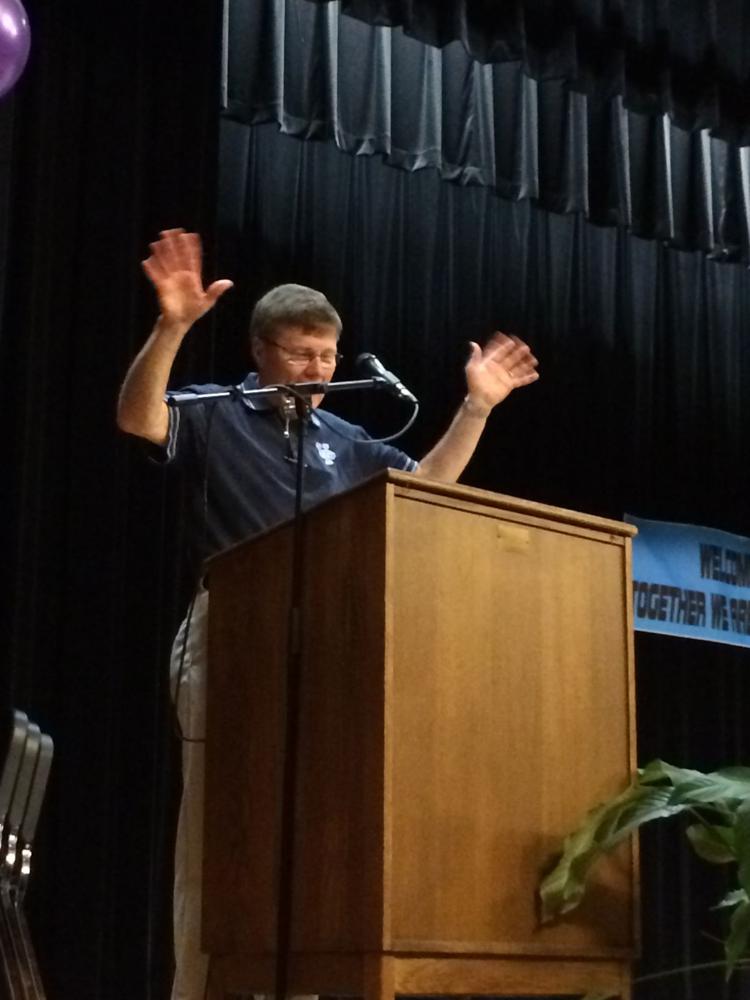 The legions who joined as one "stood for decency and fairness," he said. "They stood for honesty and transparency. They stood for fundamental respect for all students, families and school employees. And they made clear their preference for leadership that is founded not on ambition and privilege, but rather on humility and service."
Grimesey went on to tell school employees, "I offer myself not as your 'chief' or 'boss,' but instead as your 'servant leader.' Let's discard the mental image of our organization as a pyramid with the superintendent at the uppermost point, supported by everyone else. Instead, let us adopt the image of an upside-down pyramid with the superintendent at the bottom-most point that supports everyone else.
"We will support a new normal of servant leadership by continually practicing modest, appropriate and professional behaviors," he said, "that will build confidence and trust among ourselves, and which will contribute to further confidence and trust on the part of the community and their perceptions of us."
Four months removed from that moment, Bob Grimesey's faith in that higher purpose remains undiminished.
"Suffice it to say that I maintain a singular focus on the needs of Moore County Schools, and I see nothing in the foreseeable future to distract that. I feel no compulsion to consider any future options.
"We will need several years to address our most critical challenges in Moore County, and it remains my intent to provide the necessary leadership to see us through those challenges."
Bob Grimesey is right where he wants to be: in the middle, holding it all together.
— Written by John Nagy. Reported by John Lentz.