Construction is nearing completion on the newly named Moore County Sports Complex at Hillcrest Park in Carthage. County leaders have approved the name and its official logo.
"Our future is bright. There are so many things we can do with this facility and it will help the economy of Moore County," said Larry Caddell, chairman of the Parks and Recreation Advisory Committee.
Hillcrest Park is a 42-acre park that features four baseball fields, batting cages, field house and concessions, playground, volleyball courts, a walking trail and disc golf course. A private-public partnership funded a new splash pad added in 2019, and many of the other park facilities and amenities were also privately funded over the years.
Funding for the $5.29 million sports complex came from the county's capital reserves, the sale of various properties whose owners wanted the proceeds to benefit parks and recreation programs, and private donations. More recently, county leaders approved using a portion of pandemic-relief funding through the CARES Act to purchase and install an emergency generator so the facility can serve as an emergency shelter, if needed.
The new 26,500-square-foot sports complex will have two gyms with full-size basketball courts that can be used as four volleyball courts; a multipurpose room that can seat 100 people for classes and training; restrooms and a concession area; as well as offices for the Parks and Recreation staff. The multipurpose room can also be rented for meetings and other private events, and the entire facility is situated to allow for potential expansion.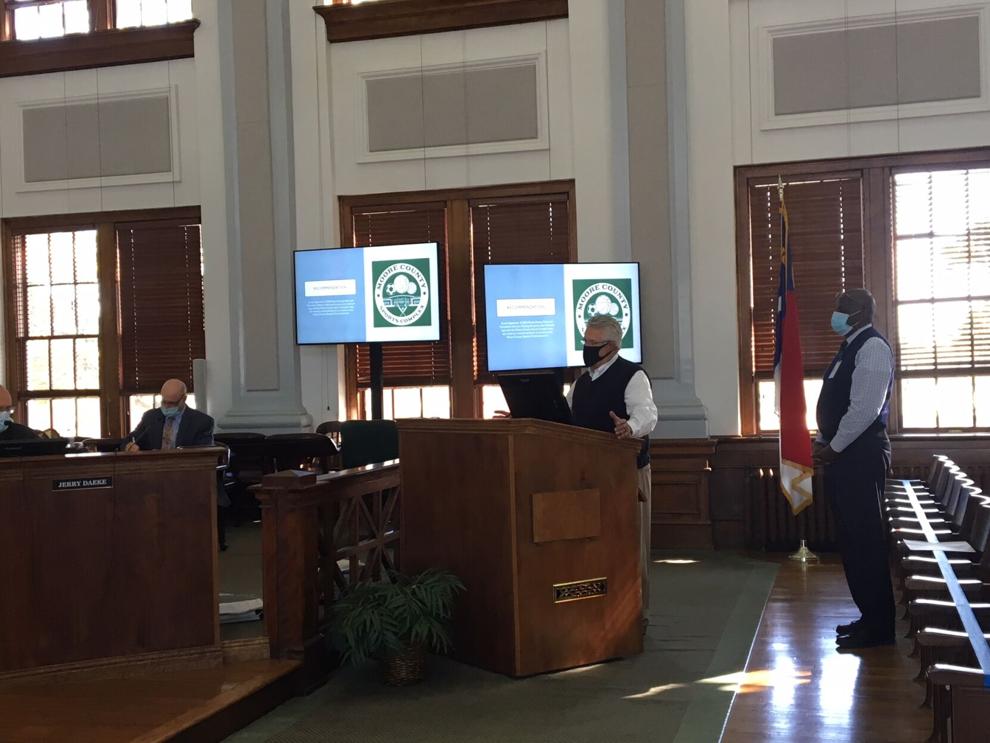 Caddell, a former Carthage mayor and county commissioners' chairman, and Parks Director Billy Ranson initially presented the recommended name and logo to the Board of County Commissioners during a daylong retreat in late October. Caddell credited the board for having the "courage to step up for those who can't speak for themselves," despite the challenges of balancing many other capital project needs.
"We are really excited for what this will do for the young people of Moore County," Caddell said. "It will make an impact on kids' lives just like sports had an impact on mine.
"With all that is going on, this is for the young people of this county. You should be commended for your efforts to support this effort."
Ransom said he is already fielding interest requests from youth sports tournament organizers looking for venues to host basketball, wrestling, and volleyball events.