The Moore County Board of Education will not resume discussion of new names for the elementary schools that will open over the next two years in Aberdeen, Southern Pines and Pinehurst.
During a work session Monday afternoon, board members generally assented to a recommendation from Superintendent Bob Grimesey that Moore County Schools maintain the town names for each school.
This spring, school staff brainstormed new names with help from community members in meetings at each school. The district got as far as proposing a handful of potential new names: Old Town and Village Elementary for the Pinehurst school and Blue's Crossing and Aberdeen Crossing for the new Aberdeen area campus.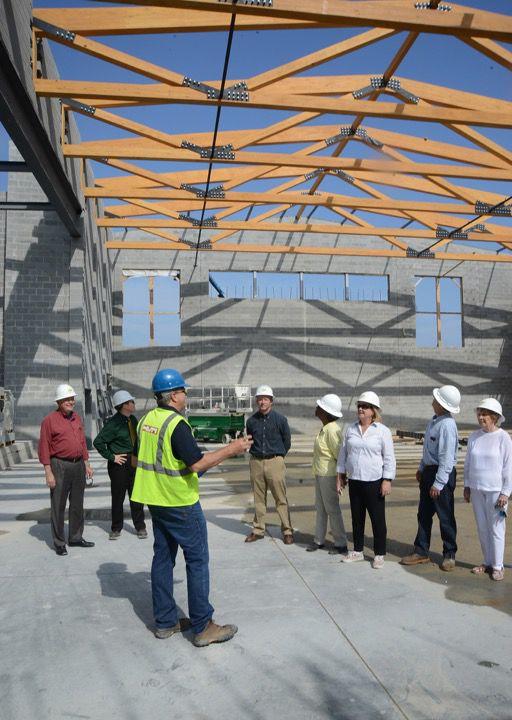 Feedback the schools collected online was split among the proposals, with the majority of votes in support of keeping the old ones. Soon after those results were in, the schools suspended discussion of the schools' names.
At the time, board members suggested that preferences might be clearer once the schools finished formulating the countywide redistricting plan that will take effect as the schools open.
In considering new names, the board entertained a rebranding of sorts for the new schools to distance the schools' identity from the towns where they're built. Some of the more dramatic initial proposals for redistricting moved large swathes of Pinehurst and Southern Pines out of the attendance areas for those schools.
"As we went through the redistricting process, we heard a lot from people that they believed they went to a certain school just because of their address," said board member Helena Wallin-Miller.
"Initially … I thought that this would be a way to make it so that the school name didn't have anything to do with ZIP code because there was a lot of confusion about addresses and how that reflected on what schools students should or should not go to."
Earlier this year, the schools planned to reopen the forum for discussion of school names once the new attendance areas were finalized, so that families could weigh in on the name for their specific school.
But the schools will have to confirm the name of the new Aberdeen school under construction off of N.C. 5 in early 2020. That school is slated to open in August, to replace the existing Aberdeen Primary and Aberdeen Elementary schools. A new campus to replace the primary and elementary schools in Southern Pines is scheduled to open in January 2021 in Morganton Park North.
The new Pinehurst school will be on the current Dundee Road campus, where the old building is currently undergoing demolition. A temporary campus in Rassie Wicker Park is serving as Pinehurst Elementary for the next two years. The new building will have nearly twice the capacity of the old one, which housed fourth- and fifth-grade classrooms in a cluster of modular units.
All three of the current elementary schools have been named for their corresponding municipalities since they opened as high schools in the 1940s.
The board is scheduled to vote during its regular meeting on Monday on carrying forward the Aberdeen Elementary, Southern Pines Elementary and Pinehurst Elementary names to the new schools.
"Maintaining town names for schools has, in my opinion, historical meaning for the thousands of students that went and graduated from those schools," said board member John Weaver. "It also provides easy recognition of the general area where these schools are located for citizens and for visitors coming into Moore County. It's my belief that these towns take pride in having these schools named after their towns."
Board member Stacey Caldwell said that as a former Pinehurst Elementary teacher she felt a level of personal attachment to that school's name.
"It has a lot of meaning for me, even as a teacher so I'm glad that we're keeping (the names)," she said. "I'm sure other teachers feel the same way where they work, so I'm happy that we're going to do that across the board."
Earlier in Monday's meeting, the school board's leadership passed from Wallin-Miller to Libby Carter by a unanimous vote. Wallin-Miller and Carter, the previous vice-chair, have both served on the board since they were appointed in 2015. Wallin-Miller served for two years as chair.
Carter formerly taught English at Pinecrest, where she also founded the school's speech and debate team. She was most recently elected to an at large seat on the school board in 2018.
"I'm honored by the trust that my fellow board members have placed in me today. I pledge to operate with integrity and open-mindedness as we move forward together," she said.
Carter also highlighted some of the landmark achievements that the school board has reached under Wallin-Miller's leadership: the wildly successful campaign to pass $103 million in general obligation bonds to build those three elementary schools, passage by another voter referendum of a quarter-cent sales tax increase to support school construction, and formulation of the most ambitious redistricting plan since Pinecrest, Union Pines and North Moore high schools opened in the 1960s.
"Mrs. Wallin-Miller has set a high standard of leadership during the past two years and I admire the strong and sincere conviction she has brought to this position," said Carter. "The past two years have not been easy, and yet Mrs. Wallin-Miller has never wavered to do what is best for all concerned. While she and her family have endured unwarranted personal attacks, she has continued her diligent efforts to do what is right."
The board unanimously appointed Pam Thompson, who represents northern Moore County, as vice-chair.