Construction of several massive transportation improvement projects on area roads are on the near horizon. Currently the state Department of Transportation is finalizing plans for road widening and access improvement on portions of U.S. 1, U.S. 15-501, N.C. 5, and N.C. 211 -- just to name a few.
On Thursday, a large crowd turned out for a public meeting held at Aberdeen Elementary School to review maps and conceptual designs for the 15.4 mile long road-widening project on N.C. 211, from Aberdeen to Raeford, set to begin construction in 2022.
According to data projections, traffic volume on this corridor is expected to increase more than 60 percent by 2040. The road also has higher than average crash rates, with approximately 450 crashes reported in a five-year period.
The $152 million dollar fix proposed includes flattening hills and valleys, limiting turn access, redesigning several intersections, and building a new bridge over the railroad tracks just east of Central Drive in Aberdeen.
The expanded right-of-way areas are also projected to create substantial impacts to property owners in Hoke and Moore counties.
NC-DOT officials anticipate relocation will be necessary for 93 homes, 16 businesses, eight churches and three community facilities, including a utility substation, along the 15.4 mile long project area. Right-of-way and acquisition work is expected to begin in 2020.
"We are still in the early stages of design," said DOT engineer Kristina Miller. "Each property owner will be contacted individually and we will work with them to determine fair market value and look at any other unique features of their property."
DOT also offers a relocation assistance program to help landowners with moving expenses and other costs.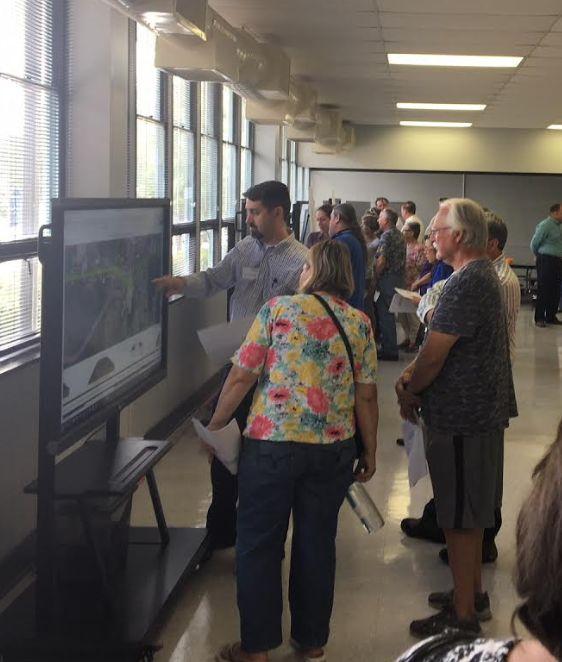 The expanded 222-acre right-of-way will also have some impacts on four cemeteries, 20 acres of conservation properties, and four acres of wetlands.
As plans continue to be refined, Miller said she hopes these numbers and impacts can be reduced or mitigated.
"It is a big project and a lot of existing roadway deficiencies will also be addressed. We are looking at the long term benefits for safety and efficiency," she added.
Raeford residents Chris and Arnie Cobos will see direct impacts to their property. The couple, who bought their home in 2011, use N.C. 211 for their daily commute with Chris traveling to Fayetteville and Arnie to Southern Pines for work.
"This needs to happen, period," said Arnie Cobos. "Every time there is a storm, there is an accident. The road is outdated."
She said the expanded right-of-way covers their septic tank, an impact likely to require relocation. If so, the couple plan to use the DOT compensation to purchase land in Moore County.
Property owners along N.C. 211 already in Moore County will see bigger impacts, with many structures directly in the proposed road path.
"The price of progress," said George Manley, a Moore County resident and commercial broker. "This will drive growth and bring change."
Manley said he is particularly interested to see how the widened roadway will affect growth in Hoke County.
"You have a rural area sandwiched between two prominent growth areas -- Cumberland and Moore counties. I see this will bring more housing and housing drives everything else," he said.
Through the Aberdeen section, where there is very little undeveloped land, plans call for a 30-foot raised grass median. The widened highway will maintain the existing 45 mph posted speed limit.
But it's important to note that the design uses the so-called "super street" model which restricts traffic from side streets and driveways to right-in, right-out access to the roadway. To travel in the opposite direction, vehicles must travel to a designated U-turn area.
Once the project area reaches the Hoke County line, the proposed median widens to 46-feet and the speed limit increases to 55 mph.
Rueben Blakley, DOT construction engineer, said work scheduling will be a dynamic process, especially with other major projects going on in the immediate area.
"We do look at all the projects and watch for conflicts. If it is needed, we will adjust our timelines," he said.
Blakley also disputed the notion that public comments are not considered -- only collected.
"That is simply not true. We really do read and review all of the comments we receive, I'm not sure people understand that," he said. "In some cases, we modify the design based on those comments where possible. In other cases, we cannot."
The proposed widening improvements to N.C. 211 date back to a feasibility study completed in 1990 and updated in 2002.
Plans shared this week are considered a preliminary design, while the next step includes environmental studies with additional review of potential human, community and natural resource impacts.