On top of the health impact the COVID-19 pandemic felt across the nation, rural areas have experienced another type of crisis: internet connectivity.
With work and school increasingly shifting to a virtual world, those who live out in the country are finding urgent challenges to the access for high-speed digital connections.
A $3 million project that will provide broadband to 1,300 homes in rural Moore County was announced Thursday by the U.S. Department of Agriculture Secretary Sonny Perdue, Randolph Communications and U.S. Rep. Richard Hudson.
The project is being paid mostly through a $2.3 million grant from the ReConnect Program, and Randolph Communications will provide $700,000 in matching funds. The Asheboro-based co-operative will build more than 48 miles of fiber to connect 3,333 people to high-speed internet.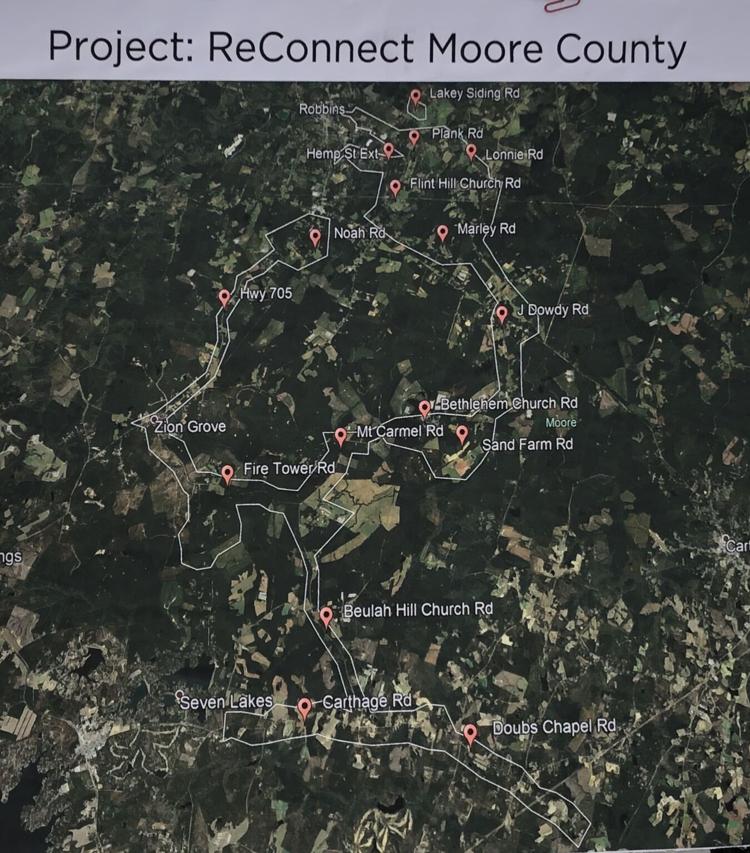 Thursday's event was hosted at Faith Baptist Church on Carthage Road in West End, one segment of the area that will be served through the project.
Money for the grant and others nationwide came from $100 million in appropriations from CARES Act, since the virus brought "momentum" for the issue, said Hudson, a Republican who represents the northern half of Moore.
"I understand the new haves and have nots in our society are those who have access to broadband and those who don't," he said. "The COVID shutdown has really underscored the importance of it because every family out there understands that their kid needs access to high-speed access to do their studies. Many families have learned they need that access so they can use telehealth, and many folks working from home realize they need that access to broadband."
Legislators at the national and state levels have earmarked relief money toward broadband access in underserved areas, and Perdue said this comes from increased priority for the services for families.
"The pandemic really demonstrated the need for it. It's not a luxury any longer in the modern day 21st century. It's just as much of a necessity as electrification was in the 1930s," Perdue said.
For Randolph Communications, which serves rural communities across eight counties, the grant helps bridge the financial gap to serve a rural area where per capita usage of the service could be sparse.
"There's a need, but how do you make a business case? It would take years and years if you didn't have that support from the grant," said Kim Garner, CEO of Randolph Communications.
The project answers the cries of help from rural citizens with a need to connect to the internet while working and learning from home.
"They are constantly calling. Their friends and neighbors might have our service and they need that broadband connection," Garner said. "And since we have edged out of our co-op footprint in some other areas, the reach out and the desperate need for the connectivity is how we found out about the area."
The minimum requirement of the speed of the service provided is 25/3 Mbps, with incentives for higher speeds, according to the ReConnect Program's website.
"This is life-changing, folks," Perdue said. "You are going to be stunned with the kind of speed that you're going to get with the fiber technology coming. It's city speeds."
Perdue said that on top of basic internet connection for education and entertainment, the high-speed internet plays a vital role for farmers in the rural areas to keep track of their crops and livestock.