Moore County Schools' Superintendent Bob Grimesey has proposed a budget for the 2020-2021 year that isn't designed to pay for every additional staff member and employee raise on the district's wish list.
This year, the schools are proposing a budget that falls in line with the county commissioners' policy of spending 40 percent of revenue on education. On Monday, Grimesey proposed to the school board a district budget that includes $35.6 million in operational funding from the county. That's a $3 million increase over this year, or 9 percent.
Based on projected property and sales tax revenues, school administrators believe that figure will be roughly equivalent to 40 percent of county revenue — what the commissioners in 2016 agreed to allocate to the schools each year.
"We took the county's conservative estimates on sales and property tax growth …and from that derived an amount that we used for budget purposes that would limit what our request would be . We self-governed on that. We chose to restrict what we're proposing to you," Grimesey said.
"It has been our intention to put forth to you a request that under no circumstances puts any pressure on the county to raise taxes."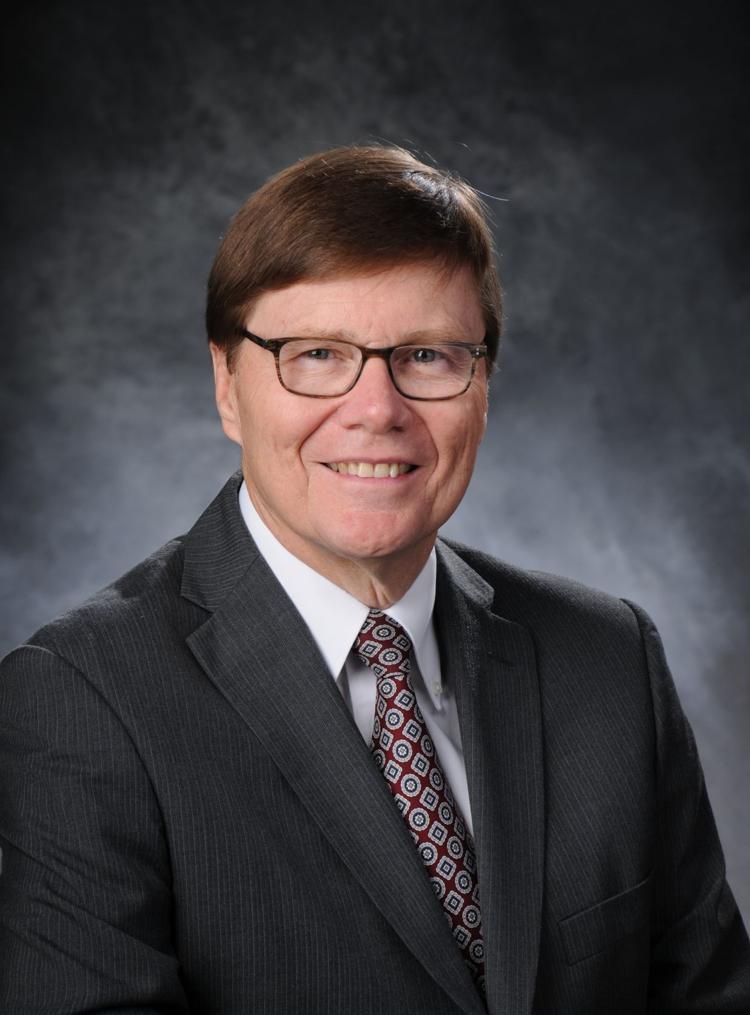 The school board will hold a public hearing on that proposal on March 9 at Carthage Elementary School before it considers adopting the budget. On Monday, board members gave the idea a lukewarm reception.
"We are trying to provide a budget that we feel will get approved, within our 40 percent threshold," said school board Vice Chair Pam Thompson. "That does not include (all of the) items that we need to really support our school operations."
School staff estimate that Moore County Schools will be on the hook for $2 million in new costs not funded by the state next year.
That includes $420,000 to hire six new teachers in kindergarten through third grade as North Carolina phases in smaller class sizes in those grades. Current enrollment projections indicate that the district will have to add 13 K-3 classrooms next year, but seven of those will be paid for with new state funding.
The schools have also budgeted $660,000 to match teacher raises expected to be enacted in the state budget later this year.
"There could be some variability on the salary line; it could go down, could go up," said Grimesey. "Remember that our state legislators and our governor know that our teachers have gone an entire year with no raise, and it's an election year."
Another $550,000 will go to charter schools, which are expected to enroll about 150 more students from Moore County next year. Charter schools are entitled to local funding, per student, similar to what the traditional public schools receive.
Also included in the category of fixed costs are increases in the local supplement that the district pays teachers, on top of the state's base salary, to offer pay competitive with other school systems. That increase is budgeted at $300,000 next year.
As redistricting begins to take effect next year, the schools will reintroduce orchestra to North Moore High. Some students will be moving to North Moore from Union Pines and its feeder middle schools, where students have had the option — or expectation — of an orchestra program. Adding that teacher will cost $70,000.
Grimesey's proposed budget increase, if the school board approves and the county ultimately funds it, would pay for all of that.
It would also cover a new pay scale for the district's "classified" employees: custodians, cafeteria workers, bus drivers, maintenance and administrative staff.
That system, at $850,000 to implement, would increase those employees' pay across the board and introduce raises for employees who remain with the district for years. It was also part of the schools' requested budget increase last year that eventually went unfunded.
The schools have identified another set of priorities that would run an additional $1 million over the proposed budget request.
It includes $490,000 to add seven more teachers in fourth and fifth grade classrooms. The schools would need to add 21 teachers in grades four through 12 next year to restore student-teacher ratios in those grades to where they were four years ago. To compensate for state shortfalls, those teaching positions have been shifted to the younger grades.
The schools could likely only restore one of those teachers with the budget Grimesey is proposing.
"We had to make a very difficult choice between our continually increasing pupil-teacher ratios in grades six through 12 and classified employees, some of whom are not even earning a subsistence wage. We do not take pleasure in being put in that position," he said.
"We think we ethically must try to get our loyal and dedicated and capable classified employees up to at least a subsistence wage."
Another $237,000 will be needed, this year or the next, to fund 2.5 nursing positions and a counselor, or half of the staff members now being paid from a savings account of federal funds. That account, from accrued reimbursements for services provided to Medicaid-eligible students, will be close to depleted in a year if the schools don't find another way to pay those employees.
Other priorities include hiring a district-level administrator to oversee operations and eventually human resources, and adding more technology support staff like digital integration facilitators that have been cut to balance the budget in the last few years.
"Just looking at the list of the things that are left in red, and knowing the things that are not even on the list … such as additional teachers in our sixth through 12th grade areas, where classes are grossly overcrowded, it's really hard to not go ahead and put a few more things on this list so we can show how nicely we're self-policing by not asking for too much," said board Chair Libby Carter.
"Our classrooms deserve the attention. They deserve the extra teachers going in. It's truly bothersome to realize that we're not even asking for any more."
The Moore County Board of Education will hold a public hearing on the proposed budget on Monday. The board's open meeting will begin at 6:30 p.m. at Carthage Elementary. Speakers should sign up by 6:15 p.m.