As public school systems around North Carolina have designated pandemic relief funding for teacher and staff bonuses, Moore County Schools employees are asking the district to follow suit.
Moore County Schools' struggles to recruit enough teachers and bus drivers to keep up with its growing enrollment predate COVID-19; the pandemic has only exacerbated the situation. Districts essentially compete with each other to attract staff, and sometimes keep the employees they have.
Over the past few months, districts around the state have approved hefty employee bonuses. In some cases those bonuses have been prompted by scores of bus drivers and cafeteria workers who have coordinated sickouts in protest of their working conditions.
That money isn't only going to teachers: many school systems are paying out the same bonus across the board to custodians, teacher assistants, bus drivers and office staff alike.
Wake County Schools will pay all full-time employees $5,000 in bonuses over the next two years.
But it's not just large urban school districts. Randolph County Schools paid that same amount in a lump sum last month to all established full-time employees, regardless of their job description. Even closer to Moore, Lee County School paid a $2,000 bonus to all full-time staff in November. Cumberland County Schools issued a $1,000 bonus in October and plans to pay out two more in December and May.
In Moore County, it's been almost a year since the school board used money from the initial CARES Act stimulus to provide a $200 year-end bonus to support staff only, not including bus drivers. That omission is among a list of grievances that members of Moore County Schools' transportation staff relayed to the school board during its November meeting.
On Thursday, bus drivers joined with the Moore County NAACP to reiterate their position. A group of about 25 people, including other school support staff, gathered outside the district's central office while chapter president O'Linda Watkins-McSurely presented their petition to Anita Alpenfels, the district's executive officer for human resources.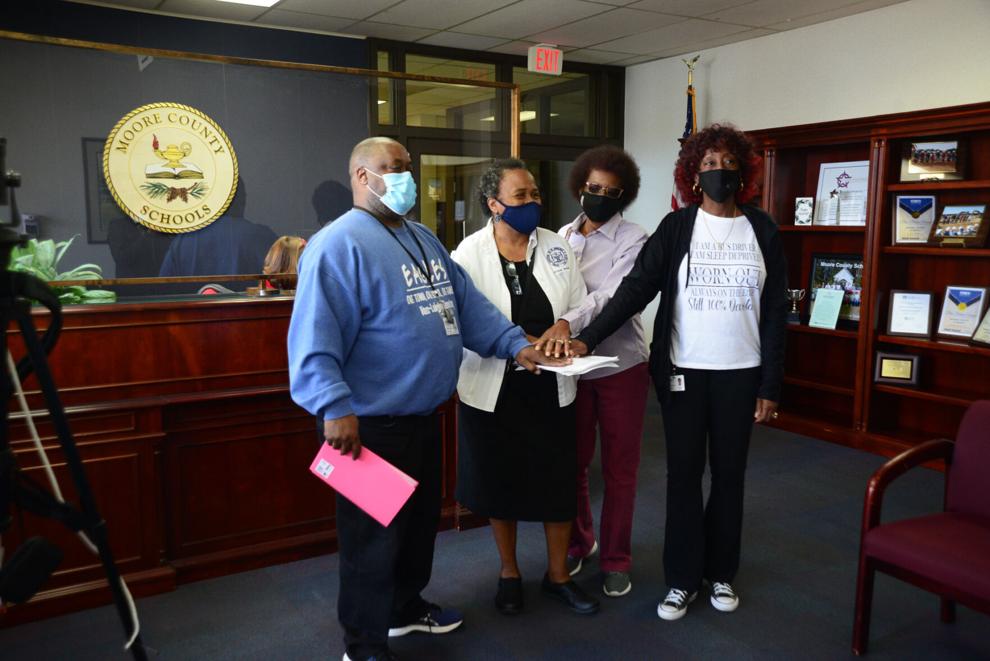 The newly formed Moore County Schools Service Employees' Association represents those who work in any "classified" position in the schools that does not require licensure. The group is asking Moore County Schools to offer those employees an end-of-year bonus payment from unspent COVID-19 relief funds.
The petition also outlines demands for:
• A joint employee-human resources task force to codify "the rights and responsibilities of the classified employees who interact with students and teachers;"
• A pay raise to at least $19.25 hourly;
• Safer buses and equipment;
• A more timely and effective response to student disciplinary issues on bus routes;
• Driver input to be considered by the school board and administration on transportation issues; and
• Monthly meetings of all transportation staff as well as meetings with other classified employees.
While employees of different races are represented in all positions within the district, most of the district's Black employees fill supporting positions. About 16 percent of Moore County Schools 1,700 employees are Black, but only 5 percent of its teachers are.
"Although some of us are white, we are all trapped in historic lower pay grades set during Jim Crow as 'n-word' and 'Black' jobs," driver Beverly Davis read from the petition.
Davis took up bus driving while still in high school herself, and returned to the wheel after a 25-year career in mental health. She said that she and the other drivers who addressed the school board last month declined invitations from Moore County Schools to meet one-on-one.
"We decided not to meet individually, that we're going to do this collectively. Unified, as a group," she said.
"We're here for the students. None of us would have any job, whether it be custodian, whether it be the cafeteria worker, the bus driver, whether it be the administrators, without the students. Without the students we would not have a job. There would be no need for any of these positions, because the students are where we should really be concentrating and I think that Moore County has lost focus and lost sight of what we all are really here for."
Teachers also see in the stimulus funding an opportunity for the district to compensate them after the volatility of the last two years.
Federal guidelines for the use of COVID-19 relief funding allow the money to be used for employee recruitment and retention. Such bonuses aren't part of Moore County Schools' plans to allocate its $25 million in federal stimulus funding.
The spending plans approved by the Moore County Board of Education cover additional teacher assistants and summer learning programs to help counter learning lost when schools shifted to a virtual format.
That money is also going to cover expanded technology and to maintain locally paid staff that would otherwise be lost as the county's operational funding to the schools remains fixed while expenses increase. About $11 million of relief funding has been designated for building improvements that qualify as eligible expenses: those that deal with air quality and facilitating outdoor activities.
Luke Arno, an elementary school music teacher and president of the Moore County Association of Educators, is surveying teachers to determine what level of retention bonus they'd rally behind. He's also asking whether or not teachers would support the addition of a "wellness" or "mental health" day, offset by extra hours worked into the calendar above the state's minimum, in place of a normal school day in the calendar this year.
About 20 other North Carolina school systems either canceled school on Nov. 12 — the day after the holiday set for Veterans Day — or extended the Thanksgiving break. Moore County Schools has held off on that, since it would put families in the position of finding childcare and hourly employees out of pay for that day.
Arno encouraged a group of about 20 teachers who attended a virtual meeting last month to speak during the school board's Dec. 13 meeting if they support either measure.
"Teachers used to come to Moore County from across the state. Unfortunately right now I know of several teachers who are leaving Moore County, who are going to other districts, who are retiring early, who are just feeling they want to pursue a different calling," he said.
"Teachers are talking about these stipends. Teachers are talking about these wellness days. This is a chance to add our voice."