More than $1.8 million in prizes were claimed by the 43 luckiest lottery winners in Moore County during the previous fiscal year, according to data from the state commission that oversees the games.
The North Carolina Education Lottery said the players all won at least $5,000, the federal baseline for automatic tax withholding, over the 12-month period that ended June 30.
The largest prize was claimed by Harry Veasey, a retired schoolteacher who won $1 million after buying a $10 scratch-off ticket last August at Jay's Food Mart in Aberdeen.
Veasey was one of 66 players across the state who won prizes of $1 million or more, but it didn't make him a millionaire. Instead of receiving his prize in annual installments of $50,000, he chose to accept a lump sum of $600,000.
In January, James Lyle became the first player in the state to claim a top prize from a new scratch-off game based on "Monopoly." The game launched a few days before Lyle, who lives in Pinehurst, bought his winning ticket for $5 at a Warren County gas station.
In an interview with lottery officials, Lyle said he planned to use the $200,000 prize, nearly $60,000 of which was withheld for taxes, to buy a Jeep for his wife.
While the majority of Moore County's biggest winners lucked into their loot through scratch-off games, the year's second largest prize went to a Pinehurst couple following a Cash 5 drawing in October.
Lisa Smith bought the $1 ticket at Harris-Teeter for her husband. In a news release, Smith said she predicted the winning lottery numbers using a "combination of our marriage date, how many years we've been married and birthdays."
The couple decided to split the $318,491 jackpot, which came out to $224,540 after tax withholdings.
Good Luck
Southern Pines is home to nine of the area's biggest winners, more than any other municipality in Moore County. But that doesn't mean players are more likely to hit pay dirt in the town.
"Prizes are won randomly," said Van Denton, communications director for the North Carolina Education Lottery. "Over time, you would see more prizes won where more tickets are purchased. In the case of scratch- off tickets, tickets with prizes are printed randomly throughout the printing of a game and then they are distributed randomly to all 7,000 retail locations in the state."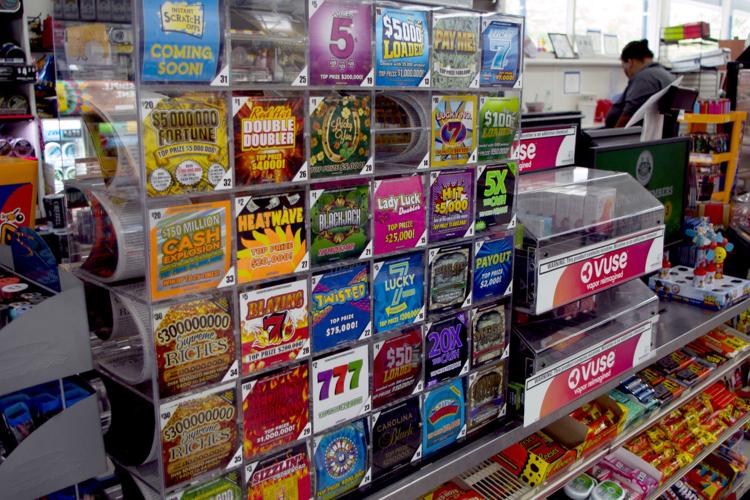 Still, there are common threads among the county's luckiest players. Veasey was one of 11 residents who won large prizes by playing "Hit $5,000," the most of any scratch-off game.
Fortune smiled twice on Linda Wiseman. The Robbins resident won a combined $10,000 from two winning tickets purchased seven months apart.
Wiseman wasn't the county's only repeat-winner. Ricky Sessoms of Carthage won a combined $15,000 in prizes after guessing the winning numbers in three separate "Pick 4" drawings last August. Gary Russell of West End won three $5,000 prizes from "Pick 4" drawings in March and April.
Supporting Schools 
Citing data from the Fiscal Research Division of the N.C. General Assembly, the lottery reports that $39 million in funds have been used to support education programs in Moore County since 2006.
About $4.7 million was distributed to the county during the fiscal year that ended in June 2018, the most recent data available from the state. The bulk of the money, about $3.1 million, was earmarked to pay for substitute teachers, custodians and other non-instructional personnel at the county's public schools and charter campuses.
The school district received $864,583 for building repairs and construction projects last year. Lottery funds provided $211,801 in college scholarships to 198 local students.
Moore County received roughly 0.6 percent of the $708 million distributed across the state's 100 counties during the fiscal year. About 30 percent of lottery revenue is spent on education, according to the state Department of Public Instruction.