Sheriff Neil Godfrey, who will retire Friday three days before his term ends, was honored Tuesday night during the county commissioners' meeting.
Before being awarded his service weapon and badge — and bestowed with a plaque and other accolades — Godfrey thanked the current Board of Commissioners and the previous boards he has worked with since joining the Sheriff's Office 16 years ago.
"We've made a lot of positive improvements at the Sheriff's Office," he told the commissioners. "We have one of the best Sheriff's Offices in North Carolina. Primarily the reason for that is this outstanding staff."
Godfrey recognized a number of deputies and other employees who were in attendance. They received a standing ovation.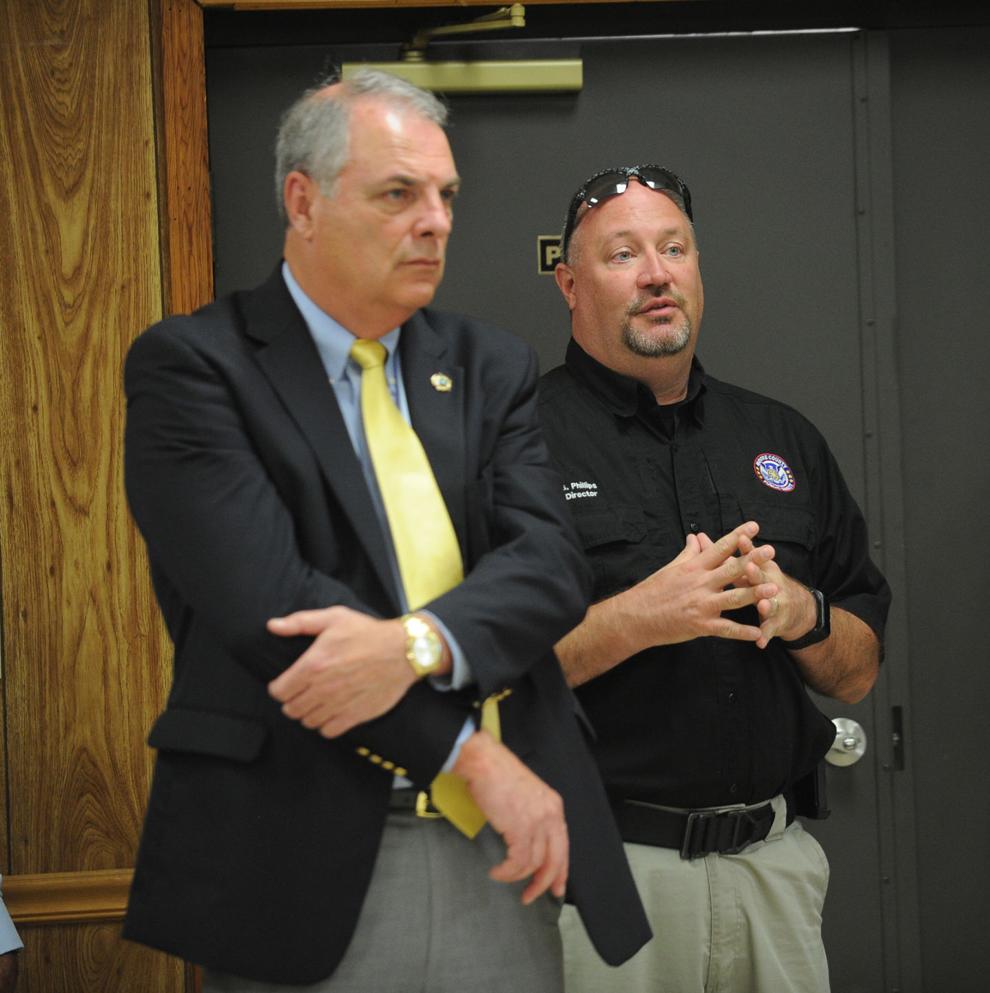 "These are the people, when we are having Thanksgiving dinner or Christmas dinner, they are the ones protecting us out there, or when we need a pistol permit or some other administrative need," Godfrey said. "These are the people that provide that. They are the backbone of the Sheriff's Office. They do an outstanding job.
"Not just them, but the ones at the detention center. and all these at animal services. And I appreciate the work that they've done the last 16 years."
Animal operations became a division of the Sheriff's Office two years ago.
Godfrey also thanked other county department heads who have worked with him.
"Their support has contributed to our success at the Sheriff's Office," he said. "And I thank the citizens of this county for the opportunity to serve them as their sheriff."
Godfrey received a sustained standing ovation after speaking. Members of the audience included state Rep. Jamie Boles and state Sen. Tom McInnis.
Commissioners' Chairwoman Catherine Graham read a resolution adopted by the board honoring Godfrey for his service. Godfrey had already served a career with the State Bureau of Investigation when then-Sheriff Lane Carter hired Godfrey as his chief deputy in 2002.
When Carter retired in May 2013, Godfrey was appointed sheriff. He won election in 2014.
"It is an honor and privilege for me to be able to read this resolution and to thank you for all you have done for the citizens of Moore County," she said.
The resolution said Godfrey had been "integral" during his tenure to completing projects that benefited the citizens of Moore County, which included the opening of the Rick Rhyne Public Safety Center and jail, implementing a new radio communications system called VIPER, making improvements in animal operations and improving cooperation and communications with the public.
"He has fulfilled the mission of the Moore County Sheriff's Office to improve the quality of life for the citizens of Moore County by providing a safe community in which the citizens can live, work and prosper, and has treated all people with courtesy and respect," the resolution says.
The resolution acknowledges the "sacrifices" Godfrey has made and "the courage, hard work, patience and dedication with which he has served."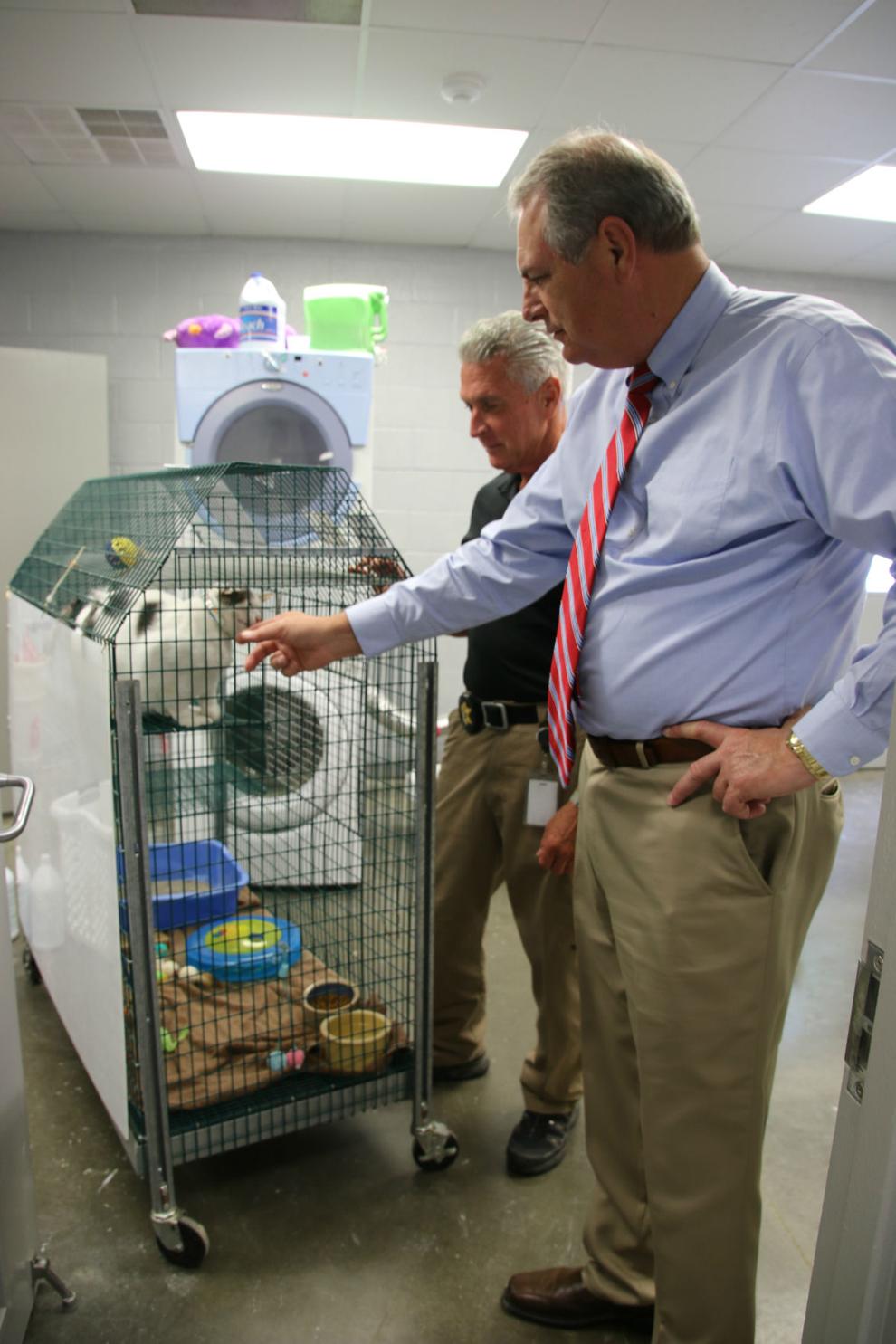 It concludes that the board "recognizes and honors Neil Godfrey for his exemplary service to the citizens of Moore County" and that "with gratitude commend Sheriff' Godfrey for his admirable career and wishes him many happy retirement years."
Graham asked Commissioner Louis Gregory, who is a retired law enforcement officer, to present Godfrey with his service weapon, which he purchased for $1.
Gregory said he recalled seeking advice from Godfrey when he served as the Whispering Pines police chief.
"I always knew that I could come to Neil for advice, and his advice was always right on target," Gregory said. "He is a great man."
County Manger Wayne Vest said it has been "a joy and privilege" to work with Godfrey as both sheriff and chief deputy. He described Godfrey as "professional, responsive and knowledgeable."
"Sheriff Godfrey surrounded himself with quality people and empowered those folks to serve the citizens of Moore County," Vest said.
Vest said Godfrey continued "to build on the foundation established by his predecessor" and that he has "created a pathway for continued to success for his successor."
"The citizens of and the visitors to Moore County have benefited greatly by Sheriff Godfrey's willingness to serve," he said.
Vest presented a plaque of appreciation to Godfrey. He then asked Sgt. Marty Key, who was later appointed as the interim sheriff, to present Godfrey with his badge.
Key said he has worked with Godfrey for 16 years and thanked him for his "dedicated service to the citizens of Moore County."
"And on behalf of the entire Moore County Sheriff's Office, we all wish you the very best in your retirement," he said.
After the presentations, the commissioners voted unanimously to appoint Key to serve as interim sheriff from Dec. 1 until Dec. 3 when Ronnie Fields is sworn in as the new sheriff. He defeated Godfrey in a Republican primary in May and won the general election in November.
Key said he was "speechless" when he learned that the Moore County Republican Party executive committee had recommended his appointment as interim sheriff, even if it was just for three days. He said he will remain to work in Fields' administration.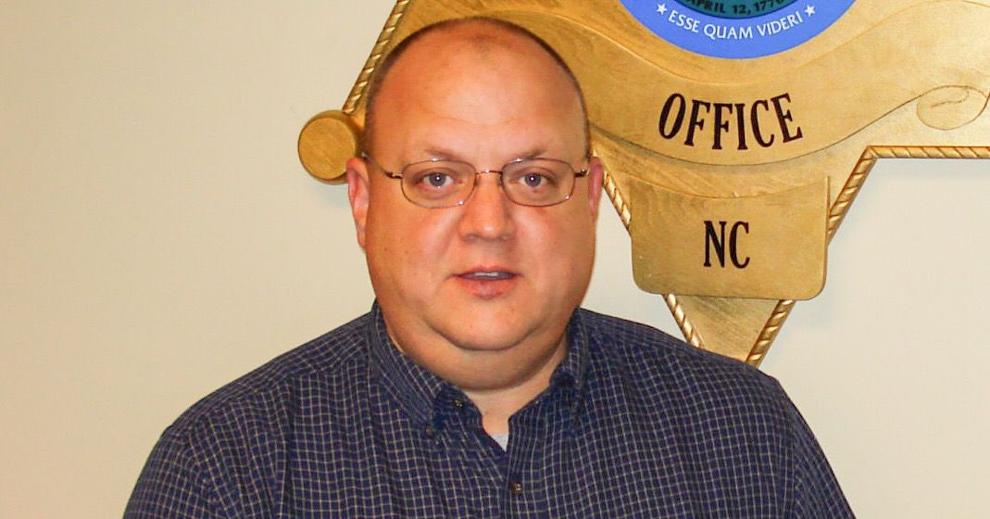 "I look forward to continuing to be able to serve the citizens of Moore County," he said. "Thank you for having the faith in me to take it. It is only a short-lived time, but, hey, it's still the sheriff."