An organization that works to build self-esteem among young people received $10,000 during the third assembly of 100 Moore Men, a civic group that aims to boost the coffers of nonprofits in the Sandhills.
The donation came after members of 100 Moore Men heard presentations from three local organizations last month at Southern Pines United Methodist Church. Each attendee put at least $100 toward the total donation before voting on which nonprofit to fund.
"They told us about their organizations, and how the donation would help their organizations going forward," said Matthew Powers, the 100 Moore Men member who MC'd the event. "We got a breakdown of what each organization does and the areas they impact in Moore County."
"Their organization is a motivational success program that provides outreach to at-risk males in Moore County," Powers said. "They focus on everything from academics, physical and mental health, social relationships and life skills."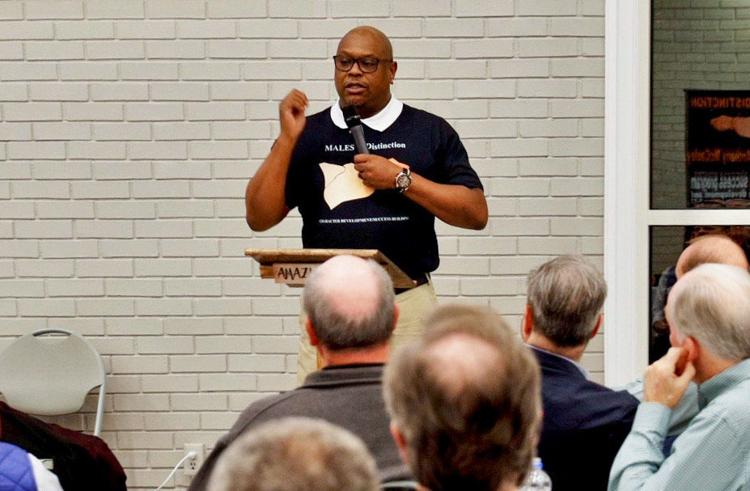 But the other nonprofits didn't go home empty-handed. Powers said the event raised enough money to also provide separate $1,550 donations to the Moore Free and Charitable Clinic and to Sandhills Moore Coalition for Human Care.
"It was a very successful event, and it was really good to hear from the nonprofits and give back to them," he said.
Pinehurst resident Aaron Landry set out to create 100 Moore Men in 2018 after a conversation with a member of the Raleigh-Durham chapter of 100 Men Who Give a Damn, a grassroots organization with branches in cities across the nation. In an interview with The Pilot at the time, Landry said it didn't take long to enlist enough local businessmen and community leaders to join the cause.
"There are a lot of men here who want to give back and want to be around other men who are energized to do that," he said.
Northern Moore Family Resource Center was the first nonprofit to receive a $10,000 gift from 100 Moore Men. Last year, the donation went to Dreams 4 All Foundation.
This year marks the first time the 100 Moore Men will hold a semiannual gathering. Another event is scheduled for Sept. 22, according to Powers.
"We have not determined what our nonprofits are going to be for that event, but the format will be similar to what we've had in the past," he said.