A fox, raccoon, skunk and bobcat have all tested positive for rabies this year in Moore County.
The four cases tie Moore with Carteret and Gaston counties for the sixth largest number of infections reported in North Carolina since the start of 2021, according to data shared earlier this month with the Moore County Board of Health. Forsyth leads the state's 100 counties with 11 cases.
Janice Baker, a veterinarian who serves on the health board, said there are "a lot of reasons" for the relatively high number of infections recorded in Moore County.
"Those are all wildlife cases, so it doesn't indicate that there's anything we're doing wrong that we would need to improve to get that number down," she said. "It could be that we have a lot of veterinarians and an emergency clinic in this county, and that's where a lot of these cases get reported. We also have a pretty robust animal-control agency that responds very well (to reports of potentially rabid animals)."
Baker said other counties may have more infections, but fewer "methods of identifying suspect cases and reporting them."
One of the year's most notable local cases involved a rabid bobcat that attacked an Eastwood man in June. The victim, Scott Jackson, told The Pilot that he was unloading groceries in his driveway when the animal lunged at him from beneath his vehicle.
"He just clamped down on my shoulder and wouldn't let go until I twisted his leg," said Jackson, who received a series of shots to prevent infection.
It was the second time a bobcat had tested positive for rabies in Moore County since 2011. The majority of cases recorded in the county over the past decade involve foxes, which account for 46 percent of known infections.
Raccoons were the second-most reported animal, accounting for 31 percent of the county's cases. Bats were third with 8 percent.
"It's extremely difficult to lower the rates of rabies in those kinds of wild animals without some kind of widespread control program," Baker said.
Data from the N.C. Department of Health and Human Services show that about 60 infections have been recorded in the county since 2011. Local cases peaked in 2018, when nine animals tested positive.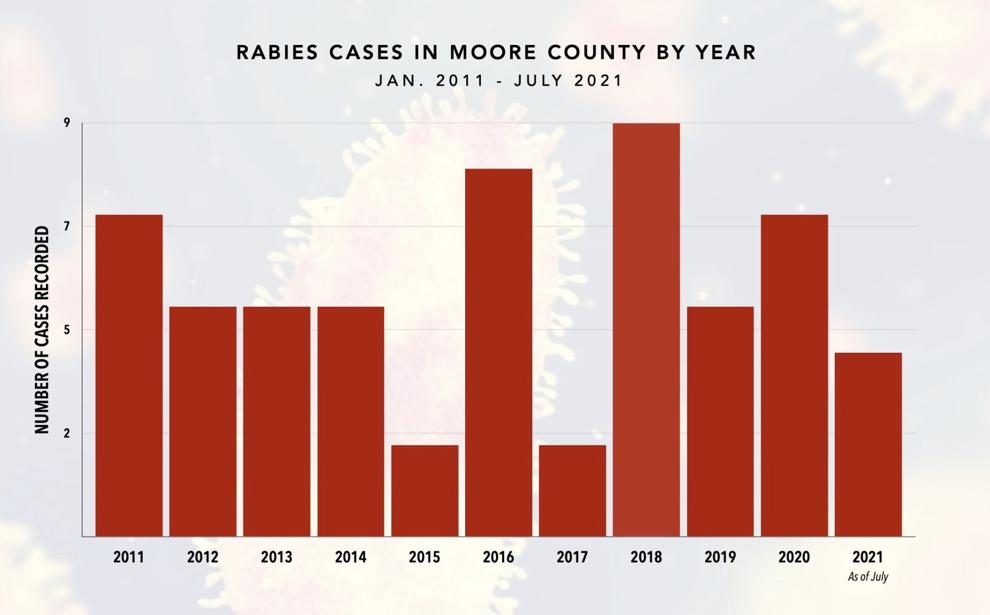 Pet owners are required by state law to have their animals vaccinated against rabies. Domestic dogs, cats and ferrets must be vaccinated before they turn four months old, and the animals' vaccination status must remain current "throughout the animal's entire lifetime," according to the most recent edition of the state's Rabies Control Manual.
Despite the legal requirements, Baker estimated that half of the county's domestic animals are unvaccinated.
"You'll have a farm that has 10 dogs and none of them are vaccinated," she said. "People in the more suburban areas or in the areas that have a little bit of a higher economic status are pretty good with care, but almost none of the animals we see in rural areas like Robbins have been to a veterinarian before."
Baker cited northern Moore County's lack of local veterinarians and lower economic status as potential factors in the high number of unvaccinated pets. Earlier this year, the Moore County Pet Responsibility Committee held two clinics in Robbins to make vaccinations more accessible to residents.
Both events, one of which was offered at no cost to pet owners, were successful, according to Baker. She said 217 dogs and cats were vaccinated during the clinics, with about 51 percent of the animals receiving their first-ever rabies shot.
Thanks to post-exposure treatments that prevent infection, encounters with rabid animals are rarely deadly for humans. But the disease is almost always fatal once symptoms develop.
William Edward Small, a 20-year-old Air Force mechanic from Jones County, died several months after suffering untreated scratches from a rabid raccoon in 2011. One of his infected kidneys was later donated to a Maryland man who also died of rabies.
"That case was definitely an outlier," said Robert Wittmann, director of the Moore County Health Department.