Forecasters following the erratic path of Hurricane Dorian say the storm could hit Moore County and other parts of central North Carolina next week.
The hurricane, which was upgraded to a Category 4 storm as it churned across the Atlantic Ocean on Friday evening, was previously expected to have little impact on the Sandhills. But a swerve in the storm's projected track has increased the "likelihood that impacts from Dorian will be felt across portions of central North Carolina," according to a statement issued Saturday morning by the National Weather Service office in Raleigh.
"Specifics remain too uncertain, but now is the time to finalize emergency plans and make necessary preparations," the statement said.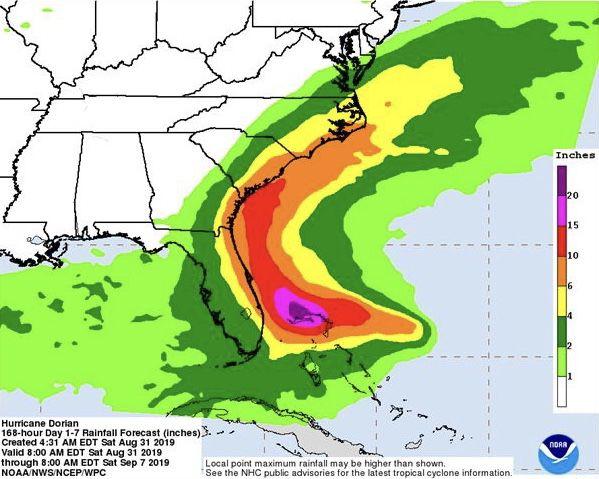 The most recent forecast puts Moore County in the so-called cone of uncertainty, a graphic used by meteorologists to illustrate a storm system's possible route. Based on the latest predictions, the hurricane could reach North Carolina shortly after 8 a.m. Thursday.
Many people in the Sandhills have not yet recovered from Hurricane Florence, which caused more than $2 million in damage to local homes last September. Officials in Robbins are still working to repair infrastructure destroyed by that storm.
Writing on Facebook, Moore County Public Safety urged residents not to let their "guard down about Hurricane Dorian."
"The track is ever-changing," the agency said. "Be sure to have your emergency kits prepared."
According to the Federal Emergency Management Agency, a basic emergency kit should include the following items:
• Enough water and non-perishable food for at least three days
• Bandages, gauze and other first aid items
• Moist towelettes, garbage bags and plastic ties for personal sanitation
• Flashlights and extra batteries
• Wrench or pliers to turn off utilities
• Whistle to signal for help