Five candidates are vying for gavels in the Judicial District 19D, which includes Moore and Hoke counties.
The new judicial district has been allotted two Superior Court judges instead of one. Candidates facing off for the new seat are Michael Stone and Gregory Thompson.
The three candidates running for District Court include Brian Godfrey, Steve Bibey and Regina M. Joe.
Following are brief summaries of each candidate's background, along with their scores from the Judicial Performance Evaluation survey released last week by the North Carolina Bar Association. Nearly 3,500 attorneys participated in the survey, which the association says is designed to assess "the legal ability, integrity, and professionalism of judges and judicial candidates." 
Michael Stone, a Republican, currently presides over a judicial district that spans Scotland, Hoke, Richmond and Anson counties. He was appointed to the seat in 2014 by former Gov. Pat McCrory before winning election in 2016.

Gregory Thompson, a Democrat, is a trial lawyer with more than 25 years of experience. The top vote-getter will serve alongside Superior Court Judge James Webb, whose term runs through 2024.

Brian Godfrey, a Whispering Pines resident who serves as the attorney for the Lee County Department of Social Services, is competing against two sitting judges in the District Court race.
Godfrey, a Republican, is a native of the Sandhills. He graduated from Union Pines High School and previously served as an assistant attorney for Moore County.

Steve Bibey is an Air Force veteran and former law enforcement officer. After stints with the Southern Pines Police Department and Moore County Sheriff's Office, he began practicing law as a trial lawyer in Carthage.
Bibey, a Republican, currently presides over court in a district that encompasses Montgomery, Moore and Randolph counties. He won the office after defeating incumbent Judge William H. Heafner in the 2014 election.

Regina M. Joe, a Charlotte native, began her legal career in 1989 as an assistant district attorney in Greenville. In 2005, Joe made history as the first black woman to serve as chief public defender in North Carolina.
She currently presides over cases in Judicial District 16A, which includes Scotland and Hoke counties. Joe, a Democrat, became the first black person and first woman to be elected to that judicial district in 2006.

Also appearing on the ballot is Warren McSweeney, a Republican who is up for an uncontested District Court seat. McSweeney lives in West End and serves as an assistant district attorney for the county.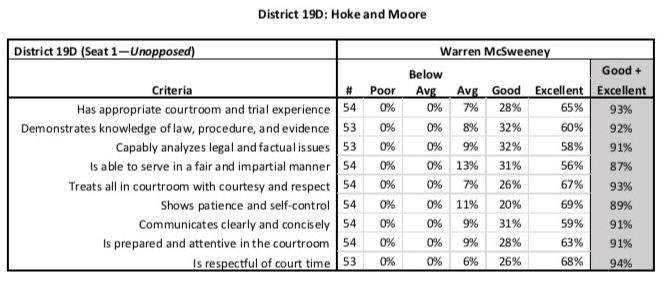 One-stop voting began Wednesday and runs until Nov. 3 in Moore County. Ballots can be cast at the Moore County Board of Elections Office in Carthage and at the Douglass Community Center in Southern Pines.