Former Pinecrest star pitcher Dillon Maples has apparently impressed first-year Chicago Cubs skipper David Ross.
Maples — who made his major league debut late in the 2017 season after a meteoric rise through the minors — made the 30-man roster that was finalized about 24 hours before the 2020 season opener Friday night.
The right-handed pitcher who has gained notoriety for his slider had a good showing during an abbreviated summer camp at Wrigley Field in advance of a COVID-19-shortened 60-game season.
Maples came on in relief for Jon Lester during the Cubs' final tune-up game against the Minnesota Twins, according to a report by South Bend, Ind., television station WSBT. He struck out two batters while giving up a hit and a run in a two-thirds inning of work.
His sweeping breaking pitches impressed Ross, WBST reported.
"Dillon's stuff is real," Ross told the station. "Dillon's gotta continue to develop. He's a guy I have a lot of faith in to continue to move forward. Nobody likes facing him. You talk to our hitters, they don't like facing him. His slider is a real weapon. It's real velocity. If this guy takes a couple more steps forward, look out. He'll be pitching big innings for us."
Maples is among 11 relievers who will start the season in the bullpen. The Chicago station reported that while he has struggled with his command in previous appearances with the big league club, the franchise has already made it apparent that they plan to give him opportunities to showcase his growth in the shortened 60-game season.
"It's not about development in the big leagues right now," Cubs President Theo Epstein told the station. "It can't be in a 60-game season But Rossy, in fighting for him to be on the team, I think has an idea of how he wants to use him. Maybe pick some spots for him early. That makes sense given his arsenal."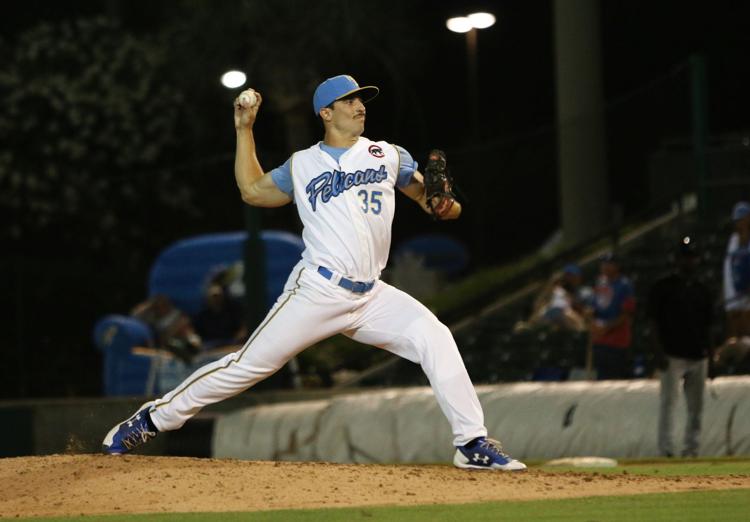 Maples spent 19 games playing for the South Bend minor league team in 2016 and showed flashes of his big league abilities, WSBT reported. The 6-foot-2 pitcher finished with a 1-2 record, 3.60 ERA and 17 strikeouts in 25.0 innings pitched.
Maples started the 2017 season with Class A Advanced-affiliate Myrtle Beach Pelicans, his second stint there, knowing full well that this might be his last shot after several injury riddle seasons in the minors. His summer accession through the Cubs' farm system became a national story as he moved on through Double A and Triple before being called by the big league team when it expanded the roster ahead of the postseason.
In his September call-up, Maples made seven appearances, pitched 7.1 innings while striking out 14. His ERA was 7.36, but included giving up five runs in his second appearance in the majors. He did not give up a run in his other six appearances. He did not make the postseason roster.
Maples spent time with both the Cubs and its Triple A-affiliate Iowa Cubs during the 2018 and 2019 seasons.
After his stellar career at Pinecrest, the Cubs selected Maples in the 14th round of the 2011 draft. He is one of three Patriot pitchers who have made it to the big leagues. The other two are James Baldwin and Seth Maness.