The majority of people in Moore County are now fully vaccinated against COVID-19, according to the N.C. Department of Health and Human Services.
Data released Monday by DHHS showed that 51,033 local residents, or about 51 percent of the county's population, were fully vaccinated. An additional 3,074 residents have received at least one dose of the two-shot vaccines developed by Pfizer and Moderna.
The county's percentage of vaccinated residents is slightly lower than the state overall. About 53 percent of all North Carolinians are fully vaccinated.
Still, Moore County boasts a higher vaccination rate than many of the surrounding counties. Of the nine counties that touch Moore, only Cumberland and Chatham had larger percentages of fully vaccinated residents as of Monday.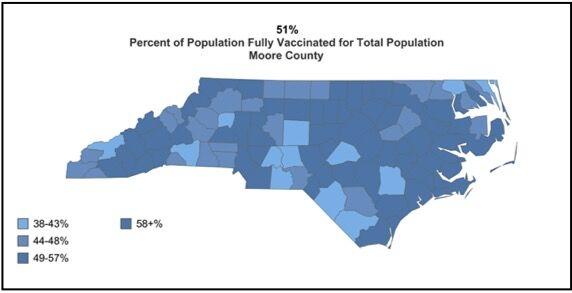 None of the currently available vaccines are authorized for children younger than 12, a group that makes up about 14 percent of Moore County's population. If looking only at residents who are eligible for shots, nearly 60 percent of the county's population is fully vaccinated.
That figure is likely to grow under a new vaccine mandate for workers at FirstHealth of the Carolinas, the county's largest private employer. FirstHealth announced last week that all employees, vendors and volunteers must get vaccinated by Nov. 19.
"We know that the available COVID-19 vaccines prevent the most serious outcomes from this virus, and we have several months of patient data to back this up," Dr. Jenifir Bruno, the company's chief medical officer, said in a memo to employees. "We hope this decision to require vaccines for the FirstHealth family will also spur others in our community to roll up their sleeves and get their shots. It takes all of us working together to return to normal."
FirstHealth was one of only two major North Carolina-based hospital systems that did not require employees to get vaccinated. Earlier this month, President Joe Biden announced that vaccination will be mandatory for workers in hospitals and other health care facilities that receive Medicare or Medicaid reimbursement.
Following the latest guidance from the Centers for Disease Control and Prevention, the Moore County Health Department said it will begin offering coronavirus booster shots to certain residents.
People with underlying medical conditions, individuals over 65 and workers in high-risk settings are eligible for booster shots if they received their second dose of Pfizer's COVID-19 vaccine at least six months ago. The Food and Drug Administration has not yet authorized boosters for recipients of the vaccines developed by Moderna and Johnson & Johnson.
The Pfizer boosters will be administered by appointment at the health department's office in Carthage. Eligible residents can schedule appointments by calling 910-947-SHOT from 8 a.m. to 5 p.m. on weekdays.
Death Toll Rises
Moore County's COVID-19 death toll recently climbed to 234, with 11 new deaths announced last week by the local health department.
Matt Garner, public information officer for the department, said the deceased individuals include five men and six women. Only two of the deaths involved individuals younger than 65, Garner said.
An analysis by The Pilot found that people aged 65 and older account for 85 percent of the county's COVID-19 deaths, higher than the statewide average of 78 percent. This is not entirely surprising given both the county's relatively large population of older residents and the heightened risk of severe illness among the elderly.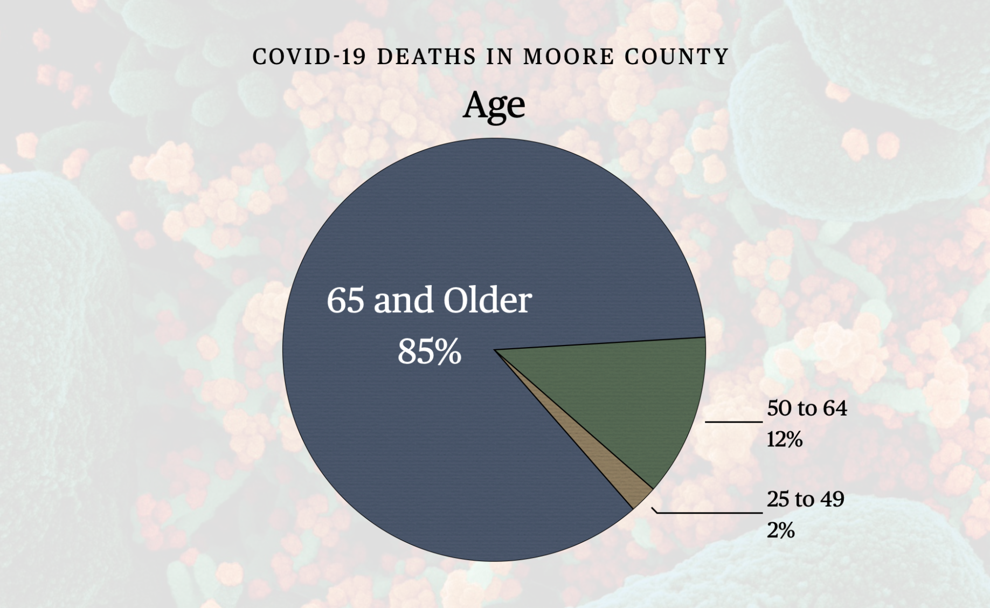 COVID-19 has taken a disproportionate toll on the county's African American community. Black residents made up only 11 percent of the county's population during the 2020 census, but they account for 18 percent of local deaths.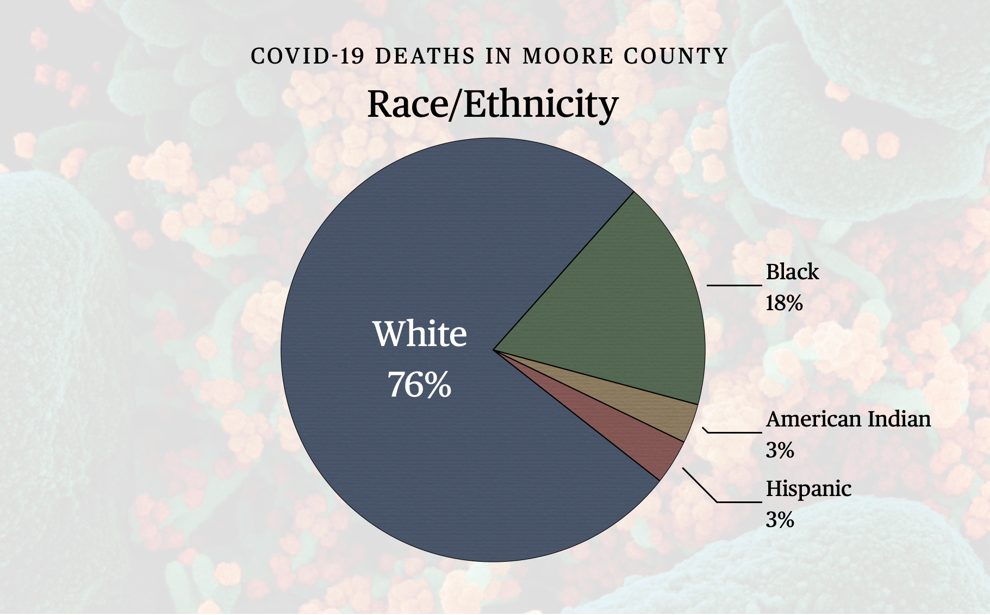 Southern Pines, the county's second-most populated town, has lost more residents to COVID-19 than any other local municipality, according to ZIP code-level data from the N.C. Department of Health and Human Services. At least 60 deaths are linked to the town's primary postal code.
About 48 percent of the county's fatal infections are connected to outbreaks in long-term care facilities. Every nursing home and assisted living community in Moore County has suffered at least one outbreak since April 2020.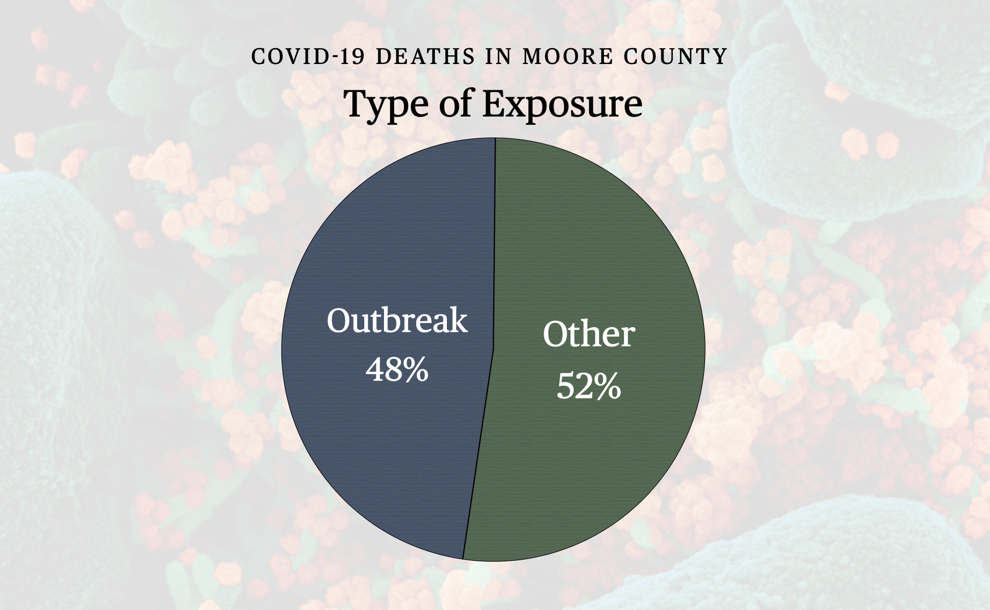 Garner said two of the deaths announced last week involved elderly residents of Quail Haven Village, a Pinehurst nursing home that is currently experiencing its third outbreak of COVID-19. Four residents have perished in the current outbreak, according to DHHS, while 13 deaths are tied to a previous outbreak at the facility.
At least 13 people in the county have died of complications from COVID-19 since the beginning of September. Twenty-four deaths were recorded in August, making it the third deadliest month of the pandemic in Moore County.
Of the 12,815 infections documented by the Moore County Health Department, about 1.8 percent have been fatal.