The first experience that Clint Mack had in working with governments occurred nearly halfway around the world.
Mack was in the U.S. Army deployed to Iraq, Afghanistan and Kuwait working to restore governments on one of his six tours to the Middle East. After 21 years in the Army, Mack takes over as the town manager for Robbins, where he looks to continue to oversee the growth and development of the town.
The experience from his prior job is what sparked his interest for his new one.
"I was a 26-year-old infantry platoon sergeant, and they were like, 'Hey, rebuild a legitimate government in this 80 kilometer square box," Mack said. "It just interested me from the start."
Mack was sworn in on July 6 in Town Hall after being introduced at the town board of commissioners' June meeting.
That exposure to governments, and the building of them in foreign countries, led Mack to pursue a college degree that he worked on in his final years in active duty. This past spring, Mack earned his bachelor degree in public administration from Villanova University.
"Even when I was in Iraq for my last tour, I was bouncing from Iraq to Kuwait and back and forth and I was taking my political science. You do a patrol and you come back and write a paper," Mack said. "It was very interesting to be in professor Gustafson's class on economic theories on war and peace, while you are fighting ISIS."
While his stint in the Army opened his eyes to what he wanted to do for a second career, that same time was when he fell in love with the town he now lives and works in.
Making the move to Fort Bragg early in his career to serve in the 82nd Airborne Division as an Airborne Infantryman, Mack met his future wife, Summer, who grew up in Robbins.
Robbins immediately became a welcoming place for Mack after attending Robbins First Baptist Church.
"I've never met a group of people that was so accepting," Mack said. "You left like you've been at church your whole life, and that was the first time I visited. It's been like that ever since."
That first trip to Robbins came before the terrorist attacks on 9/11. When he started his trips to the battlefront, support came from residents of the town in the form of gifts and letters.
After his daughters Emma and Stella were born, Mack came home to the stories of the people he now calls his neighbors who helped out his wife and daughters while he was away.
Through what he was taught during his undergraduate studies, and the leadership experience in the Army, Mack has an understanding of how he wants to lead as the manager in Robbins.
"The whole premise for this career field is to provide the highest quality of service for citizens at the lowest possible rate, and make their quality of life better," Mack said. "It's worrisome to make a big decision, especially in government because you're affecting so many people. I just don't really have a problem with it. I do my homework and I've got to take a breath and be patient sometimes, but overall it's just pull the trigger and make a decision."
While he is ingrained in the community, which means a little more time spent after church talking with people who have a question or an issue going on in the town limits, Mack said in his first commissioners meeting two weeks ago that communication with the residents and the town officials is imperative in getting problems resolved.
Mack's first few weeks in town hall have been busy. He entered his job with a handful of positions that are vacant with some recent departures. Several positions in the police department are open, including police chief, and Town Clerk Hannah Hungerford is working on a part-time basis until a new clerk is hired with her pursuing a master's degree this fall. The financial officer position in town hall has been vacant in recent years, and while Mack said that job has been posted, filling it could depend on the applicants that come in for the clerk position as well.
"I think the top highest priority would have to be filling positions. There isn't much I can do without a clerk legally," Mack said.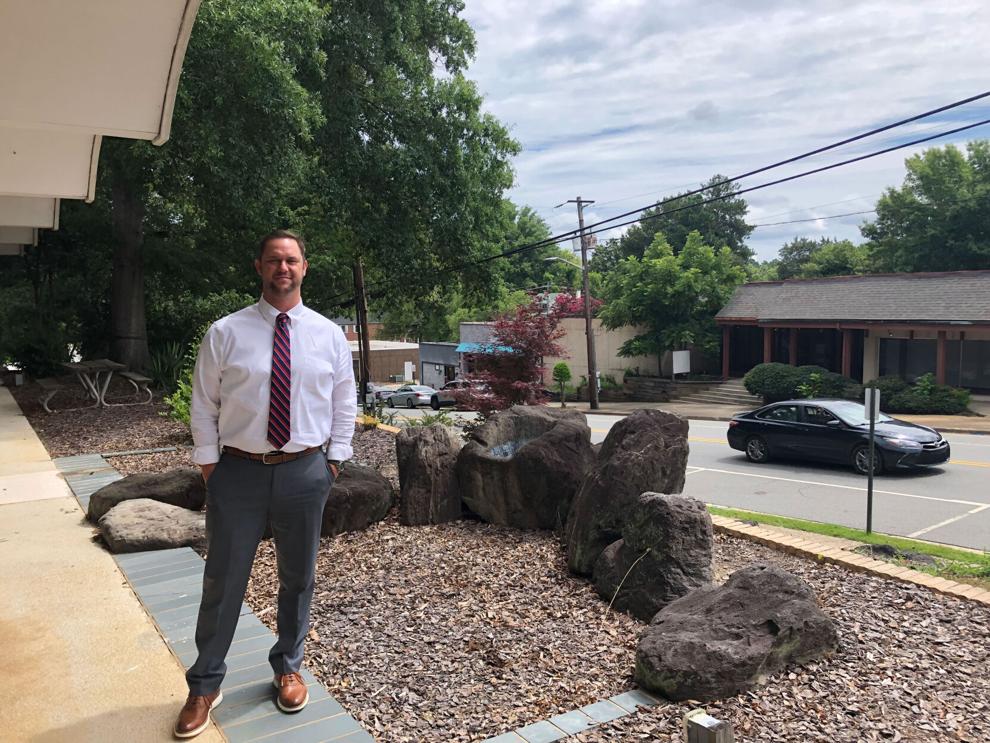 The busy first week on the job also included Mack driving to work and passing a house fire that the Robbins Fire Department rolled up to as Mack was dialing 911. Mack stayed on to aid the volunteer firemen, and has tried to stop and meet all of the town's workers early on. He doesn't want to be someone who manages from his desk with a closed door.
Mack's familiarity with Robbins goes back nearly 20 years, and since retiring from the Army in 2019 and moving to the town, he has spoken with lifelong residents who long for Robbins to return to where it was 20, 30 and 40 years ago when plants and manufacturing drove the northern Moore County municipality.
While those types of operations have left, one of Mack's goals is to continue to keep Robbins business-friendly.
"The good things that made those factors come initially are still here. The people are here, the support system is here, the land and property is still here," he said. "I want an open invitation to businesses that if you come here, you're going to sustain. It's going to work for you."
In the time from retiring from the Army and taking the town manager position, Mack served as the scholarship coordinator at North Moore High School, and also was an assistant basketball and football coach at the school.
As much as industry is important for the town, Mack would like to see the bond between the town and the high school strengthened. He said he would like to see a mentorship program with the town and the school to allow high school students the opportunity to experience local government firsthand.
"North Moore is really a part of the backbone of the town," Mack said. "I'm going to make sure we have a good relationship like it used to be."
That job at North Moore helped him calm the transitional fear he had as he stepped away from the Army as the only job he knew.
With his new position, Mack said he hopes to be an example to veterans he has seen struggle in their return to the civilian world. Mack knows his support system has been one that some might have, but his example of stepping into a new career path is something that many veterans are capable of.
Looking back over the nearly 25 years of his adult life, Mack knows that like his support around him, his career path has been more than he could imagine as he settles into the manager's office in Robbins Town Hall.
"I just want people to know I'm in it for the long haul," Mack said. "After being a paratrooper, it's my dream job. To think about it, how many people actually get to do both jobs they dreamed of doing."